The Thick of It, Series Four, BBC Two |

reviews, news & interviews
The Thick of It, Series Four, BBC Two
The Thick of It, Series Four, BBC Two
New series of Armando Iannucci's political satire sets its sights on the coalition
Sunday, 09 September 2012
The Rt Hon Peter Mannion MP (Roger Allam): delivering digital dividends
What tremendous sacrifice did Armando Iannucci lay before the comedy Gods in order to be offered the gift of the coalition? Labour post-Blair singularly failed to provide rich pickings for political satire; Gordon Brown and his hangdog posse were too obviously doomed for anyone to bother really sinking their teeth into. In the three years since the last series, however, democracy has served up the omnishambles to end all omnishambles.
The question is what will
The Thick of It
choose to do with it?
On the evidence of the opening episode the answer is far from conclusive. Though it has always proved adept at reinventing itself, the fact that the programme's front line characters - Peter Capaldi's sociopathic spin doctor Malcolm Tucker, Rebecca Front's hapless MP Nicola Murray and Chris Addison's Ollie Reeder - are now playing for the political B-team may prove a knotty logistical puzzle. Next week will herald their return to the fray, plotting their revenge as members of Her Majesty's Opposition, but episode one was all about pointing and laughing as the brattish offspring of Clegg and Cameron wrestled in the parliamentary sandpit.
Of course, the entire thing was a layer cake of acute embarassment and unmitigated catastrophe
Despite not having yet displayed any noticeable areas of career competence, Peter Mannion MP (a deliciously vexed Roger Allam) is now Secretary of State for the Department of Social Affairs and Citizenship (DoSAC). We found him juggling his wedding anniversary – "the bailiffs are coming to take away my will to live" – with the launch of Silicon Playgrounds, the coalition's new back-of-a-fag-packet digital youth policy designed to get school kids creating apps in return for a "digital dividend" (trans: no money). As Director of Communications Terri Coverley (Joanna Scanlan) also helpfully pointed out, the brand tagline, "App-ortunity", "looks like a team name from The Apprentice".
Despite the fact that the policy was the rather feverish brainchild of Lib-Dem Junior Minister Fergus Williams (Geoffrey Streatfeild) and his thrusting sidekick Adam Kenyon (Ben Willbond) – nicknamed "The Inbetweeners" by everyone they annoyed, which was everyone – the pair of eager beavers were bounced out of the Silicon Playground by the PM to allow Mannion, a man who didn't know his upload from his download, to grab a little yoof kudos by launching the policy at a local high school.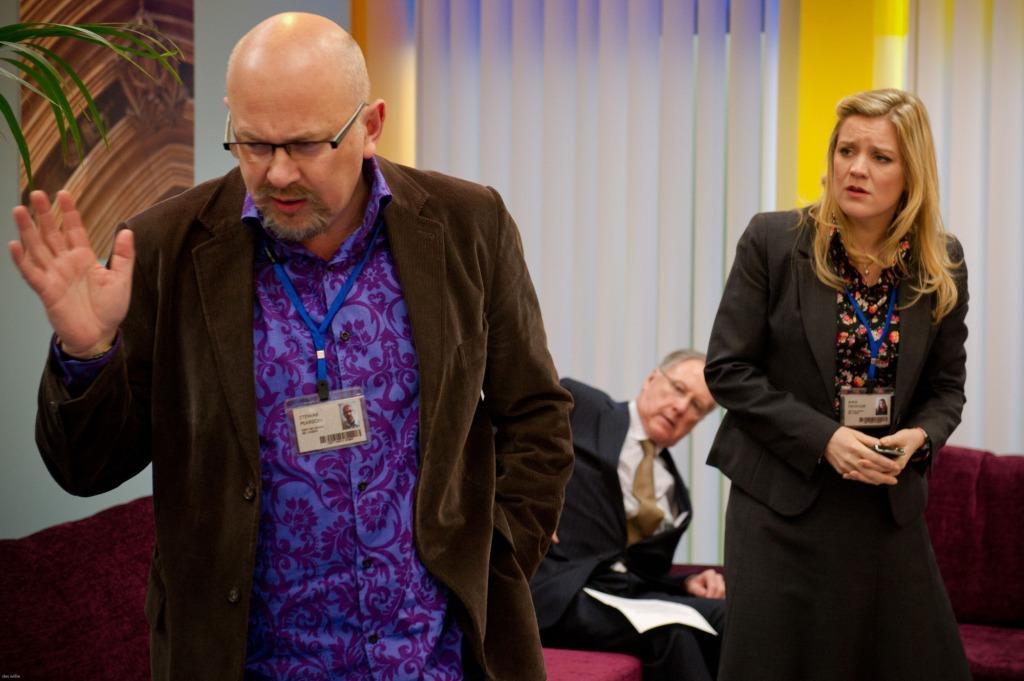 Naturally, the entire thing was a layer cake of acute embarassment and unmitigated catastrophe. The Minister's gaffe-strewn ramble in front a classroom of gobby teens - "what do you actually do?" one asked; coherent answer came there none – ensured the policy was dubbed "Mannion's Workhouse Web" by the press and the clueless messenger a "fibre-optic Fagin" by his coalition partner.
In between this 24-carat calamity a couple of slow-burn plot strands were set smouldering. As Mannion was raking through the ashes of his ruined anniversary, Coverley was trying her best to get the sack, a triple-bluff saga which promises to run through all seven episodes. Meanwhile Tucker's Tory counterpart, Number 10 spin doctor Stewart Pearson (Vincent Franklin, pictured above right), looked more than ever like a post-Woodstock, velvet-shirted, Zenned-out killing machine clutching a one-way ticket to a nervous breakdown.
The Thick of It, probably inevitably, feels less fresh and freewheeling than it once did. The satire increasingly tends towards obvious farce rather than anything particularly barbed or focused, while the script (and perhaps also the acting) is certainly more self-conscious these days. At times it all teeters on the brink of self-parody.
Time has rounded off some of the sharp edges but it still delivers a highly generous helping of belly laughs per minute. Silicon Playgrounds, strangled by Number 10 within 24 hours of its strange and unnatural birth, was described by Kenyon as "snuff politics. We bring in an idea, you like it, you nick it, you put two bullets in the back of its head". The Thick of It, on the other hand, may largely have lost its insurrectionary aura but still has plenty of life left in it yet.