Storyville: Welcome to Chechnya, BBC Four review - trauma, tension and resistance |

reviews, news & interviews
Storyville: Welcome to Chechnya, BBC Four review - trauma, tension and resistance
Storyville: Welcome to Chechnya, BBC Four review - trauma, tension and resistance
David France's 'guerrilla' documentary charts brave Russian response to extreme anti-LGBTQ campaign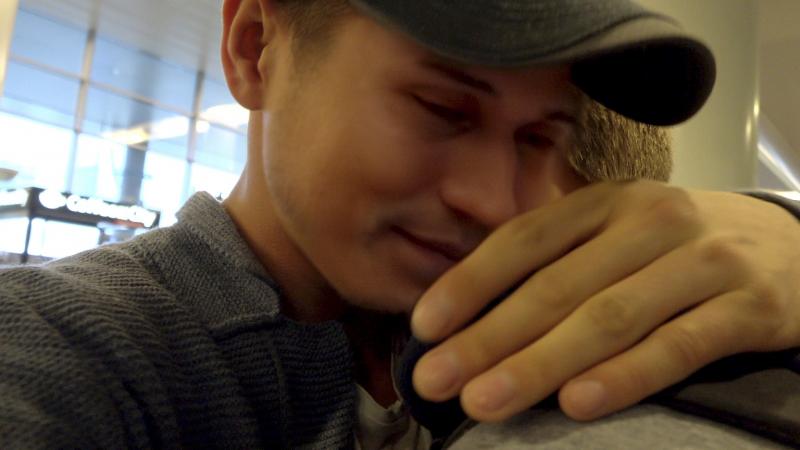 Joy of reunion: a happier moment in 'Welcome to Chechnya'
David France's revelatory film may have been subtitled "The Gay Purge", but from the start it was clear this wasn't just another documentary from Russia charting the increasing pressure faced by that country's queer community.
Since "propaganda" of gay relationships was criminalised there in 2013, such anti-
LGBTQ
initiatives have become an ever-more convenient rallying point for a state seeking to manipulate its people in a socially conservative direction. (Look no further than the national referendum which concluded there yesterday – as well as achieving a two-term extension of Vladimir Putin's presidential mandate, that plebiscite also set into law the definition of marriage as a union between man and woman.)
On one level, of course, Welcome to Chechnya looked to be about exactly that – and on a more extreme level than anything we've seen before. The story that it followed had started back in 2017, with a crack-down by the authorities in the southern republic of Chechnya that saw widespread police torture of gay men; in a society where concepts of family shame and honour killing remain absolutely real, victims were then handed over to their families, most probably to be murdered by them, the same fate awaiting women as well. Interspersing the film we saw snatches of video (shot by the perpetrators, intercepted by activists) that showed just that happening, a "gay purge" being carried out in horrifically vivid detail.
But the real subject of France's film was something else, something (perhaps) more surprising, and (definitely) more life-affirming – how, even in such bleak circumstances, there were people prepared to do something about what was happening. Welcome to Chechnya opened with footage of activist David Isteev (pictured below) waiting anxiously on his phone, listening to 21-year-old "Anya" – the names of all except the activists were changed, their faces and voices disguised – from the Chechen capital Grozny, tell how she was being blackmailed by a family member threatening to reveal her sexuality. For most of the 100 minutes that followed, Isteev seemed to be in much the same position, trying to juggle the fates of those who had ended up under his protection as he attempted to spirit them to safety. His almost incredible sang froid was matched only by that of his colleague Olga Baranova.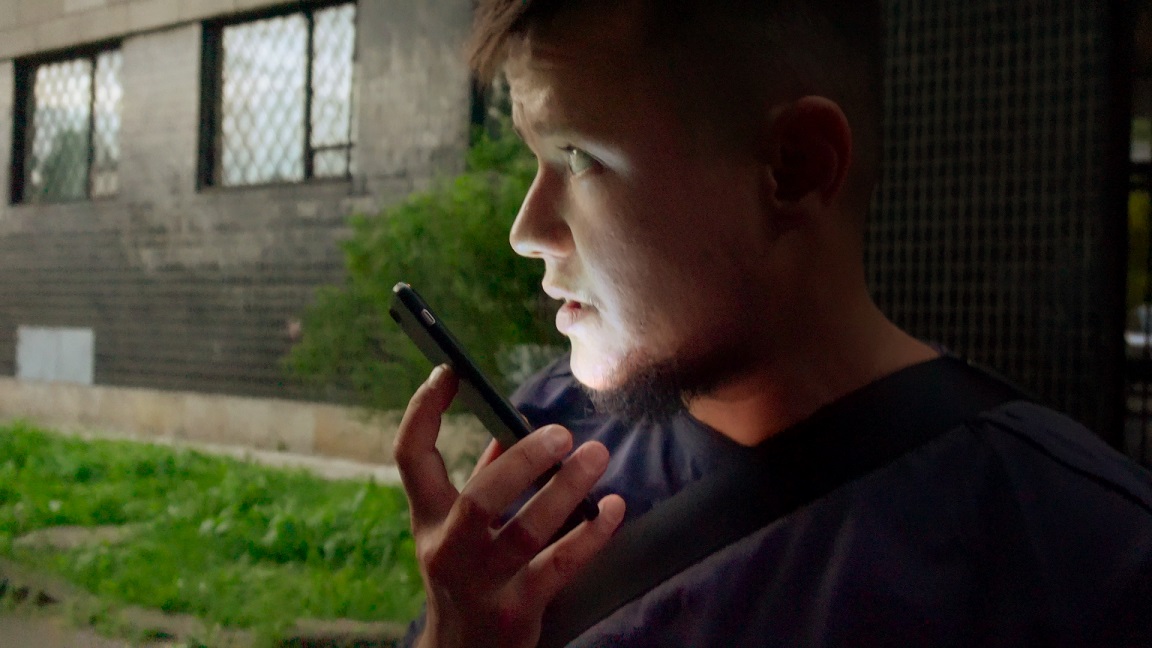 Isteev was the aptly titled "crisis intervention coordinator" for Russia's largest gay rights group, The Russian LGBT Network, Baranova the director of the Moscow-based Community Center for LGBTI+ Initiatives. Together with various support initiatives, they had come to oversee a network that had arisen almost spontaneously back in 2017 to respond to what was happening in Chechnya. Managing to extricate men and women from there, they looked after them in safe houses in Moscow and elsewhere, before finally – in the best outcome, at least – relocating them to where they could live in safety. Which meant, in the cases we saw here, abroad, in which they were assisted by a range of international gay organisations, as well as those embassies in Moscow, Canada clearly prominent among them, that proved receptive.
The film's production was obviously clandestine, "guerilla" filmmaking to a tee, with director France and his cinematographer Askold Kurov seeking invisibility as they worked with handheld cameras, and catching what they could on phones when that was the only way to operate. The main location we saw was one of the Moscow safe houses that provided a temporary home for those en route to somewhere else; its routine of wary everyday life, interspersed by periodic departures for the airport, seemed almost normal until painfully broken by a traumatised young man attempting suicide.
The fate of his call for investigation would be depressingly familiar
But the greater part of the action of Welcome to Chechnya was caught on the move, with a disturbingly convincing tension, as the film followed various strands as they developed, unpredictably, in real time (it's a considerable achievement, not least in editing, to make such an approach convincing rather than contrived). We witnessed Anya's extrication from Chechnya across the mountains, the first step in an evacuation that saw her moved to temporary safety in the hinterland of a neighbouring country (her journey would go no further, not the only example where family coercion or other intervention would prove more powerful than fear). Another agonising airport moment came when "Grisha" flew to lasting safety abroad, accompanied not only by his boyfriend but by his family as well: the threats of the Chechen power structures extended so far in Russia that all concerned were in peril, and so had to be moved.
It was Grisha's particular situation that brought the film's action into direct contact with officialdom. He had been in Chechnya for work when he was caught and tortured by the police, his difference in circumstances – principally the fact of his being an ethnic Russian meant that he was released – finally giving him the courage to go public about what had happened and demand that the authorities investigate. We witnessed the dramatic press conference, organised by Russia's Committee against Torture, at which that happened, which was also the moment that the film let slip the visual technique that had allowed the director to "mask" the faces of his subjects (the pioneering effect essentially reverses the image-manipulating possibilities of DeepFake). Grisha – now going by his real name, Maxim – may have had his identity finally "restored", but the fate of his call for investigation would be depressingly familiar, refused in another rote court decision (his fight for justice continues at the European Court for Hight Rights).
The darkness was painfully visible throughout Welcome to Chechnya, but France somehow managed to close the film in light – a beam, however tentative and hesitant, that nevertheless shone through with affirmation. When he made his first documentary, 2012's How to Survive a Plague, about the early AIDS activists in America, the director didn't hesitate to describe his protagonists there as "heroes", for the way that they stood up for what they believed in, against adversity: it's an accolade that seems no less appropriate here.