Phil Spector, Sky Atlantic
Phil Spector, Sky Atlantic
A film about the legendary music producer makes him appear more sinned against than sinning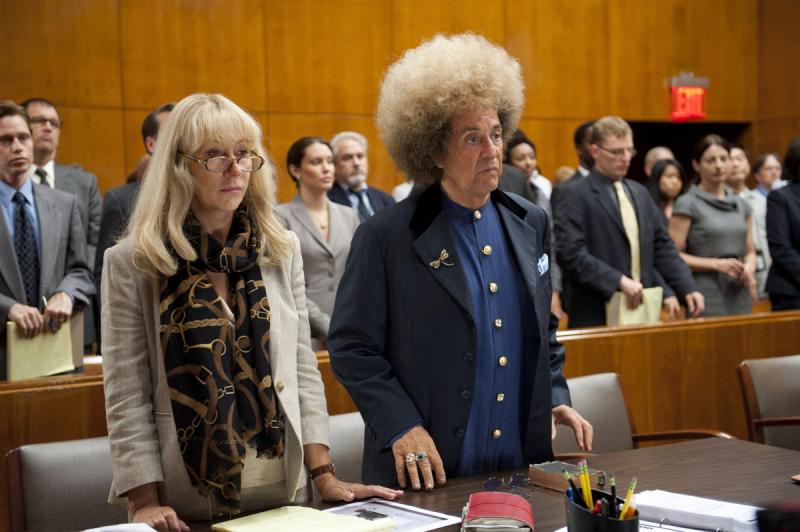 Helen Mirren as Linda Kenney Baden and Al Pacino as Phil Spector
David Mamet has composed a love letter to Phil Spector. It may not be the most mellifluous ever written, and its tone may occasionally jar, but that's what this fictional film, which he also directs and which stars Al Pacino as the bewigged legendary music producer, effectively is.
It focuses on the months leading up to and during his first trial for the murder of struggling actress and nightclub waitress Lana Clarkson, and ends before we hear the verdict (it's a hung jury; a retrial convicted him of second-degree murder in 2009).
But just in case there's any danger of mixing fact and fiction, the film kicks off with a long disclaimer. It's worth quoting in full:
"This is a work of fiction. It's not 'based on a true story.' It is a drama inspired by an actual person in a trial, but it is neither an attempt to depict the actual persons, nor to comment upon the trial or its outcome."
This feels more like a pretence at balance than an impassioned attempt to get to the truth of what happened
This bizarre statement surely goes beyond any legal necessity. After all, no names have been changed, and besides the nonsense about not depicting actual persons, it's simply not true that the film doesn't "comment on the trial". Mamet not only wants you to come away believing that there's reasonable doubt to securing a conviction, but that any jury would be insane to convict him.
Nothing is measured about his movie. He builds up a case for Spector's innocence. Yet by all accounts he omits details that would make us less inclined to give Spector the benefit of the doubt. And it's Spector's detractors who are the ones made to look either unconvincing or unhinged. When one woman throws red paint – or perhaps blood – at Spector as he leaves court, it is the defendant who is made to look persecuted and victimised. It's all about his celebrity, see? What's more, he is being made to pay for the fact that OJ Simpson got off the charge of killing his wife. This is actually one of the arguments privately put forward among his defence team.
Then we have Spector's real-life attorney Linda Kenney Baden, played by Helen Mirren, acting as consultant on the film. It's as if Mamet wanted to say his piece and then morally wash his hands of it. None of it's real, says the disclaimer, before emotionally blinding us.
Of course, we do see Spector's penchant for guns, and for letting them off in the recording studio, but this feels more like a pretence at balance than an impassioned attempt to get to the truth of what happened. It's simply more evidence of Spector's eccentricity, though at one point a producer colleague does make this blunt statement on TV: Spector, he says, "didn't know what love was. He knew what pussy was. That's as close as he came." Needless to say, it's hardly necessary to portray him as a saint to make a case for his innocence. Pacino's Spector is damaged, for sure, shambolic, ridiculous and quick to lash out. He's just not a murderer.
And as for the film as a drama – it's watchable for the two central performances: Mirren as Spector's sickly lawyer, popping prescription pills to get through the day, and Pacino, who, for all his rambling self-aggrandisement, is oddly charming, even as we feel he is being manipulative. Mamet plays that old trick of presenting two misfits who kind of get each other, though Mirren's role is too sketchily drawn to pull us in emotionally. But the real failure of the movie is that there's just too little momentum. Rather than being propelled forward through the tensions of a trial, it just peters out.
It's as if Mamet wanted to say his piece and then morally wash his hands of it
rating
Explore topics
Share this article