Into Orbit: The Culture Show Special, BBC Two |

reviews, news & interviews
Into Orbit: The Culture Show Special, BBC Two
Into Orbit: The Culture Show Special, BBC Two
Arts programming doesn't get much dumber than this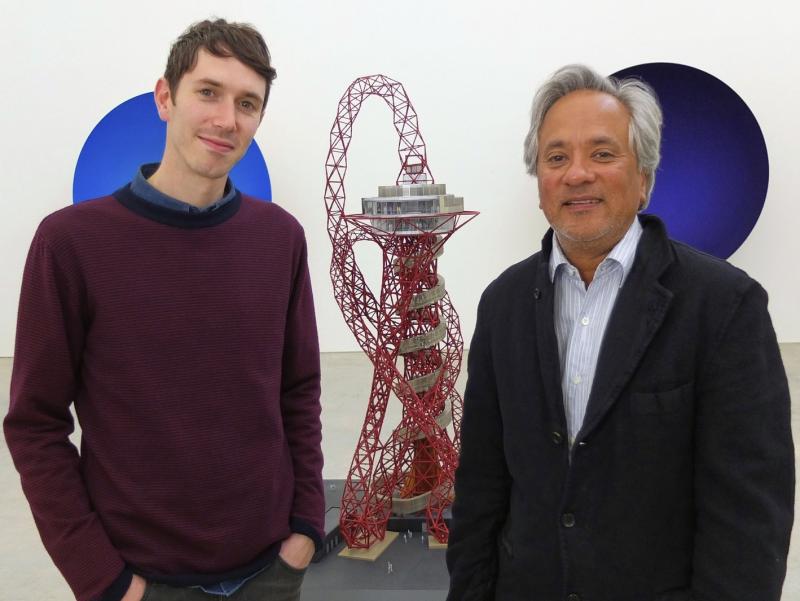 Alastair Sooke and Anish Kapoor, with a model of the ArcelorMittal Orbit
What a mismatch of ambitions was unearthed in this Culture Show special on the ArcelorMittal Orbit. Boris Johnson admitted that he'd wanted slides on it, joking heartily that "there's nothing too vulgar for me", whilst Anish Kapoor wished for it to be "up there with the gods", and mused that it had moments that were meditative and contemplative.
Meanwhile, the artist expressed sheer horror that the Olympic Authorities where keen to call it "an attraction", despite the public's insistence on calling it a helter-skelter. Then there was some lofty talk of it representing the nature of flux in the perilous 21
st
century – a fitting metaphor for our times, since those spaghetti loops do look on the verge of collapse.
And that's not even to mention the artistic compromises that have had to be endured every painful step of the way, nor the careless oversights (white doors instead of black; the massive canopy that was letting in far too much light, thus disrupting the notion that we were entering a dark and forbidding cave, before slowly, slowly being drawn up to the light). But as we began to realise that every detail had to be keenly fought over, did we finally begin to fall in love with Kapoor's much derided "eyeful tower" with its corporate mouthful of a name?
Did our hearts melt as we were talked through the difficulties of its conception and birth – look, we might have been impatiently reminded, at least we didn't get another one of Antony Gormley's giant identikit men, though presenter Alastair Sooke politely avoided talk of the initial competition. And were we impressed by Kapoor's singularity of vision, despite the artist suffering the brickbats of carping critics? (Sooke told us that Kapoor is an artist "loved by the public and critics alike" - a good indication that Sooke is a critic who rarely knows what he's talking about).
But to answer the question. In short, not really, though the handful of locals who were invited along to enjoy first access were swayed. But they also expressed disappointment that it would not be free to the people of Newham, the residents of London's poorest borough (one older resident was shocked that the charge might be as high as £15). Nor was the artist himself happy. "There's a balance that I've had to cajole them into, which is bloody hard," Kapoor said, wearily. "Sadly, too much is driven economically." Originally expected to cost around £10m, the project has finally been realised at the cost of over £20m, mostly paid for by steel magnate Lakshmi Mittal, who may or may not still be the world's sixth richest man. Kapoor and partner Cecil Balmond, the engineer who had worked with Kapoor on Marsyas, the steel and PVC structure that spanned the entire length of Tate Modern's Turbine Hall, had originally wanted it to exceed its current height (almost 120 metres), but then there were budget realities to consider.
In the end we really didn't need an hour-long special, which, under the stewardship of the anodyne Sooke – he who gave us the awesomely dumb Modern Masters series – seemed very long and very, very dull. There was much pointless padding, including a brief history of the Eiffel Tower, which, as we all know, had been equally derided in its day. Built for the World's Fair in 1889, the 320 metres tall Parisian icon was described by one contemporary critic as "that truly tragic street lamp". And so, with flawless logic, we were invited to imagine that one day Mittal's mighty Orbit, a midget by comparison, might also be seen as a world icon.
But, oh, what nonsense. This is to wilfully ignore just why the Eiffel Tower came to be seen as such a vibrant symbol of modernity in the first place. Here's the clue: it was built in the 19th century, it remained the world's tallest structure for over 40 years, and it was made not of marble, complete with neo-classical columns, pilasters and a frieze, but of a revolutionary modern material. The fact that Mittal's tower merely loops will never have the same sort of significance. Truly, arts presenting, and programming, doesn't get much dumber than this.
Did we fall in love with Kapoor's much derided 'eyeful tower' with its corporate mouthful of a name?
Explore topics
Share this article