Mum, BBC Two |

reviews, news & interviews
Mum, BBC Two
Mum, BBC Two
Lesley Manville is surrounded by gargoyles in a gentle comedy about widowhood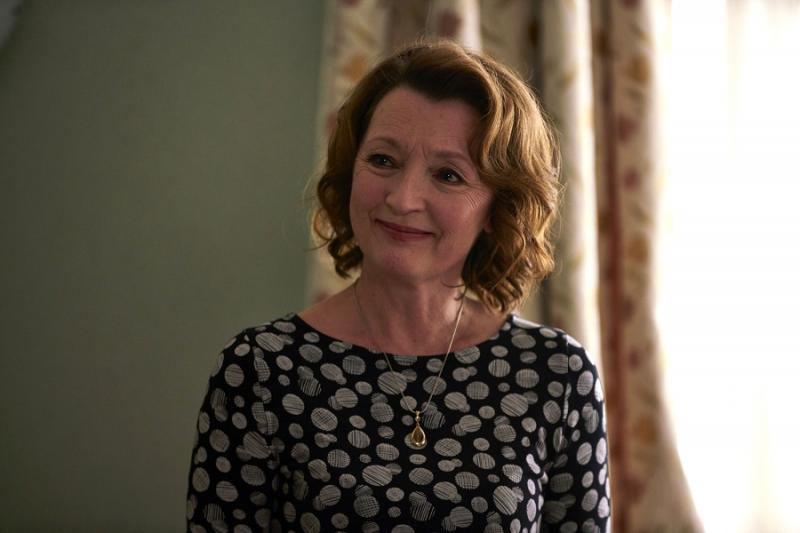 The patience of a saint: Lesley Manville as Cathy in 'Mum'
The comedy of widowhood is the brave territory of Mum. Lesley Manville plays Cathy, whom we meet on the day she is burying her husband Dave – although not literally doing it herself, as has to be explained to the nice but dim new girlfriend of her stay-at-home son Jason (Sam Swainsbury).
As the mourners gather at her Chingford semi, each fresh arrival proves more grotesque than the last, and poor Cathy's face becomes a little more pinched as her heroic reserves of tolerance run almost dry.
First there's Kelly (Lisa McGrillis, pictured below) who arrives in a short red dress, needing to borrow a pair of knickers, talking about number ones and twos and the death of her dog. Then Cathy's brother brings a new squeeze called Pauline (Dorothy Atkinson), whose eye-poppingly aggressive snobbery makes you want to chuck her in the boot of the hearse and screw down the lid. Finally the deceased's parents arrive, deaf and crotchety and mainly interested in what they can scoff at the wake.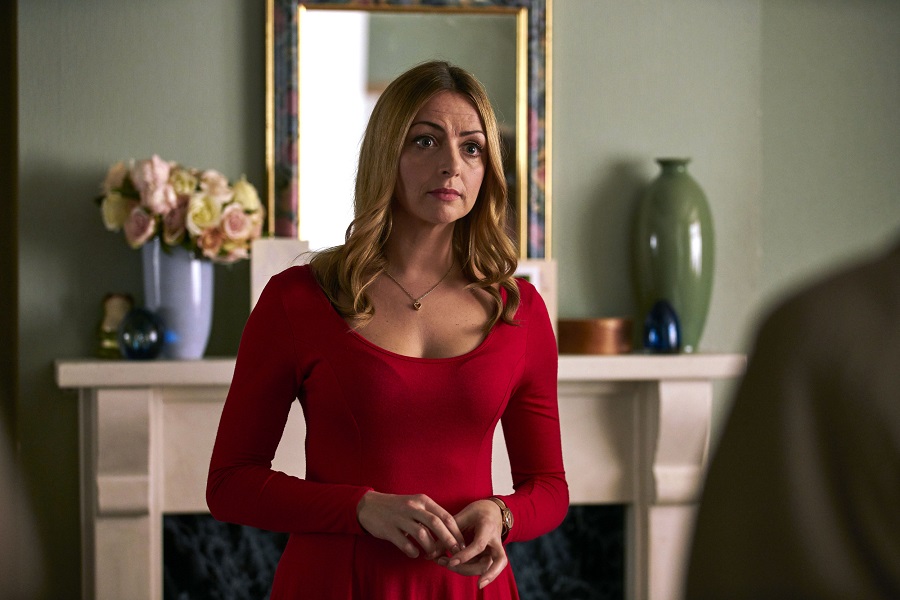 Standing aside from all this is Peter Mullan as Michael, her husband's oldest chum and best man. He clearly carries a torch for Cathy so watch this space. Mullan watchers who've had it up to here with his slightly exhausting parade of brutes will be pleasantly surprised to see him doing shy and reserved.
Manville was of course born to play Cathy, another of her mothers carrying a heavy load. See also Ghosts (for which she won an Olivier), Mike Leigh's play Grief, The Go-Between and the stage version of All About My Mother, in all of which something goes horribly wrong. Cathy's a different mum altogether, superhumanly tolerant and slightly daffy (your reading glasses are on your head, Cathy). She cracks only once when she is provoked into correctly identifying Pauline as "a fucking twat", alas not to Pauline's face. Let us pray that pleasure awaits.
The tone is gentle, observational, the pace glacially lifelike. Stefan Golaszewski, who also writes plays, won a BAFTA for his previous television comedy Him & Her. Mum is more unassuming. The set-up asks the viewer to see the world through Cathy's eyes. It's a slightly frustrating perspective because Cathy, having the patience of a saint, is nicer and perhaps more passive than at least some of the rest of us. But stick with it, because Mum will certainly grow.