Misfits, E4 |

reviews, news & interviews
Misfits, E4
Misfits, E4
Asbo-cases develop super-powers
Thursday, 12 November 2009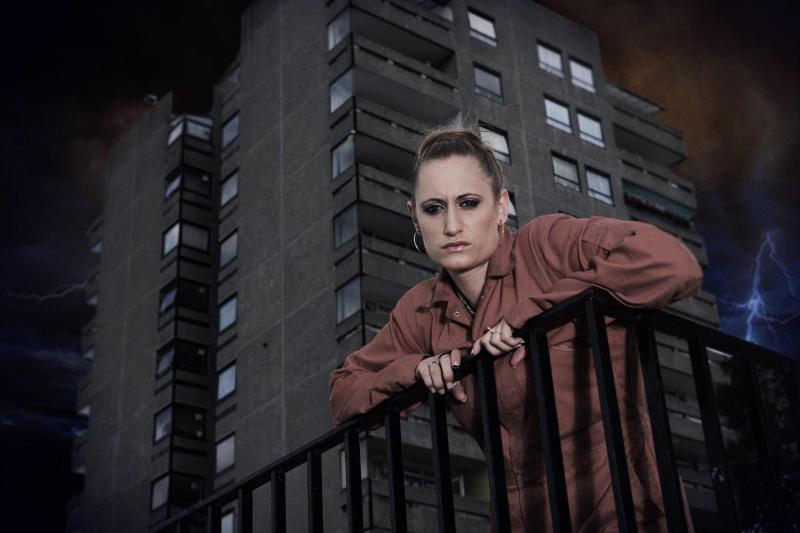 Lauren Socha plays Kelly, one of the Asbo-cases who develop superpowers in Misfits.
Filmed in the same Thamesmead locations in south-east London as Stanley Kubrick's A Clockwork Orange, Misfits also features a gang of young trouble-makers in boiler suits. Unlike Alex and his Droogs, who face the fearsome "Ludovico" aversion therapy (after which thinking about violence, or hearing Beethoven's Ninth Symphony, triggers nausea), this bunch are on a fairly slack community service gig.
They paint benches between spliffs and indulging in the sort of banter you'd find on any Facebook page not being monitored by the grown-ups.
That all changes when a massive electrical storm gives them superpowers - turning invisible, being able to hear other people's thoughts and turn back time... the usual bag. Only Alisha seems to have a novel ability, inducing fevered lust in anyone who touches her. But then, played by the beautiful newcomer Antonia Thomas, she probably had a head start with that anyway. So, it's kind of Skins meets Heroes in Asbo-land, but so far Misfits is promising not to be as formulaic as that makes it sound.
Howard Overman's nippy script is well served by some good young actors, including Robert Sheehan - and I can report that, having met him on a set visit to Thamesmead (Kubrick's dystopia looking rather utopian in the autumn sunshine), Sheehan is every bit as mouthy as his character Nathan. Kelly, who can suddenly hear people thinking that she's a "chav", is played by Lauren Socha, the Nottingham actress who was so terrific as Lucy's room-mate in Samantha Morton's autobiographical Channel 4 drama about growing up in care, The Unloved.
"A girl called me a slag so we got into a fight," explains Kelly, when asked by Nathan about the misdemeanour that led her to painting benches in an orange boiler suit. "Was that on Jeremy Kyle?" taunted Nathan. "No, Argos," she replies. If Socha gets offered the next series of Shameless, she'll have to turn it down or become irredeemably typecast.
Nathan Stewart Jarrett plays Curtis, a once promising runner now banned from athletics for being caught with some cocaine, and given 200 hours community service because he should have been a role model. His sense of regret seems to be connected to his new-found ability to turn back time. And Welsh actor Iwan Rheon has been given an Ian Curtis haircut as would-be arsonist Simon, the quiet one of the group, who can turn invisible. Only Nathan has yet to discover the nature of his superpower. Maybe he'll suddenly become tactful.
Where Overman goes next with his creation I shall be interested to find out. So far we have the kids' probation officer, Tony, turned by the storm into an axe-wielding maniac who has already chopped his way "Here's Johnny!"-style into the toilet cubicle where one of his charges was having a quick toke. He also scrawled "I'm Going to Kill You" on the community centre wall. ("It's probably that Banksy prick," quipped Nathan. "It's probably crystal meth," retorted Alisha, "it makes you mental. My friend Chloe did it and nearly shagged her brother.")
In the end, however, it was Tony who got dispatched, and buried underneath a local fly-over - thus introducing a Shallow Grave element to the mix. Whether Misfits ends up a derivative ragbag of other shows and movies, or whether it proves something genuinely novel and surprising, we shall have to wait and see. But, unlike what often passes for home-grown youth comedy on BBC Three, we shouldn't have to suffer as we make up your minds.