Maigret's Night at the Crossroads review - 'more straight faces from Rowan Atkinson' |

reviews, news & interviews
Maigret's Night at the Crossroads review - 'more straight faces from Rowan Atkinson'
Maigret's Night at the Crossroads review - 'more straight faces from Rowan Atkinson'
A quiet rural instalment for Simenon's psychological sleuth
Gnomic: Rowan Atkinson as Inspector Maigret
We're three films into Rowan Atkinson's tenure as Inspector Maigret and so far he's barely twitched a facial muscle. Gone are the eye bulges and nostril flares, the rubbery pouts. There's sometimes a hint of a frown, the odd twinge in a wrinkle around the eyes, but Atkinson's performance continues mainly to be about keeping his cards superglued to his chest. Gnomic is about the size of it.
The murder Maigret was investigating in Maigret's Night at the Crossroads (ITV) was of a Jewish jewel fence called Goldberg who, we later discovered, was recklessly eager to pull off one last high-yield deal before heading west with his wife. But he was shot at the titular location out in the countryside near Paris, and his body is discovered in a garage of a lugubrious Danish introvert with a facial scarring and an eyepatch. Whodunnit? This being a crossroads, there was a quartet of potential culprits.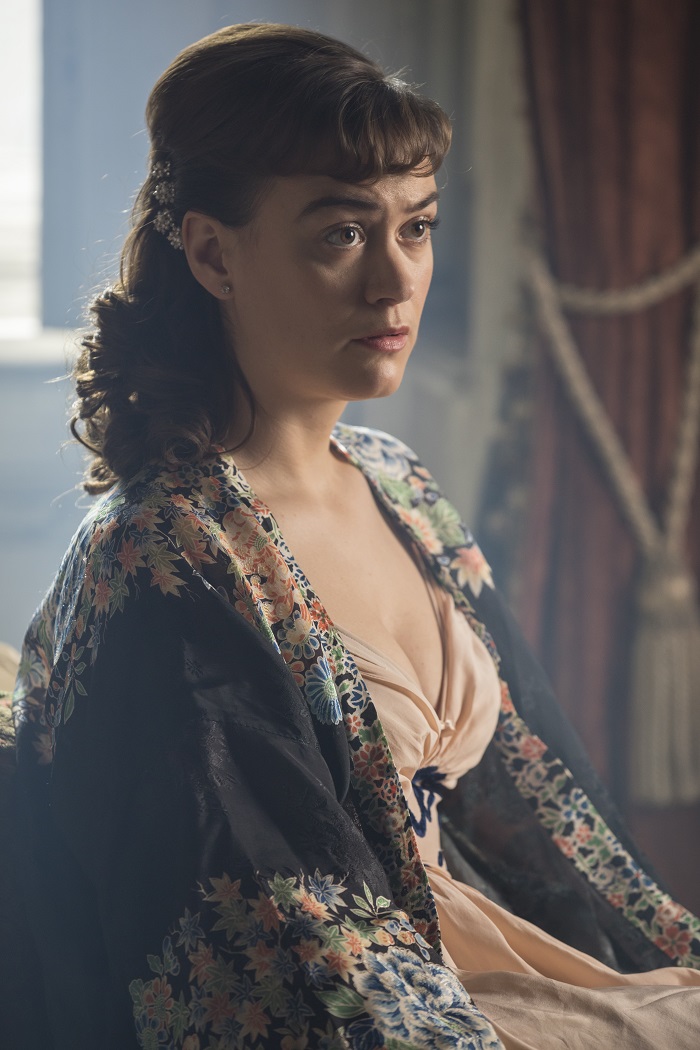 Simenon scholars will know that La nuit du carrefour is an early Maigret, published in 1931 and filmed the following year by Jean Renoir. This adaptation adapted by Stewart Harcourt transplanted it to after the war, and implies from the number tattooed on the corpse's arm that Goldberg was a survivor of the camps. "When you have been through what we went through in the war," his widow shouts to Maigret's boss, "then you'll know a real crime when you see one!"
This idea of the victim as a postwar Holocaust fugitive was only lightly painted on. The story's really damaged character was Andersen (Tom Wlaschiha), the disfigured Dane who, when hauled in for questioning, had a maddening stock answer: "I cannot help you with that." His liaison with a woman he claimed was his sister (Mia Jexen, pictured above) turned out not to be incestuous, but still freighted with dysfunction.
Students of the semantics of casting will have twigged that something was up with Kevin R McNally's Inspector Grandjean (pictured below). Grandjean appeared at first to be a walking cliché, the fractious copper who pins the blame on the most obvious suspect without interrogating the evidence ("it's clearcut!"). But actors of McNally's stature tend to sink their teeth into real meat, and so it proved. The fears of Grandjean's wife (Dorothy Atkinson) were based on a squalid mixture of reality and fantasy: the fantasy was another cliché, in which the middle-aged man believes that the young beauty who drives him to commit murder really does love him.
This was a quiet instalment, interleaved with sudden bursts of action: a bullet through the heart for Goldberg's widow; porky little insurance man Michonnet (Paul Chahidi) run over by a truck; a bit of illegal prizefighting; a car run off the road. The rural setting meant there was less of Budapest impersonating Paris to enjoy. There were splashes of lurid colour here and there. Mark Heap's Dr Moers had a juicy little cameo: Goldberg, he concluded with a smirk, was killed "after midnight, like all the good murders".
As for Atkinson, Else the underdressed Danish prostitute somehow managed to read sadness in his poker face and opportunistically offered to cheer him up in bed. But Maigret always has the faithful Madame Maigret (Lucy Cohu) waiting at home and not getting enough to do. He should have been a priest, says Grandjean contemptuously. In fact he should have been a shrink. He's the first of the great detectives who goes on psychological intuition rather than Holmes's hyper-rational computation of evidence. His words to the murderer were quietly withering: "You never could read people, could you?"
Atkinson, after all those years forcing you to watch him, is now playing a watcher. Watching him pull it off – against an impeccably lit, deftly designed backdrop – is not an unpleasant way of passing an evening. The character work is largely confined to the enquiring angle of his signature meerschaum, the cogitative hang of his overcoat. He did slightly raise his voice in this one, and one's pulse rose to a gentle trot.