The Last Post, BBC One review - sundown on the Empire |

reviews, news & interviews
The Last Post, BBC One review - sundown on the Empire
The Last Post, BBC One review - sundown on the Empire
Lust and bloodshed on the Arabian Peninsula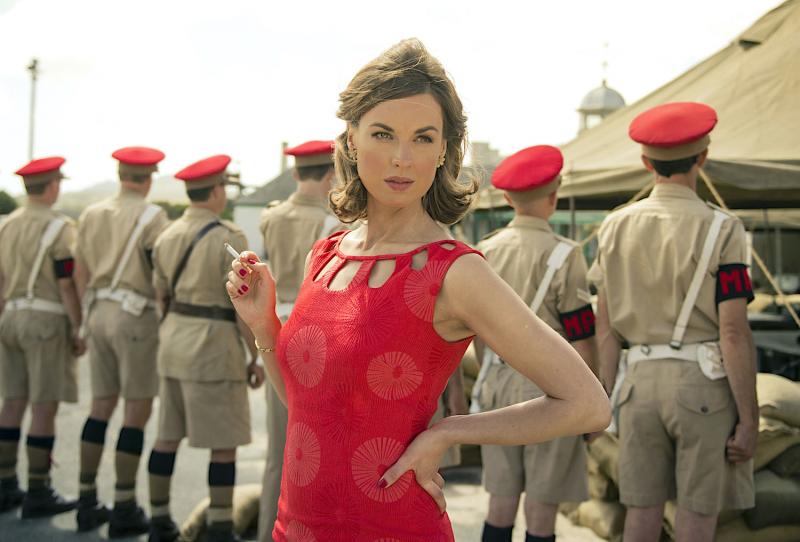 A change of gear for Jessica Raine as Alison Laithwaite
Peter Moffat, author of Silk and The Village, has turned his sights on the last days of Empire for his latest series. Specifically, Moffat has mined his own memories of growing up in a British Army family in Aden in the 1960s, where his father was in the Military Police.
The story begins as Captain Nick Page (Joseph Kennedy) is about to leave Aden (an unprepossessing but strategically significant port in what is now Yemen), to be replaced by the young and untried Captain Joe Martin (Jeremy Neumark Jones, pictured below with Jessie Buckley). Behind him, Page leaves a garrison accustomed to broiling in the ferocious desert sun, an escalating terrorist insurgency which will eventually prompt the British to pull out of Aden altogether, and the distraught Alison Laithwaite (Jessica Raine), the married woman with whom he has been having an affair. I nearly said "torrid affair", but in these latitudes there isn't really any other kind.
The love-in-a-hot-climate theme, set against a backdrop of dirty politics and physical violence, is quite a popular one and has given us the likes of Casablanca, The Quiet American and The Year of Living Dangerously. Whether The Last Post will surpass any of those doesn't seem very likely, but this first episode introduced some solidly-drawn characters and successfully evoked a claustrophobic mixture of tedium and intermittent terror which felt like an accurate approximation of what the real-life characters might have experienced.
The Last Post was shot in South Africa, but its sandy wastes and dazzling blue sea serve well enough as the Arabian Gulf, while the montage of newsreel film in the opening credits successfully evoked the period. The props department had gone into overdrive to decorate the Aden airfield with some Lightning fighters, a VC10 airliner in BOAC livery, and a Vulcan bomber flying overhead.
That probably blew most of the budget (which is possibly why the later scene where a British officer was blown up in his Land Rover by terrorists was done off camera), but nonetheless the sense of a closed community operating under military rules in an alien landscape was effectively conveyed. Ben Miles (pictured below), his brow permanently furrowed, plays Military Police commander Major Harry Markham, a rigidly Queen-and-country officer who probably memorised the Army regulations in his pram. However, it's now the mid-1960s, Aden represents the end of an Imperial era, and you don't need Bob Dylan to explain that the times are changing.
Raine's performance as Mrs Laithwaite is the revelation of the piece. Freed at last from Tudor bodices and that midwife's uniform, Raine energetically seizes the role of bored, frustrated Army wife, washing it down with copious quantities of daytime gin and flouncing around her cell-like married quarters as though auditioning as a Tennessee Williams heroine. The way she hung her underwear out on her rooftop washing line, under the gaze of the garrison below, would have prompted mass cardiac arrests at Nonnatus House.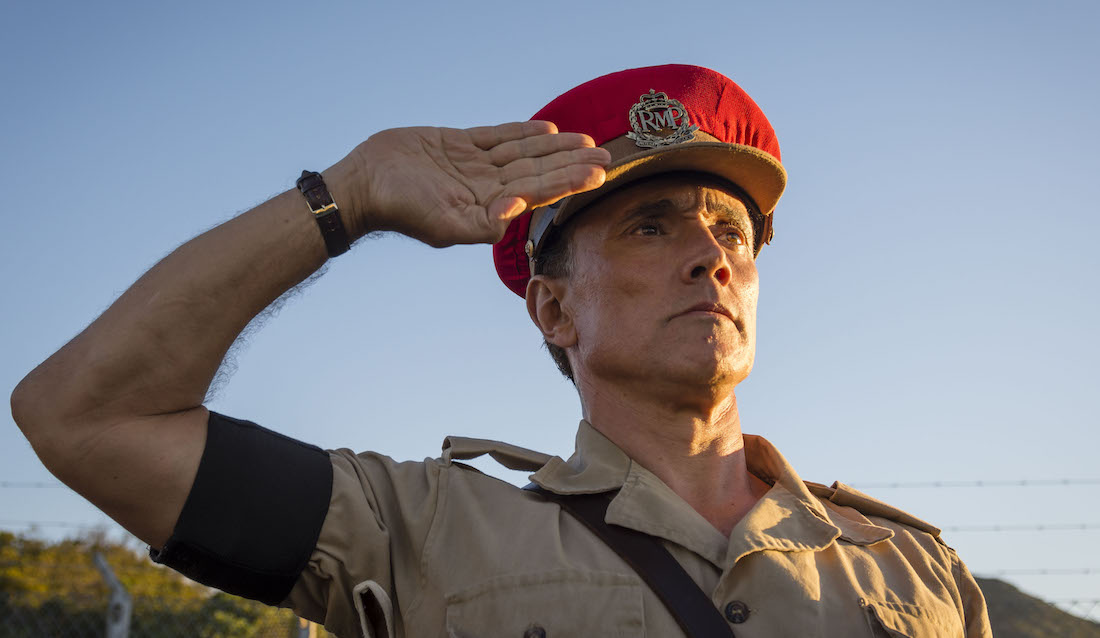 You have to feel some sympathy with her cuckolded husband, Lieutenant Ed Laithwaite (the suddenly omnipresent Stephen Campbell Moore), who has been passed over for promotion and knows his marriage is on a disintegrating wicket, but sticks doggedly to his military duties. Quite important they are too, since he's involved in gathering intelligence about local terrorist activity. Where the Army's undercover spooks try to intimidate Arab prisoners with what the CIA would call "enhanced interrogation", Ed has had the brilliant idea of winning prisoners' confidence by speaking to them in a confidential manner, and has already unearthed a significant arms cache which was about to be used against the Brits. However, the authoritarian Major Markham will have none of this softly-softly nonsense and has ordered him to cease and desist.
It remains to be seen how Moffat handles the balance between soap-opera and counter-insurgency, and the behaviour of the characters both in and out of uniform. But it promises to be entertaining at least, and given some extra resonance by its historical context.
Subscribe to theartsdesk.com
Thank you for continuing to read our work on theartsdesk.com. For unlimited access to every article in its entirety, including our archive of more than 10,000 pieces, we're asking for £3.95 per month or £30 per year. We feel it's a very good deal, and hope you do too.
To take an annual subscription now simply click here.
And if you're looking for that extra gift for a friend or family member, why not treat them to a theartsdesk.com gift subscription?