The Impressionists: Painting and Revolution, BBC Two |

reviews, news & interviews
The Impressionists: Painting and Revolution, BBC Two
The Impressionists: Painting and Revolution, BBC Two
The artists who broke the mould, only to be later dismissed as 'chocolate box'
Waldemar Januszczak gave us this new three-parter on a group of French artists who've had more than their fair share of television exposure. The Impressionists are both loved and loathed for exactly the same reasons: their paintings are seen as soft-focus, chocolate-box confections – sweet to the point of nausea when over-indulged, and boy, have we all over-indulged (indeed, there's a reason you wouldn't catch Picasso's Guernica on a tin of French fancies).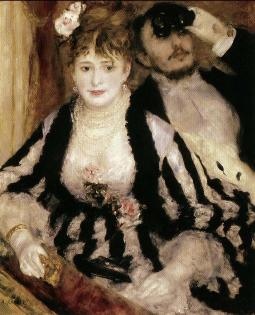 But Januszczak argued, as almost every critic and art historian does, that this is an injustice: the Impressionists were true revolutionaries, the Che Guevaras of the art scene whose sun-dappled lawns and bathing beauties opened the door on a world that was brave, bold and ballsy. Pissarro, Monet, Renoir, Degas (of whom more in the second episode) were the "Gang of Four", with Bazille somewhat playing the part of fifth Beatle (this supremely talented artist died, at just 28, in the Franco-Prussian war of 1870 as an enlisted soldier, four years before the Impressionists' first exhibition). (Pictured right: Renoir's La Loge, 1874, which featured in the first Impressionist exhibition.) But Januszczak gave him his due, for Bazille's en plein air paintings placed, for the first time, the figure centre stage, in the glaring sunlight, painting the contrast of light and shadow on the flesh. But he did this with only partial success: Bazille's figures are unreal, as if "captured in a very sunny ice cube". We are left to imagine just what might have been.
And what of Pissarro, the comparatively little-known satellite to the eclipsing stars of Monet and Renoir? Older than both by a decade, Pissarro's quiet, sensitive paintings - of the unremarkable suburbs outside Paris and London and the fleeting figures of ordinary men and women – were undoubtedly revolutionary in their way. But, importantly, the artist was also the glue that held the group together.
'Presented with the evidence who could argue that the Impressionists weren't brave, weren't revolutionary?'
And with their choppy, fractured brushstrokes and their focus on the world around them, what exactly were these young revolutionaries fighting against? Why, the stranglehold of the Paris Salon and the École des Beaux-Arts and its jury of stuffy academic painters. They were the enemy establishment, the keepers of the gate and they included painters like Alexandre Cabanel, whose Birth of Venus, with its quintet of syrupy cupids, was painted as late as 1863.
A close-up of an Impressionist painting was proffered in contrast to Cabanel's alabaster nude, as "smooth and shiny as the paintwork of a new car". Presented with the evidence, who could argue that the Impressionists weren't brave, weren't revolutionary? Indeed, so contemptuous was Januszczak of the old guard that neither Cabanel, nor his egregious painting, even got a name-check.
Januszczak is fantastic at fleshing out little-known biographical and contextual details which can open our eyes to new ways of thinking about an artist. Pissarro was a Jew, and this information mattered, because he was the first Jew to defy rabbinical law and become an artist, whilst Renoir was apprenticed at the age of 14 as a painter of porcelain plates, and this was where he had honed his flickery, feathery technique.
This is why Januszczak's televisual portraits of single artists are so good. His one-offs on Manet and Toulouse-Lautrec were utterly compelling. One could learn much from them. And because he makes the biographies so rich, so vivid, a sketchier group show seems, well, sketchier, lacking in that full-bodied richness of colour.
Luckily, there are two more episodes to come. But I do hope that in these our presenter might be less inclined to show off quite so much bare leg (those stumpy pins are not exactly "chocolate box", and rather more Lucian Freud than Cabanel).
Watch The Impressionists: Painting and Revolution (Part One) on BBC iPlayer
Share this article