I Was There, BBC Two |

reviews, news & interviews
I Was There, BBC Two
I Was There, BBC Two
The Great War generation movingly depicted in its own words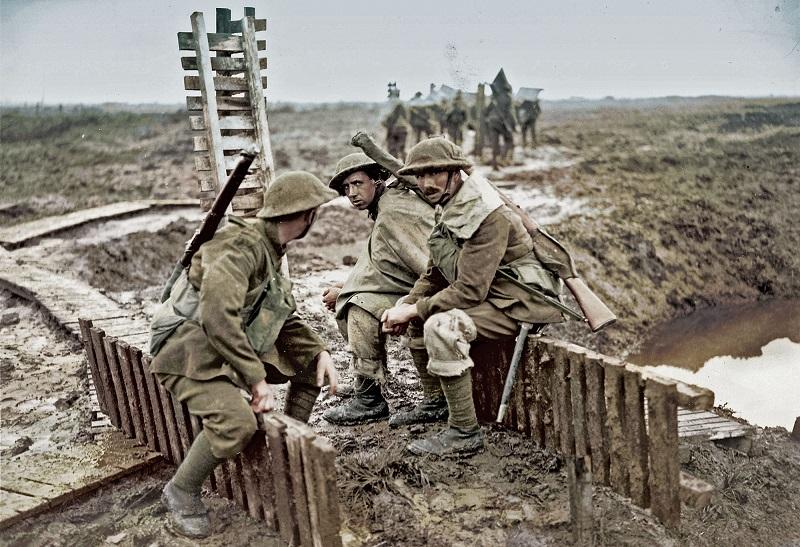 British soldiers at Passchendaele, 1917
We have already seen a lot of World War I on television this year, and clearly we're going to be getting a great deal more before it's out. Whether it's a "celebration" season, or the diametrical opposite, or just that looser term, commemoration, is something each individual viewer will have to decide for themselves.
Much of it will be, to some extent, extrapolation, and little will reach the sheer, concentrated power of I Was There: The Great War Interviews. If you didn't like Jeremy Paxman's Britain's Great War, in which that Newsnight timbre dominated, even belittled its subject – can we ever entirely avoid the associations of a voice and self-image when it's so set in our consciousness? – then I Was There was the reverse. It went back to the oral testimonies of the survivors, and those connected to others who didn't survive, bringing us as close to the experience as we can surely ever come.
Director Detlef Siebert's hour-long film mined the Imperial War Museum archives, which contains the full background material of the BBC's classic 1960s The Great War; that had collected more than 250 eye witness accounts, of which a great deal had clearly not been used in the original programme. I'm sure there's as much material of no less power that didn't make it into I Was There (fuller-length versions of 14 interviews are available here).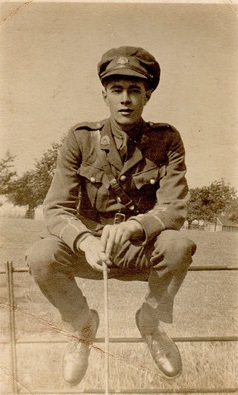 It also led to some reflection on how television has changed since the days of those black and white, studio-filmed encounters (pictured above right, researcher Julia Cave interviewing a Great War veteran for the original series). Bringing interviewees into a studio in the first place must have brought a degree of concentration that filming on location wouldn't neccessarily have achieved, but it's the restraint of these clipped intonations that really rung true. The dignity of those voices hit home: these were the stories, after all, which at the time – when the soldiers came home on leave, for instance – they could hardly relate, showing, as one homefronter remembered, a "strange lack of ability to tell us what it was really like."
Today we're all so used to the television interview, and the screen experience (viewing or participating, on television or the internet) has become so much a part of the marrow of human experience, that this degree of simplicity really does seem a leftover from another age. Philip Larkin's celebrated line about the Great War, "never such innocence again", surely applies to television, too. Which had you wondering whether Siebert's film could have done with even fewer frills, particularly on the musical front. Its score, from Dominic de Grande, seemed on occasions too melodramatic, with mechanical intonations recalling, rather incongruously, the Daleks motif.
Philip Larkin's celebrated line, 'never such innocence again', surely applies to television, too
We had so much here, from the home front memories of the widowed Katie Morter in Manchester, and her husband's joining up at a music hall performance of Vesta Tilley (whose "We Don't Want to Lose You" also reprised in the score), to the borders of nervous collapse at the front ("relax control, and you go"), and the consequences of that in the self-woundings ("I never even had the guts to do it", one veteran remembered of his attempts to throw himself under a munitions delivery) and the desertions that ended with the firing squad. (The order to take part in those was apparently the only one which a soldier could request leave to disobey.)
Or the periods of inaction, when it was "really rather fun, almost like an outdoor camping holiday with the boys, with a slight spice of danger to make it interesting", the excusions into the French bars, the estaminets, the relationships between soldiers and local girls. And then there were the episodes of fraternization between the trenches, in Christmas 1914 between the Germans and the British on the Western front, then at Easter between the Russians and the Austrians on the Eastern one (the Russians came asking for vodka, one Austrian soldier remembered – they had none: these interviews were not limited by nationality).
One of those remembering the first fraternization was Henry Williamson (pictured, centre left, on his commission: it's an image of the kind spread across a whole wall of the National Portrait Gallery's current exhibition The Great War in Portraits), who went on to write Tarka the Otter – we may wonder if that book's memory of "water-life" was in any way an allusion to the trenches. He recalled with some wonder the appearance of a Christmas tree above the German lines. And it was with Williamson's exhausted words that I Was There played itself out: "… no downward droning of the shells. Just nothing, nothing. Silence."
Read director Detlef Siebert's thoughts on making I Was There
The dignity of these voices hit home: these were the stories, after all, which at the time they could hardly tell
rating
Explore topics
Share this article
Subscribe to theartsdesk.com
Thank you for continuing to read our work on theartsdesk.com. For unlimited access to every article in its entirety, including our archive of more than 10,000 pieces, we're asking for £3.95 per month or £30 per year. We feel it's a very good deal, and hope you do too.
To take an annual subscription now simply click here.
And if you're looking for that extra gift for a friend or family member, why not treat them to a theartsdesk.com gift subscription?