Homeland, Series Finale, Channel 4 |

reviews, news & interviews
Homeland, Series Finale, Channel 4
Homeland, Series Finale, Channel 4
The paranoid drama's first season wraps up with a compelling tragic end-stop
Carrie (Claire Danes) is the unsung heroine of Homeland's finale
The course of the serialised drama finale never did run smooth, particularly in the case of a show like Homeland, which has structured its entire run around a slow-building sense of queasy, paranoid dread with, thus far, very little real payoff.
The penultimate episode ended with both series leads fulfilling their long-awaited narrative destinies - rescued prisoner of war Brody (Damian Lewis) was indeed the brainwashed terrorist that CIA analyst Carrie (Claire Danes) had always suspected him to be, while Carrie herself had fallen into the manic state of psychosis she'd long been skirting the edges of. What's tragic is that while plainly unwell, she also happened to be absolutely right, and even with her credentials revoked and in exile from the CIA she continued to be bang on the money throughout this supremely tense, wrenching, if necessarily plausibility-stretching dénouement.
As contrived as the setup is, Lewis and Naylor sell the conversation with nuanced intensity
As we picked up, Brody had sold Carrie out to the CIA, bemused his family with an enigmatic speech about bravery, and picked up his explosive vest in preparation for an attack on the US government. He professed – to camera in the episode's opening scene – still to love his country, enough to defend it against enemies "both foreign and domestic". In this instance, the domestic enemy was the vice president, who orchestrated and covered up a bombing in Iraq that killed several children including one whom Brody loved dearly. While Homeland has never quite lived up to its initial topical promise, there was incisive bite to the notion of US-led atrocities going unpunished and unpublicised.
What was far trickier than establishing a motive for Brody's turn was establishing an equally compelling motive for his 11th- hour backtrack. We knew Damian Lewis wasn't going nowhere, and thus we knew that his plot – to blow himself up within the confines of a protective underground bunker with the vice president and half the US government alongside him – had to be stymied. In this sense the writers were in a corner, but they deployed enough diverting tricks during the sweatily claustrophobic bunker sequence (notably his frenzied cubicle repair job on the faulty wiring in his vest) to take the anticlimactic sting out of Brody's inevitable reversal.
It was a shrewd choice too that his daughter Dana (Morgan Saylor, pictured above with Lewis) was the one to talk him down. His bond with surrogate son Isa was what propelled him to ally with Abu Nazir, and the equal and opposing force of his daughter's terror was perhaps the only somewhat plausible reason for him to decide, after all that anguished fumbling, not to flick the switch. As contrived as the setup was (it was apparently possible to receive phone calls in a top-security underground bunker), Lewis and Naylor sold the conversation with nuanced intensity.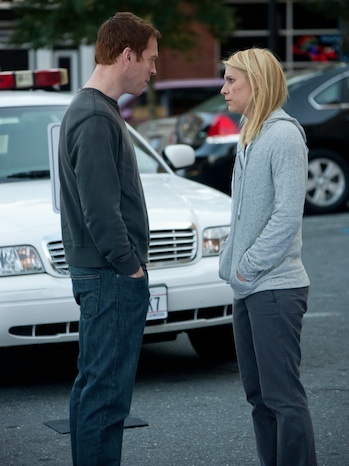 This was Carrie's one victory in what was otherwise a pretty wall-to-wall terrible episode for her – unbeknown to everybody including herself, she did successfully thwart Brody, as it was her agitated intervention at the house that scared Dana into making the pivotal phone call to her father. Unfortunately, it got her escorted away by police first and ultimately saw her voluntarily landed in a psychiatric unit awaiting electro-convulsive therapy, with no idea whatsoever just how right she has been all along. The terrible dramatic irony in this made Carrie, a prickly, discomfiting and frequently despicable antihero, the most sympathetic she has been. There's nothing like the prospect of a character's brilliant, singular mind being forcibly rewired to make an audience appreciate everything they have loved about her, and her defeated turn towards mental self-obliteration as the episode ended was unutterably sad to watch.
There was something a tad eye-rolling about the revelation that Carrie was not only obsessed with Brody for professional reasons, but in love with him: frailty thy name is, and so forth. But while Carrie may on one level be viewed as a weak woman at the mercy of her feelings for Brody, those feelings hadn't at any point clouded her judgment, and in fact only spurred her on to all the right conclusions. On that subject, there was something anticlimactic about her confrontation with Brody's wife Jess (Morena Baccarin) – "You slept with my husband and now you're accusing him of being a terrorist" would be an awkward moment for anyone, but perhaps owing to the breakneck pace of plotting here it didn't resonate.
Much as her recent arc has centred on being humbled and betrayed by the men she loves – Brody last week, and this week her trusted mentor Saul (Mandy Patinkin) – it's a fair bet that vindication is on the cards for her next season in the grand Jack Bauer tradition of rogue-yet-right agents, particularly given Saul's final scene with the vice president. It was satisfying to see Carrie and Brody's revelatory cabin getaway come back to haunt them both in the season's final moments, and one of next season's central questions will of course be how many episodes it takes for that last-minute revelation to come back to Carrie. The question of how much the ECT will change her, coupled with the prospect of Brody using his political influence to craft a far subtler and more insidious domestic attack, makes a promising foundation for future episodes.
There's no predicting just how well Homeland's premise can hold up under the strain of multiple seasons, but for now this is a compellingly tragic end-stop in the life of a shrewdly plotted, breathlessly entertaining and occasionally remarkable series.
Carrie's defeated turn towards mental self-obliteration is unutterably sad to watch
Explore topics
Share this article