Great British Food Revival, BBC Two |

reviews, news & interviews
Great British Food Revival, BBC Two
Great British Food Revival, BBC Two
Too many hectoring celebrity chefs spoils the broth
If you know which side your bread is buttered on, you should be up in arms about the white fluffy stuff you've been hoodwinked into putting into your toaster, implied a positively evangelical Michel Roux Jr in this first of a five-part series on the state of the nation's food. Real bread is something that requires love, time, kneading, and more time, and more kneading. Supermarket bread is a cad and an impostor borne of sinister shortcuts in the process of making it, and the unholy use of countless scary additives and evil preservatives.
Not that anyone used such declamatory, emotive language to put across their case in this program, despite there being something of a hectoring tone dominating proceedings, particularly in the second half. It seems that in the wake of Jamie Oliver's recent adoption of the role of people's champion in various telly programmes, it's no longer enough to simply state that very few of us eat real bread anymore or regularly buy cauliflowers (we'll get to that humble brassica later), you now have to be Action Chef and use emotive proactive words like "mission", "campaign" and "crusade" while standing in the middle of a field punching the air.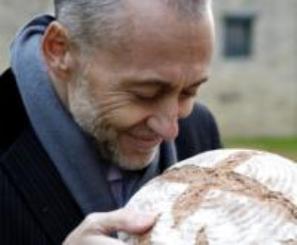 Gone are the days when we could sit back and watch domestic frump (rather than Goddess) Delia just boiling an egg for five minutes. Now it seems that if you want to get ahead as a TV cook you have to be some kind of spatula-wielding superhero saving the nation from the sugar monster - or in this case, the bread impostor. But having said all that, Michel (pictured left) did seem genuinely impassioned about a subject I too feel strongly about: the proliferation of crap bread. For example, the other day I was too late to pick up a reassuringly dense five-grain boulder from the local bakery and so ended up with some air-plumped rolls from Sainsbury's that were no more than little wholemeal clouds. To a bread lover, such a minor domestic anomaly feels like a prescient forewarning of the imminent collapse of civilisation.
The fact is you really can't get decent bread these days unless you're within in stone-ground loaf's throw of an artisan baker. We were informed that there were 30,000 such establishments in the UK in the 1950s and now there are only 4000. So, Michel called upon us to protest - to shout from the rooftops - that faux bread simply isn't good enough. And then he showed us how to make our own simple white loaf by mixing, kneading, waiting half an hour, kneading some more, waiting another half an hour and then baking – yes, you know the routine. And a nation of bread lovers presumably thought about, maybe, possibly, if they've got time, having a go themselves this weekend… or possibly next weekend.
This was a programme made up of two distinct halves, suggesting it was originally planned to consist of half-hour rather than hour-long episodes. Part Two's wake-up call was more of a wake-up bawl, as the Hairy Bikers - up to their calves in a field of cauliflowers - shouted, "Yes, we love it!" about this anaemic cousin of the trendier, more elegant broccoli. Yet Uncle Monty in Withnail and I proclaimed, "I happen to think the cauliflower more beautiful than the rose."  And who would argue with such an august fictional fellow?
However, sales have apparently fallen by 35 per cent over the past decade, ironically perhaps because the kind of celebrity chefs fronting this series (later episodes include the likes of Gary Rhodes, Ainsley Harriot and Clarissa Dickson Wright) have never got round to showing us what to do with them besides making cauliflower cheese. So our two professional northerners set about char-grilling, pureeing and generally jazzing up this humble staple before – in the traditional telly manner – finding some members of the public to say how yummy their efforts were.
If you detect a note of scepticism in this review it was generated more by the patronisingly jovial, rabble-rousing tone of this programme rather than its admirable aim to inform us that the supermarkets' monopolisation of the food industry is a bad, bad thing (although it was never said as directly as in Channel 4's The People's Supermarket ) and buying locally produced food is a good thing. Blue Peter and its milk-bottle-top campaigns of the 1960s and 1970s sprung to mind in the way these earnest foodies told us repeatedly what a difference we could make, and how important it was that we did our bit.  Although, thinking about it, Peter Purvis was a model of discretion and understatement compared to the Hairy Bikers.
Share this article