The Girl Before, BBC One review - high-tech dream home contains many a heartache |

reviews, news & interviews
The Girl Before, BBC One review - high-tech dream home contains many a heartache
The Girl Before, BBC One review - high-tech dream home contains many a heartache
Compulsion, obsession, deception and confusion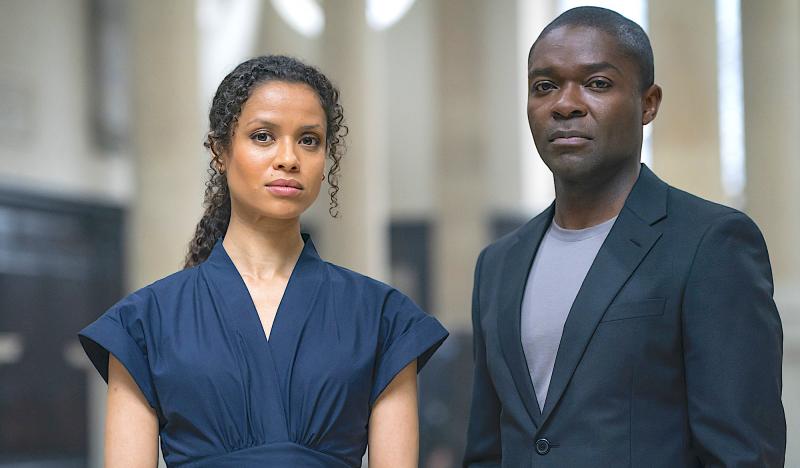 Creep show: Jane (Gugu Mbatha-Raw) and Edward (David Oleyowo)
Would you be willing to play the guinea pig in a designer-superhome created by a deranged architect?
That is one question posed by this four-part drama (
adapted
by JP Delaney from his own novel), a kind of haunted house
mystery
underpinned by the damaged psychological states of its protagonists.
David Oleyowo plays Edward Monkford, the architect in question, whose minimalistic and futuristic creation at One Folgate Street becomes the setting in which themes of compulsion, obsession and deception are played out in an atmosphere of steadily-gathering menace. Orbiting around Edward and his sinister structure are Jane (Gugu Mbatha-Raw) and Emma (Jessica Plummer, pictured below with Ben Hardy). Their storylines take place three years apart, but the timescales overlap and are knitted into the drama like dual alternative realities. The fact that Jane and Emma closely resemble each is part of the point, though as the narrative switches seamlessly between them it's often difficult to be certain which one we're watching, or when. Matters become yet more tangled when it transpires that Edward's deceased wife resembles (or resembled) Jane and Emma's long-lost triplet.
It's eerie and unsettling, but demands that you suspend industrial quantities of disbelief. For instance, Edward's pitch to putative tenants of his house (delivered via a frosty estate agent with delusions of superiority) is that they're not allowed to add any personal possessions (books, pictures, ornaments, furnishings etc) and can't have children. Once accepted, the successful applicant must fill out a long and intrusive questionnaire, and must accept that the super-high-tech dwelling is constantly recording data about their behaviour and lifestyle. The house has its own "moods", and if it feels like it it'll shut everything down and make the occupants answer all the questions again. But there is an upside – if you happen to pass Edward's extremely exacting vetting process and accept his terms, you can live in One Folgate Street at an alluringly low price.
The authorial notion is that both Emma and Jane are nursing emotional wounds that (for not entirely plausible reasons) make them feel that the behaviour and lifestyle dictated by the building can help them to bring their lives back on an even keel. Emma is suffering the post-traumatic effects of being raped at knifepoint, and her boyfriend Simon (Ben Hardy), resembling an ageing refugee from a boy band, exhibits the emotional sensitivity of a concrete bollard. Jane is still in bits after delivering a stillborn baby.
These women need some emotional rescue, but when we see both of them succumbing to the sexual overtures of the sinister and controlling Edward, credibility threatens to come apart at the seams. Oyelowo plays him like a mixture of psychotherapist and devious date-rapist, delivering his set-piece lines to each of them with bloodless detachment. The way he carefully places a plastic figurine of Jane inside a scale model of his house is an apt indicator of his monstrous egotism. But whatever turmoil the women may have been suffering, succumbing to the blandishments of a creepy, cold-blooded manipulator hardly looks like the perfect cure. And how did his wife and child end up buried under the floorboards at Folgate Street?