Endeavour, ITV1 |

reviews, news & interviews
Endeavour, ITV1
Endeavour, ITV1
Morse is revisited in his less grumpy youth in a plot that ticks all the back-story boxes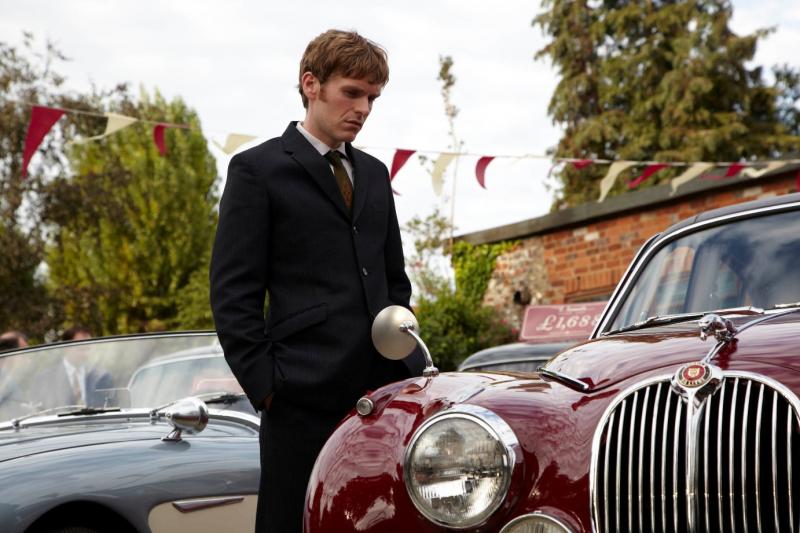 I want that one: Shaun Evans's young Morse eyes up a vehicle in 'Endeavour'
Diehard Morsians have been harbouring murderous thoughts ever since it was announced. No doubt they communicate these to one another in fiendish acrostics and cryptic clues. It was one thing giving Lewis his own spin-off, quite another to bring Morse back to life in the form of a prequel.
The heretical suggestion of
Endeavour
is that the grumpy old sleuth did not in fact spring fully formed into the world in the shape of John Thaw, with that slow world-weary lope and a withering glare lurking in those iridescent peepers.
Well, at least the eyes have it. Shaun Evans is in most respects a pipsqueak next to his, as it were, predecessor in the role - whippet-thin, long on perkiness and short on gravitas. But the eyes are correctly blue-grey and pin-sharp, the cheekbones look sort of right, as does the height, and it's a comfort to know this Morse already knows his way around a crossword and an aria. It may have strained the patience of some scholars that he began last night's story a teetotaller, though he took to real ale with equally implausible haste just as soon as he'd fainted at the sight of his first corpse.
As Russell Lewis's script went about the business of establishing the roots of the personality we know so well, various boxes were carefully ticked. We saw Morse unearth a taste for classic cars and classy brunettes and a distaste for dodgy dons. Evans hit his mark well enough, but if this new incarnation of the franchise is to have legs, it will probably be as reliant on the improbably monikered old-school inspector Fred Thursday, deliciously played by Roger Allam (pictured right with Evans) with less of the toffery than one is used to from this quarter.
Morse fell under his wing when summoned to Oxford as part of a busload of reinforcements to track down a missing teenage redhead. He left the dreary concrete town where he was posted to return without a backward glance to his alma mater. Did we know Morse studied at Oxford? I suspect not. "Kept that under yer 'at, dint ya?" advised one of his colleagues. Other biographical factoids: that he had a college sweetheart who jilted him on the way to the altar, that he was once in the Royal Signals ("didn't take"), that he misses his dear old mum. Oh, and that in the Sixties you could apparently drive a bus under the Hertford covered bridge without putting a hole through New College.
Morse's college education did not endear him to Danny Webb's weaselly gumshoe, who sneered at the young shaver's ability to crack open a case with a knowledge of cryptic crosswords and Shelley's Ozymandias. Webb, incidentially, might want to watch it typecasting-wise. The night before he played a similar sort of detective in Sherlock, which by a bizarre coincidence also had to share its plotline about an establishment cover-up involving sexual secrets (pictured left).
The missing teenage girl, meanwhile, was soon reported dead, while in came the body of a student too. Suspects included, naturally enough, a smooth don (Richard Lintern) who had taken more than a keen interest in the girl's parsing, but this turned out to be one of several red herrings. Morse's interest in the case was partly aesthetic, the don's other half (Flora Montgomery) just happening to be the eminent soprano through whose voice he fell in love with the finer things. "I knew for the first time," he explained, "that there was beauty in the world." Her refusal to meet his ensuing lunge halfway presented us with some sort of explanation why the older Morse keeps clear of emotional entanglement.
"Do you know how long you'll be in residence?" his landlady asked him when he arrived in the city. We all know that, and so apparently does young Endeavour, who in the final scene caught a glimpse of a wizened Thaw looking back at him in the rearview mirror. How long the pup will actually stick around depends on how many viewers are persuaded by this atmospheric return to Oxford in the Sixties that there is life before/after Thaw.
Meanwhile, there's a further question. We've just had wee Jimmy Herriot and before that there was a sort of Only Foals and Horses in Rock and Chips. where will it all end? Or should that be begin? Lads Army? Babes from the Blackstuff? Tinker Toddler Soldier Spy?