Young James Herriot, BBC One |

reviews, news & interviews
Young James Herriot, BBC One
Young James Herriot, BBC One
It shouldn't happen to a vet? The popular character becomes the latest ratings winner to go back in time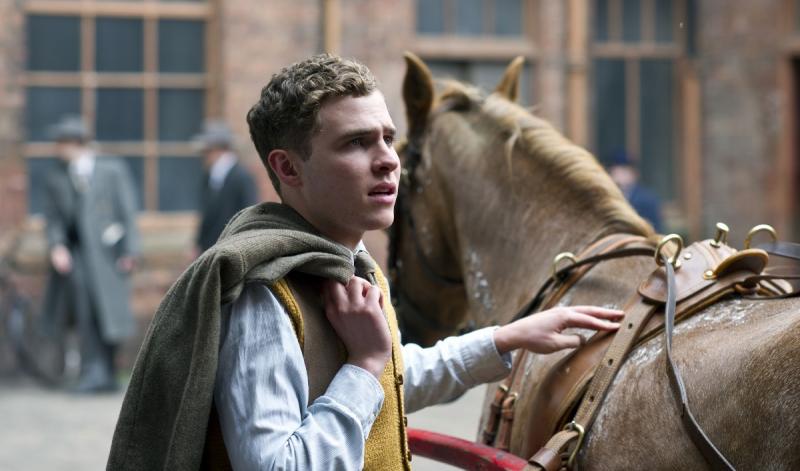 Positive vetting: Iain de Caestecker as the young James Herriot has something of the young Ewan McGregor
You can see why prequels come into being. A dramatic character becomes a national treasure and eventually, once old age or worse removes them from the small screen, they are opportunistically exhumed by means of the backstory. Young Delboy was brought back to life in Rock and Chips. Young Morse is expected to be solving murders soon.
And now here comes
Young James Herriot
. For all the logic of squeezing a last drop of juice out of a character, it seems a bizarre notion to revisit a vet who last shoved a forearm up a barnyard orifice more than 20 years ago.
The Herriot industry carried all before it in the Seventies. Books flew off the shelves in their millions and a film in 1975 was soon followed by a hugely successful television version. All Creatures Great and Small featured Christopher Timothy as a young vet who moves to the Yorkshire Dales to grapple with taciturn farmers and recalcitrant livestock. It ended after three series in 1980 and then returned for four more eight years later. So tenaciously has the BBC sought somehow to exploit the brand that a few years ago there was even talk of a one-off featuring a reunion of the old cast.
Basically, they've made a children's drama and slotted it after the watershed
Instead, there is this increasingly popular compromise: a three-parter in which the young Herriot attends veterinary college in Depression-era Glasgow. In his journey back in time the young James seems to have recovered his Scottish accent. Christopher Timothy was strictly RP. Iain de Caestecker has something of the amiable young Ewan McGregor about him. The opening episode found the young pup (as he was soon nicknamed) arriving for his first day of training, armed only with a schooling in humanities and an earnest determination to do his best. To the glowering looks of a faculty of disapproving professors, he was soon attempting to cure an ailing drayhorse despite a sketchy knowledge of veterinary science (he had trouble, for instance, determining the horse's gender). As in the original series - albeit set 10 years in the future - he has promptly found himself a coterie, featuring in this case a well-to-do wastrel called McAloon (a wholly English Ben Lloyd-Hughes) and an ambitious young bluestocking known for some reason as Whirly (Amy Manson) who is eager to establish herself in a male domain policed by an unreconstructed old professor (Gary Lewis, pictured below).
One thing you can say for the production design - gloomy high-walled tenements overhead and much squelchy ordure underfoot - is that it's all too clear why Herriot headed south for cleaner air. Everything else about Young James Herriot is squeaky clean. Although the dark arts of scheduling finds it going out at 9pm, there is nothing to frighten the horses. Apart from the drayhorse, that is, whom as a rite of passage the young protagonist was required to shoot between the eyes. Basically, they've made a children's drama and slotted it after the watershed. The writing goes exceptionally easy on nuance and texture. Lewis's Prof has all the light and shade of a moustache-twirling panto villain, while Herriot's hot-to-trot landlady (Natasha Little) owes rather too much to Donald McGill. "I'd like to say I don't bite," she purrs, "but often I do."
Is it a retrograde step? The brand name can hardly mean anything to anyone under the age of 40, but on the other hand, after 30 years it's not as if the nation has an unbreakable bond of loyalty to All Creatures Great and Small. (A young Morse may prove a bigger psychological hurdle for us all.) But a television show about vets and their suffering patients has never yet been known to fail. Don't expect this puppy to be drowned any time soon.
Young James Herriot continues on BBC One at 9pm on Monday, 19 December and Tuesday, 20 December