Best of 2014: TV |

reviews, news & interviews
Best of 2014: TV
Best of 2014: TV
Prog Rock, detectives, two world wars and the young Batman were among 2014's highlights
Wednesday, 31 December 2014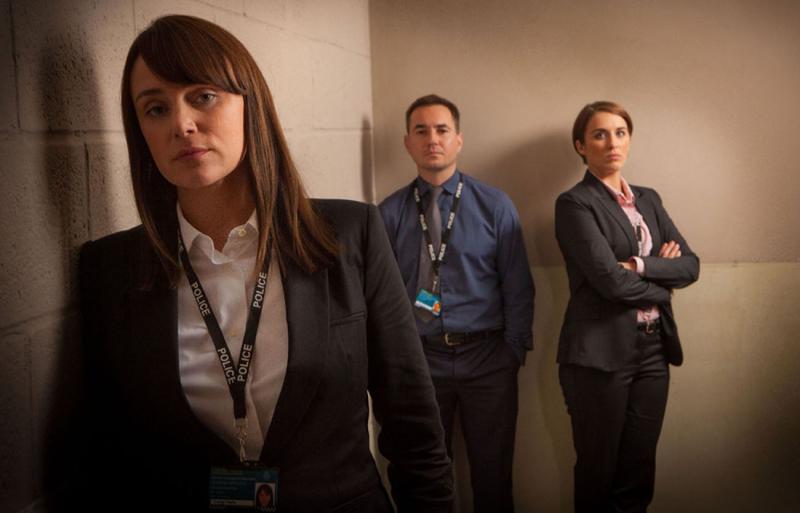 Keeley Hawes as DI Lindsay Denton in 'Line of Duty', with Martin Compston and Vicky McClure
Apologies in advance to fans of The Missing, The Honourable Woman, The Fall, Game of Thrones or House of Cards, none of which feature in the list below, but might well have done. So might The Good Wife, Ripper Street and Peaky Blinders.
The fact is, in our teeming everything-everywhere world now boosted by Netflix, Amazon Instant Video, iTunes, Now TV and many more, whittling a whole year down to a handful of nuggets requires the wisdom of Solomon, the patience of Job, and the devious brain of a superhacker. But at least it's no longer feasible to protest that "there's nothing on the telly".
Line of Duty, Series 2, BBC Two
The second series of Jed Mercurio's police corruption thriller was a quantum leap ahead of its predecessor, not least thanks to a blinding central performance by Keeley Hawes as DI Lindsay Denton. Lonely, depressed, and seemingly wrongfully accused of involvement in a murderous conspiracy, DI Denton was hauled over all manner of coals in the most painful and humiliatiing ways. Yet, after all, maybe she wasn't as innocent as all that.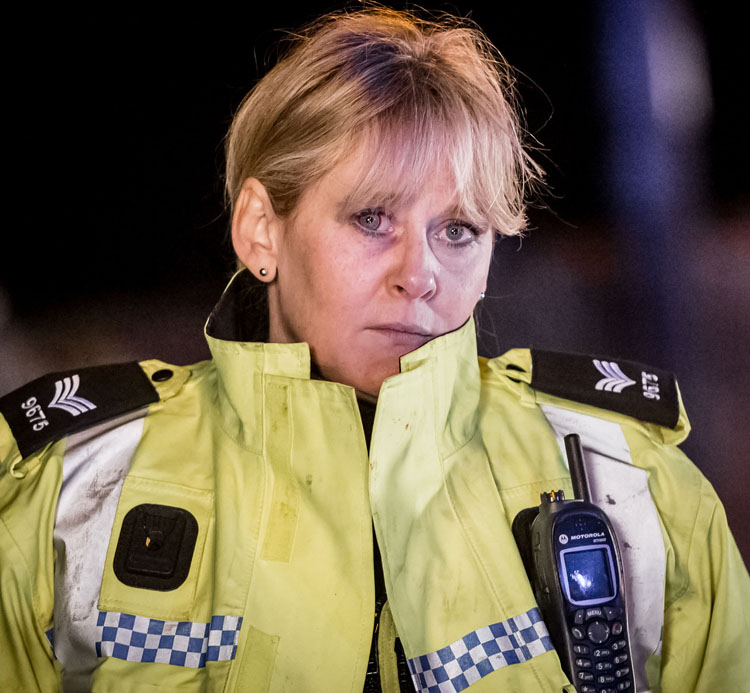 Happy Valley, BBC One
Are we witnessing the prime of Miss Sarah Lancashire ? Acclaimed for her role as lesbian head teacher Caroline in Last Tango in Halifax, Lancashire teamed up again with Tango writer Sally Wainwright for this shatteringly brutal psychological crime thriller, again set in Yorkshire. Lancashire's portrayal of police sergeant Catherine Cawood (pictured right), whose own psychological wounds are reopened by a new abduction case involving the man who raped her daughter, has already won her RTS and Television Society awards. Experts reckon the Baftas beckon.
They thought it was all over after series three, when Damian Lewis's Brody met his gruesome fate in Iran, but reports of Homeland's death were exaggerated. The fourth season switched the action to Islamabad and the sinister badlands of the Pakistan-Afghan border, and pitted Carrie Mathison and her CIA buddies against the merciless jihadist Haissam Haqqani. The action often disturbingly mirrored real-life events, and a gripping plot and strong new characters confidently placed the show in a convincing post-Brody space.
Known in its German homeland as Our Mothers, Our Fathers, this drama series about how five young German friends experienced the Second World War was a ratings smash on its home turf. However, it provoked reams of controversy elsewhere for its seemingly too-sympathetic treatment of its protagonists' progress amid the totalitarian frenzy of the Third Reich, while seeming to make the Poles even more anti-semitic than the Nazis. Yet there was no denying that as drama it was moving and powerful, and it challenged viewers to respond, critically or otherwise.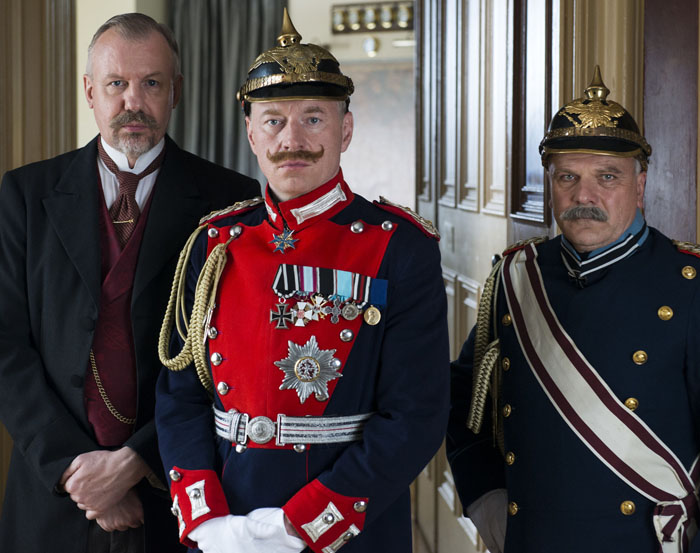 37 Days, BBC Two
The schedules were awash with programmes marking the centenary of the outbreak of World War One, most of them unmemorable. This superb dramatisation of the countdown to war following the assassination of Archduke Ferdinand was one of the best though, a subtle and perceptive account of the political machinations in the parliaments and chancelleries of Europe as the inconceivable became the inevitable. Hats off to writer Mark Hayhurst, to Ian McDiarmid as Foreign Secretary Sir Edward Grey and Rainer Sellien (pictured above at centre) as the Kaiser.
Splendid as are the works of our Nordic brethren (a respectful nod here to series two of The Bridge and the recent arrival of Danish dynastic saga The Legacy), it's nice to see that the Welsh can do it too. This dark, knotty thriller was shot in and around Aberystwyth – in Welsh for S4C and English for the BBC – fully exploiting the raw and primitive landscape in its unravelling tale of deaths past and present. Richard Harrington, as haggard, haunted DCI Tom Mathias, could get a job in Copenhagen any day.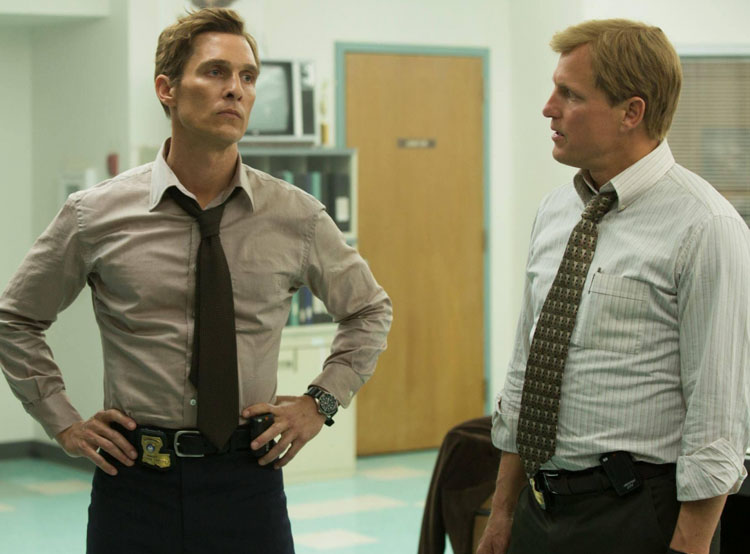 True Detective, Sky Atlantic
The twin leads alone would have made this worth tuning in for, to wit Matthew McConaughey as Detective Russ Cohle and Woody Harrelson as fellow-'tec Martin Hart (pictured right), but there was much more. Ostensibly the story of the hunt for a ritualistic serial killer in the Louisiana bayou, then its troubling aftermath 17 years later, the series evolved into a unique hybrid of gothic horror, mysticism and psychological analysis, intercut with ferocious action sequences. Series two is in preparation, but the leads next time will be Colin Farrell and Vince Vaughn.
Who ever thought little Martin Freeman could climb so high? A splendid Watson in Sherlock and a popular Bilbo Baggins in the Hobbit movies, here – in a blackly comic telly-revision of the Coen Brothers movie – Freeman excelled as the put-upon little guy in deep-frozen Minnesota who just needed that final push to make all hell break loose. Was this really that bloke from The Office?
Brian Pern: A Life in Rock, BBC Two
The "mockumentary" has become almost as commonplace as the "rockumentary" it aims to spoof, but this sly dismantling of the golden age of Prog Rock is a treasure. Simon Day's Peter Gabriel-ish Pern, erstwhile frontman of Thotch (pictured above left), is a mumbling, solipsistic relic of an era when a CD could sell 20 million copies, and wants to play gigs on Kilimanjaro and make charity records for polar bears. His wealthy, grouchy, yacht-dwelling manager John Farrow (a brilliant Michael Kitchen) corrals Pern's idiotic bandmates like a bunch of squawking chickens. It's the tiny details that count, like the "For Sale" sign from estate agents Crosby Stills & Nash.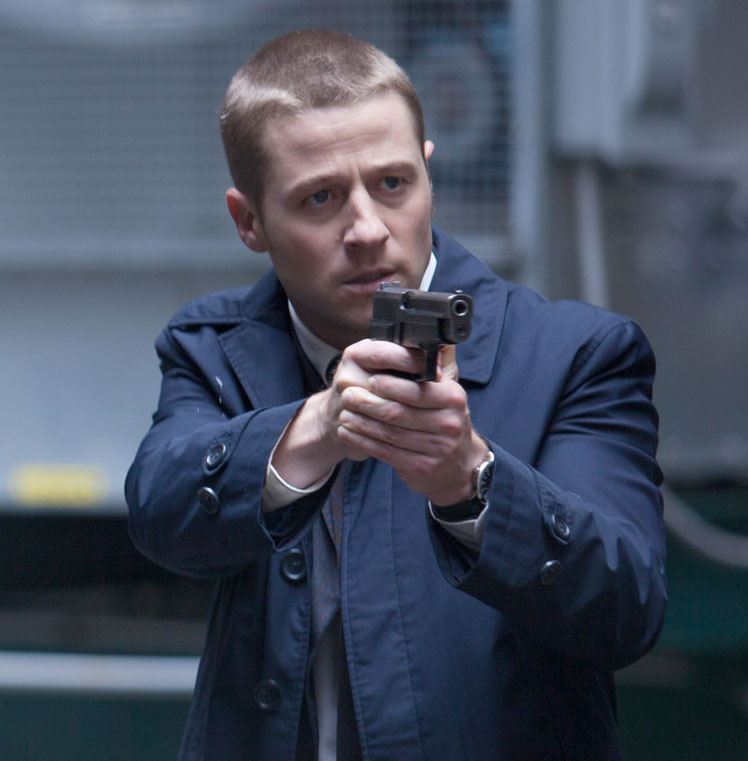 Gotham, Channel 5
Fixated as it is on prequels, sequels and remakes, you sometimes wonder if Hollywood has had an original idea in the last 50 years, but this TV portrayal of the early years of Bruce Wayne before he became Batman has worked a treat (pictured right, Ben McKenzie as Detective James Gordon). Using a cunningly warped version of New York for Gotham City, and shrewdly cast with actors who successfully bring to life nascent crime-freaks like the Penguin and the Riddler, this avoids the crushing portentousness of the Dark Knight movies and restores some of the quirky oddness of the original DC comics.