Yours Unfaithfully, Jermyn Street Theatre review - resonant debate about open marriage from 1933 |

reviews, news & interviews
Yours Unfaithfully, Jermyn Street Theatre review - resonant debate about open marriage from 1933
Yours Unfaithfully, Jermyn Street Theatre review - resonant debate about open marriage from 1933
Forgotten Miles Malleson play deserves its revival
Open season: Laura Doddington and Guy Lewis
Miles Malleson, known as an inter-war character actor who popped up in numerous small roles on stage and screen, was also a surprisingly prolific writer and adaptor. Mint Theatre Company of New York love truffling out work like his Yours Unfaithfully, a 1933 play on a topic that still resonates today, even if the social milieu of the piece doesn't.
The Jermyn Street Theatre is an ideal venue for this comedy of new manners. With deft touches, its pocket-sized stage can still suggest the era and class setting on show: genteel suburbia with intellectual ambitions, hence the artists' busts and leather-bound books on the shelves, and close enough to London, we learn, for train trips to town to be quite normal. A five-hander like this can play out at almost ordinary volume, its conversational tone not needing to be megaphoned to the audience. It's hard to imagine the play projecting well into a bigger auditorium, in fact. It stayed unstaged until 2016, when Mint put it on in New York.
What Malleson has created is a sherbet lemon of a play: sweet enough to be palatable at first, with just a hint of acidity, then increasingly tart as the outer shell is sucked away. Had it been staged when written, it would have been a shocker: a candid probing of the fault lines in "modern" ideas about marriage. Think Shaw with a dash of Coward.
Promoting a form of licensed infidelity (where the spouse knows and doesn't mind) is Stephen (Guy Lewis), an aspiring writer whose juices, after eight years of marriage, have stopped flowing. That is, until he meets Diana (Keisha Atwell, pictured below with Lewis) again; he and his wife Anne had holidayed with her and her late husband. Feeling her own juices revived by a round-the-world trip, Diana finds herself flirting with Stephen and is happy to be attractive to somebody again. With Anne's full knowledge, the pair embark on a dalliance that evolves into a full-on affair.
This setup, we suspect, is likely to hit the rocks at some point, but how and why? Stephen's father is an eminent canon who set up the school Stephen attended. He's the "padre", the anti-Stephen, a terrorising authoritarian who is presumably there to convince us Stephen will become him if not allowed his freedom. Anne sets out her own reasons for encouraging her husband's adventure: it makes him much more interesting to be with, and a better writer.
As the play proceeds, it tests the viability of the arrangement – anathema to Stephen's father, an intellectual positive to his wife, bliss for him. You stick with it to see what answers, if any, Malleson comes up with to defend these three positions, while your brain is registering the fact that only people with comfortably off lives can afford to act out this form of split existence, which requires a second home or pied à terre, visits to hotels, lover's gifts. It's awfully bourgeois.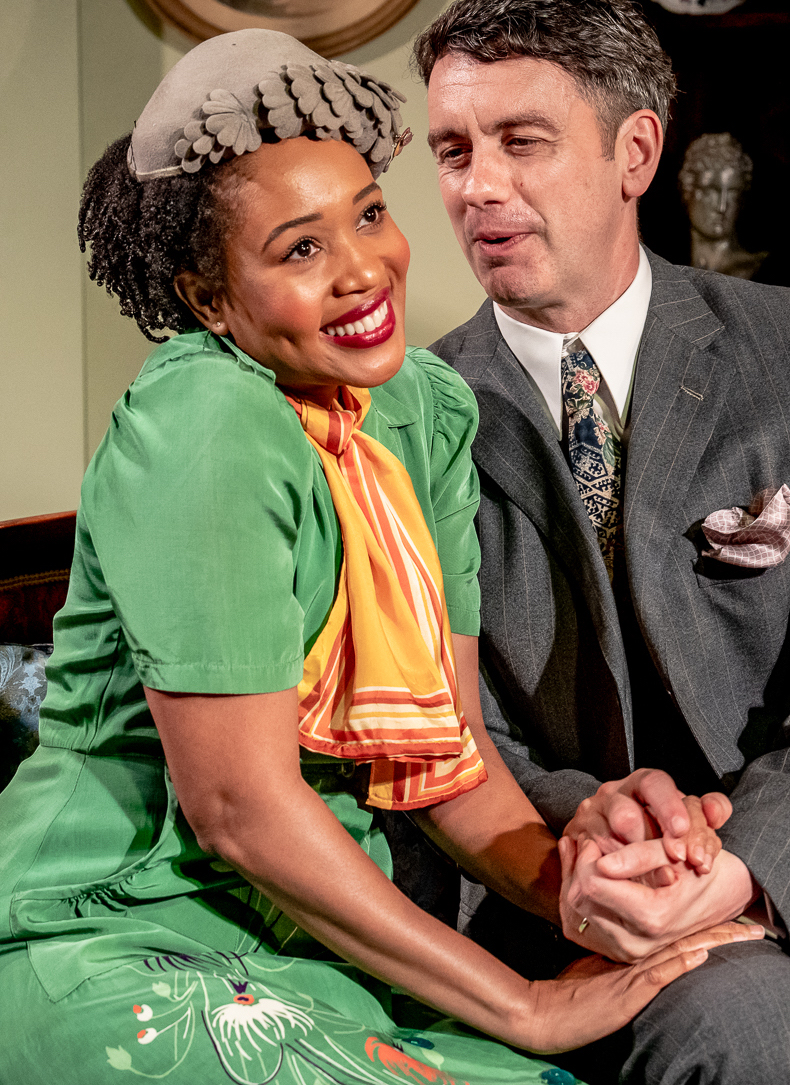 This radical domestic arrangement, even today not embraced as standard practice, is examined in the abstract, from within the couple's homes. The extreme backlash its participants will face among their peers if found out are spelled out In a speech by Stephen's irate father, already portrayed as Mr Illiberal, who has found out about the affair. The personal backlash is left to Anne, whose decisions provide the play with its last acid kick.
But it's when you realise how differently a similar set-up would be handled in Rattigan's After the Dance six years later, that you understand how straightforwardly Malleson tried to address his play's concerns, without a hint of melodrama and just a dash of wit to wash it down with here and there. Compared to the Rattigan it's a chamber piece, though, insulated from the wider world, where fascism is in the ascendant and dark forces are gathering. Rattigan's bright young things would not be expected to notice, but Malleson's purportedly bookish ones seem guilty of over-introspection.
This is a briskly paced piece, directed by Mint's Jonathan Bank, with a standout performance by Laura Doddington as the gently decent and patient Anne, who oozes emotional intelligence and projects Anne's unhappiness in an unforced, palpable way. Keisha Atwell's Diana has a classic cut-glass accent and appropriately pert poise, and Tony Timberlake's blustering Canon balances a disciplinarian's narrow-mindedness with odd touches of charity.
It's the casting of the two younger men that's confusing. Dominic Marsh's Alan, an amiable but circumspect married friend who's a doctor, looks and behaves much more as I would expect Stephen to. He can pull off a certain class ease and brittle conversation that would suit Stephen's more intellectual, mercurial mindset well. Lewis, similarly, seems a touch too homespun for Stephen, not quite as sophisticated as an aspiring writer might conceivably be.
The play has touches of witty insouciance, but its main aim is to challenge what men and women of the era really want from marriage, armed with some quite "modern" psychological tools for stripping it down to its basics, such as the precept that will be made famous by Philip Larkin's "This Be the Verse". Should the Canon's thinking be automatically rejected because he is from an older generation? Is he so wrong in believing marriage is a "deep spiritual union that requires lifelong fidelity, loyalty and trust"? Is the person closest to the truth here actually Alan, the doctor who has seen a lot of human nature in the raw and believes all we can achieve is establishing what we think we feel. The merry-go-round of all these ideas in pursuit of validity is fun to follow, but ultimately could hit home with more of a wallop.
Yours Unfaithfully at Jermyn Street Theatre until July 1