'You win in the end!' Deborah Bruce introduces her play 'The House They Grew Up In' |

reviews, news & interviews
'You win in the end!' Deborah Bruce introduces her play 'The House They Grew Up In'
'You win in the end!' Deborah Bruce introduces her play 'The House They Grew Up In'
How a new play at Chichester Festival Theatre was inspired by a conversation overheard in a café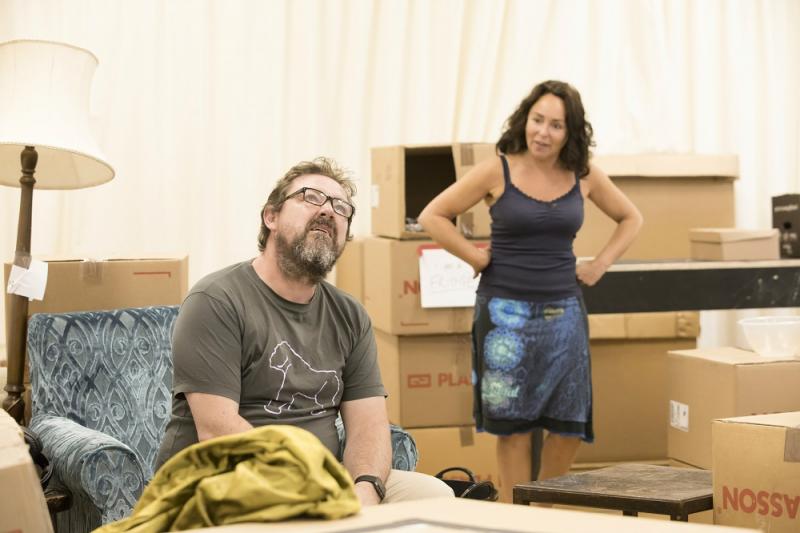 Daniel Ryan and Samantha Spiro in rehearsal for 'The House They Grew Up In'
This café had a slightly intimidating air, full of its own importance, as if the art in the adjacent rooms elevated it above the normal status of a café. I'm not sure how I had ended up in there myself really, but I noticed two people at the next table that seemed particularly out of place.
I have always people-watched, and on that day I felt so drawn to this man and woman.
I listened intently to her sentences broken into small anxious pieces, her choice of words as if translated from another language. I noticed her awkwardness, her rich and wonky intellect, her acute awareness that there was a whole world of "doing things right" that she had no access to. And I noticed how he was as oblivious to these invisible rules as she was self-conscious of abiding by them. He had an old-fashioned tape machine that he was listening to on big red headphones, and ordered from the menu beyond the means that the woman had in her purse, leaving her unable to order anything for herself.
The uniformed waitress was young, and impatient, and indifferent to these details. She brought them the pot of tea for one, with one cup and saucer and one slice of cake, and dumped them on the table with no eye contact or interest in making them feel comfortable.
The man poured his tea straight away and it had not brewed. It was light beige water. He filled the cup to the brim and then added milk. The woman watched in panic as the liquid overflowed into the saucer and onto the starched white cloth. When she looked desperately at the waitress for help, the waitress stood at the side of their table implacably refusing to understand what they needed her to do.
"What do you want me to do about it?" she asked.
They were embarrassed. They didn't know what they wanted her to do about it, or at least how to express it.
Be kind?
The waitress walked away and watched them suspiciously from the counter as the woman drank the watery milk from the saucer and stressed about which bus they were going to get home.
I wanted to go and sit with them at their table. I wanted to go up to the young waitress and shake her, ask her – why do you think that man and woman are worth less than the other customers? Why did you feel the need to wash their chairs down with soapy water when they left? All busy like that, so everyone could see.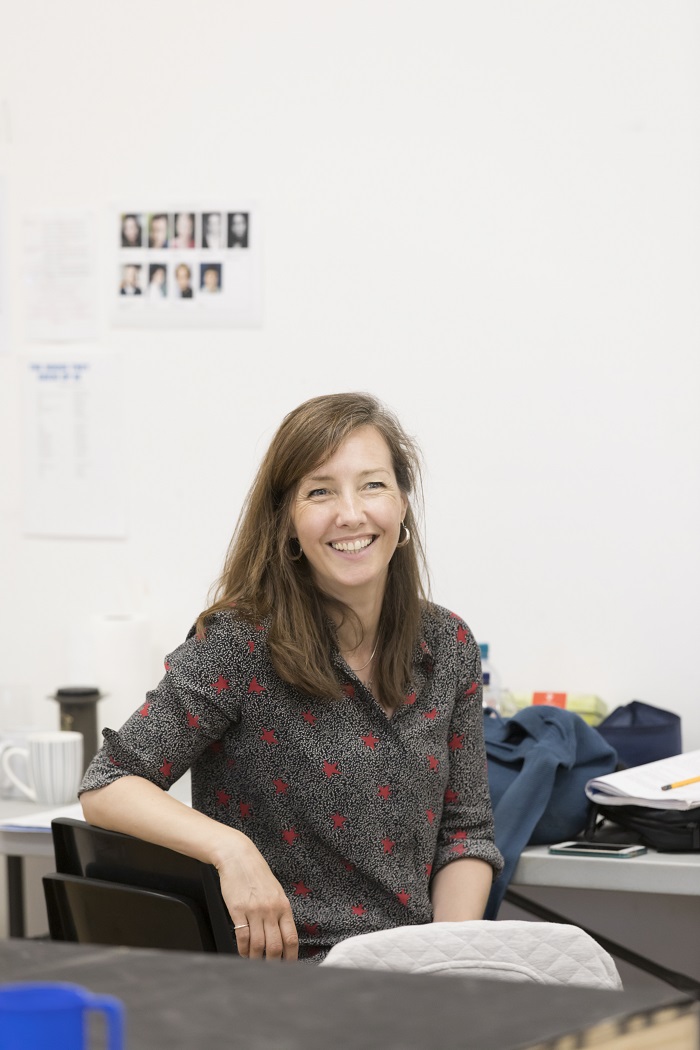 I thought about the man and woman from the café for days afterwards. I looked out for them as I drove around. I wished I'd followed them home and tried to get to know them. (Deborah Bruce, pictured right)
It was a weird obsession. It was O.T.T.
But I could still hear the way they spoke, so clearly in my head.
And they kept saying things, new things they hadn't said in the café. Made-up stuff. They were brother and sister now. She was older, the weight of responsibility bearing down crushingly on her shoulders. She had been the family's star once, got a place at Cambridge University. He'd got left behind.
They lived together in the house they were born in, still there, middle-aged orphans in a front room full of stuff. In a street full of new people who looked at them like that waitress.
This was all a long time ago now. I can no longer hear the voices of the man and woman at the next table to me. I know that the characters of Peppy and Daniel are no closer to them than they are to anyone, these are portraits of people that never existed. They belong to the brilliant actors now.
I still look out for them while I'm waiting at the lights sometimes. Have a fantasy that I'll see them walking along the street, her in that long tweed coat, talking, talking. He'd have his headphones on. I'd jump out the car and rush over to them and say, "Hey, look, I'm really sorry the waitress was so unfriendly to you that time five years ago. I'm sorry I didn't intervene, I couldn't think what to say."
They'd stare at me. I'm crazy. They'd politely move away.
I'd shout after them down the street,
"But I made up a story where it all goes right for you. You win in the end! I wrote a play about it!"
I thought about the man and woman from the café for days afterwards
Share this article