10 Questions for actress Tracy-Ann Oberman: 'it's made me pretty fearless' |

reviews, news & interviews
10 Questions for actress Tracy-Ann Oberman: 'it's made me pretty fearless'
10 Questions for actress Tracy-Ann Oberman: 'it's made me pretty fearless'
The TV and theatre star charts her route from 'EastEnders' and 'Toast of London' to 'Fiddler on the Roof'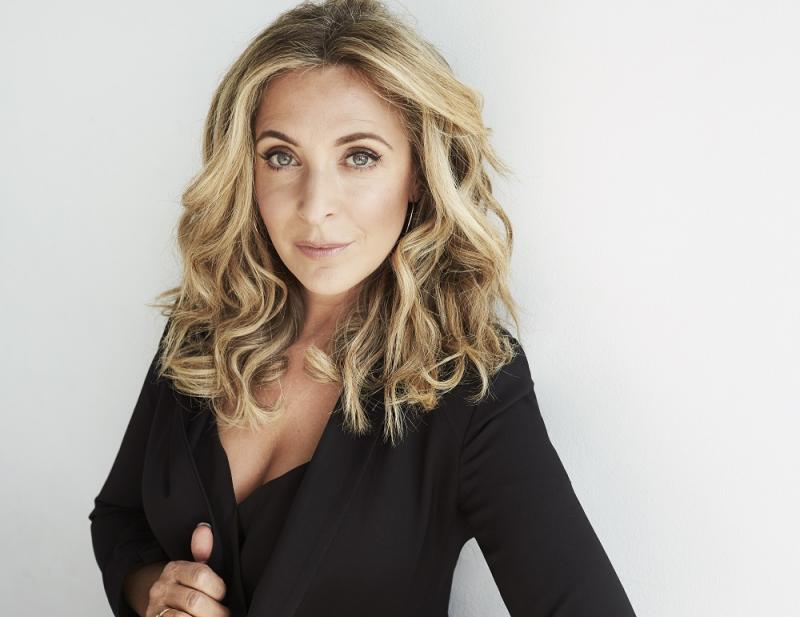 Golde locks: Tracy-Ann Oberman
What do you call a woman who murdered Dirty Den, is the darling of TV comedy producers, writes radio plays about the golden age of Hollywood, hosted and judged Channel 4's Jewish Mum of the Year, was until just a few weeks ago tap dancing through eight shows a week in Stepping Out in the Wes
t End and was runner-up on
Celebrity Mastermind
with her specialist subject: The Imperial Roman Family Augustus to Claudius Caesar?
Most people call her Tracy-Ann Oberman. I call her my cousin. OK, that's not absolutely accurate. She's actually my cousin's husband's stepmother's niece. But hey, we're enough of a celebrity couple (ahem) to have made it onto the Daily Mail Sidebar of Shame propping up a bar after an awards ceremony party with her chum David Baddiel. Which is why, in the middle of a typically packed schedule, she has agreed to this interview.


"Busy" is the adjective that best describes her. Known for a plethora of TV roles, she has always done theatre too, from playing DH Lawrence's wife Frieda in Amy Rosenthal's 2008 bio-drama On the Rocks to the gloriously deranged Lufthansa air-hostess Gretchen in the hit West End revival of the farce Boeing-Boeing. She has also appeared in over 600 radio plays and lent her low smoulder to Moominmama, Daisy the diesel railcar in children's favourite Thomas and friends plus voiceovers for Sainsbury's and safe sex, though not at the same time. When not working, which is not often, she's at home in North London with her music producer husband and their daughter.
Next up is her first musical, Bock and Harnick's Fiddler on the Roof at Chichester Festival Theatre, the first show since Forty Years On there to be directed by CFT's new artistic director Daniel Evans. Having nipped out of the Vaudeville theatre to grab a fruit juice and a snack, she settled down in her dressing room one recent afternoon for a between-show chat with theartsdesk on a range of topics as befits Oberman's wide-ranging career (pictured above by Bill Knight: Oberman, far left, among the cast of the recent West End revival of Stepping Out).
DAVID BENEDICT: There's no such thing as a typical working day for you, but what was today's schedule?
TRACY-ANN OBERMAN: I took my daughter to school, raced on to the tube and went down to Clapham North to rehearse the Anatevka scene in Fiddler. As soon as that finished, I raced up here to the theatre and got into my wig. Getting the cap over your own hair, putting the mic on, adjusting the curls and everything takes twenty minutes, and then I jump into costume for the matinee, then the evening performance with this interview in-between. And you wonder why I look frazzled? (pictured below: Oberman in rehearsal for Golde in Fiddler on the Roof, opposite Omid Djalili as Tevye, photo by Johan Persson).
Was acting always the plan?
Absolutely not. I went to Leeds University to study Classics but I hadn't read the syllabus properly. I thought it would be all I, Claudius and reading Homer and Greek literature. But there was too much Latin and Greek language and I walked out of my first Latin exam and thought, stuff this. I'd found myself doing so many plays with the drama society that I went home and told my parents I wanted to do a drama degree and they said "What's the point in that?" But I rang up Manchester and although the course was full they interviewed me and must have thought I was interesting. At the end of the first year, we took The Merchant by Arnold Wesker to the Edinburgh fringe and Wesker came up to me after a run-through and said, "You should do this professionally." I said, "I can't, no-one will understand it, my parents will kill me." And he said, "I'll speak to your parents." I didn't let him, but he did become something of a mentor after that.
Manchester's degree was very political theatre-based, which is why you then trained at London's Central School of Speech and Drama. Did that prepare you for the business?
When I left drama school, you either did telly or theatre, not both. But on about day one after leaving I did an advert, which gave me money, and on day three, I got a job at the RSC. I was there four years but that meant I was seen as a classical theatre person. But Bernard Kops had written a radio play The Jericho Players with Fenella Fielding and Warren Mitchell and I did it because someone dropped out. That led to a contract with the BBC Radio repertory company doing parts in all sorts of things. That's when I started doing comedy. And that led to my first telly, an English version of an American sitcom. Over here it was called Loved By You and it starred John Gordon Sinclair (pictured below and further down: Oberman in rehearsal for Fiddler on the Roof, bottom pic alongside Omid Djalili as Tevye, both photos by Johan Persson).
Was there a moment that kickstarted your career?
I used to say if I got asked to do an autobiography I'd call it From Ken to Den, because that's when everything changed. I was playing Kenneth Branagh's wife in David Mamet's Edmond at the National Theatre. It was really buzzy because it was Nick Hytner's first season and the first with £10 tickets. It's still one of the best jobs I've ever had. Everyone came to see it – even you. But then I was put onto a shortlist for EastEnders and I was the only one whose name I hadn't heard of. I walked in and there was Leslie Grantham who I remembered from the glory years battling with Anita Dobson's Angie. I was late because I'd been doing a voice-over and he said, "Are you the girl from the voiceover?" and I said, "Are you the one who's been dead for 15 years?" And that was it. It was a much more explosive 18 months than I'd anticipated. The production team kept changing and my original storyline went out the window and within months of being there I ended up running the Queen Vic. That didn't go down too well with some of the cast.
On a scale of one to 10, how happy were you to be on Doctor Who?
I was a massive, geeky Doctor Who fan as a kid. I was the only girl in a street of boys who watched it. I was very odd. I had three passions: reading books about the Holocaust, reading Suetonius and devouring anything to do with science fiction. I was a barrel of laughs. But Russell T Davies heard I was coming out of EastEnders and I got sent the scripts. It was a two-parter, the first episodes that David Tennant filmed and it was absolute heaven: the sonic screwdriver, Cybermen AND a Dalek invasion!
You have a further fanbase via Toast of London. How did that come about?
I was doing Mike Bartlett's play Earthquakes in London and this casting director said, "Read this pilot." And I thought, hang on, I love the scripts and I'd worked with lots of the cast but, basically, this woman is smoking and being shagged from behind. My child is going to watch this on YouTube one day: No. But we met and I decided that maybe it was post-feminist? So we did this hysterical pilot. I remember sitting with Matt Berry in the canteen van saying, "It'll never get a series but it's been a laugh." And now it's done three and become this mad cult hit.
Is it a similar story with the Jewish family sitcom Friday Night Dinner?
It's all about the writing. Robert Popper's scripts are like Mamet: every dot and comma has to be adhered to. Tight, tight, tight. It's all about rhythm. I went in for one episode as Auntie Val and you know the rest. The casting on it is so great: Paul Ritter is beyond praise, the two boys and Tamsin Greig are fantastic. I thought it would appeal to about 10 people in Golders Green. But people love it. It's really all about families and going back home and turning into the child that you were when you left. (Below, Oberman in Toast of London).
I'm a writer who is gay rather than a gay writer. Are you a Jewish actor?
That's an interesting question. Yes, I'm an actor who is Jewish. Interestingly, I'm the only Jewish actor in Friday Night Dinner. Lots of Jewish actors of my generation like Rebecca Front and Sam Spiro, when we left drama school, we were pretty much expected to hide our ethnicity. I was told by a director, and this is a quote, "Change your name because you don't look enough like Anne Frank to be cast in Jewish roles." And I really did think about it. The assumption was that if you had a Jewish-sounding surname, then your casting was going to be difficult. Even Jewish actors said, "Keep it under wraps." But something changed around the comedy series Goodness Gracious Me. I was very friendly with Sanjeev Bhaskar, and he and that group of Asian writer-performers were among the first who owned their cultural heritage while achievng broad-based appeal.
Is that why you chose to do Fiddler?

I've never done a musical but then I'd never tap-danced before Stepping Out so it's made me pretty fearless as I hurtle towards my, ahem, late forties! But I knew if I was going to do a musical, it would be this. It's my family story. They came from the Pale of Settlement which was the ghetto designated by the Czars who didn't want Jews living elsewhere in Russia. So they weren't allowed out of the area which, by the way, is where the expression "beyond the pale" comes from. My great-grandmother came to England when she was 14 years old on the back of the 1903 pogrom. Her parents saved her by sending her to London on a third-class package to her cousin Yetta. On the boat there was another boy from her village. When they arrived they were separated but he said he would come back and find her. She got a job for a penny a week at Yetta's factory and slept on a mattress on the factory floor but he did come back and they married. I grew up with her. She only really spoke Yiddish but she had enough English so that we understood that Fiddler on the Roof, which she watched endlessly, wasn't just a musical to her, it was documentary. She would tell us about cossacks coming into her village with swords beheading anyone they could find, or praying in synagogues with the lights off in case they were attacked. And that's what the village of Anatevka in Fiddler is like. And of course, it speaks to what's going on across the world now – being forced to flee, religious persecution. And if you leave where you come from, how do you maintain your identity, especially for a younger generation who grow up differently? And if you don't keep your traditions and customs, who are you?
What haven't you done but really want to do?
Chekhov. I even studied at the Moscow Arts Theatre. I see him for the comedian he said he was. It's like the Jewish thing of laughing through the tears, the bitterness with the sweet.
The assumption was that if you had a Jewish-sounding surname, then your casting was going to be difficult
Share this article