wonder land, National Theatre |

reviews, news & interviews
wonder.land, National Theatre
wonder.land, National Theatre
Damon Albarn's Alice musical has fun graphics, but a banal and didactic storyline
Sing, baby, sing: Lois Chimimba in 'wonder.land'
Widely hyped as "an Alice for the online generation", and "a coming-of-age adventure that explores the blurred boundaries between our online and offline lives", this version of Lewis Carroll's Wonderland stories is advertised with a poster that shows a Cheshire cat whose smile is more drug-addled rictus than quizzical grin.
On the other hand, the team behind the show features three creatives who should be working at the top of their game: Britpop legend and opera composer Damon Albarn, playwright and scriptwriter Moira Buffini and National Theatre supremo Rufus Norris. And, since the show opened at the Manchester International Festival in July, surely there's been enough time to iron out any glitches?
At first the signs are good: this is not the usual crinoline-heavy fey adaptation of the original, but a complete re-imagining of the story. It is all about Aly, a needy mixed-race 13-year-old girl from a troubled family, with an absent father, Matt, who's addicted to online gambling, and a mother, Bianca, whose hands are full with a new baby, Charlie (a lovely animatronic creation which even pukes on demand). Aly is bullied at school, where the headteacher, called Manxome, a Trunchbull-like figure, keeps a strict eye on her. Her only friend is Luke, a gay boy.
Aly's online avatar is a slim blonde white girl
To escape the pressures of real life, and to answer the question "Who am I?", Aly logs onto wonder.land, an online world where her avatar, called Alice, goes on a quest to find a "wonderland where I can be me!" On the way, of course, she meets all the familiar faces from the Carroll books: the White Rabbit, the Caterpillar, Dum, Dee, Mouse, Humpty, Dodo and the Mock Turtle – all avatars. Helpfully we are told that Manxome is the Red Queen, Bianca the White Queen and Matt the Mad Hatter. Revealingly, Aly's online avatar is a slim blonde white girl.
When Manxome, who is also lonely, confiscates Aly's mobile phone, she gains access to her pupil's online world and a fierce digital competition ensues. I have to say that that the set, costumes and projected graphics, designed by Rae Smith, Katrina Lindsay and 59 Productions respectively, are visually exciting, constantly varied and always delightful: there's a hippie-trippy Cheshire cat and some brilliant marching zombies that might be worth the price of the ticket alone. It's a kind of teenage version of the Royal Court's 2014 show, Teh Internet Is Serious Business, and it's fun, fun, fun. But the visual delights of this production are not quite matched by Albarn's music, which is a kind of olde worlde plus poppy compendium of English tunes, ballads, marches, chants, choruses, dirges, jaunty banjo strumming and Cockney dances. There's even a sequence where the cast play the spoons!
At their best, Buffini's lyrics are entertaining, emotionally direct and occasionally funny. The best songs include the Caterpillar's "Who Are You?", Aly's "Secrets", and Manxome's storming "O Children" and "I'm Right". But while the fun and games online are always exciting, the scenes in which Aly's family life takes centre stage are disappointingly banal and soon get tiresome. While I understand the fact that Aly needs to be grounded in reality, her family and its constant recriminations is a caricature, patronising and sentimental by turns. Hey middle-class audiences, let's gawp at some poor people. It's Shameless for the National's audience.
Occasionally sweet, often humorous, sometimes warmhearted, sometimes silly, the life of Aly is also clichéd and predictable, and the final resolution rivals the Victorians for sugary confection. Still, Norris directs efficiently, and his cast do him proud: especially Lois Chimimba's energetic Aly, Golda Rosheuvel's spitfire Bianca, Paul Hilton's cocky Matt, Enyi Okoronkwo's attractive Luke and, almost above all, Anna Francolini's fearsome Manxome (pictured above). This is colourful, zany and enjoyable show while at the same time being a rather didactic, confused and finger-wagging piece – I'm sure it will prove very popular.
ALICE'S ADVENTURES ON STAGE AND SCREEN
Alice, Scottish Ballet. It should be a capital crime to attempt an Alice ballet - off with their heads
Alice's Adventures in Wonderland, Royal Ballet. Even the best butter would not help this plot-less evening
Alice's Adventures Under Ground, Barbican. Gerald Barry's crazy velocity berserks both Alice books in rude style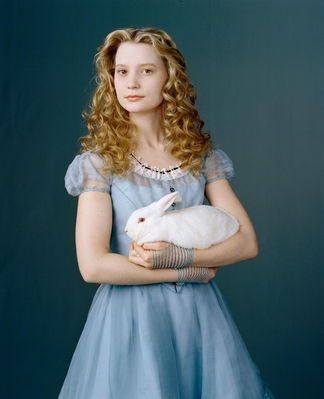 Alice in Wonderland. Tim Burton takes on the fantasy classic
Alice in Wonderland, BBCSO, Brönnimann, Barbican. A curious tale gets a riotous operatic telling from composer Unsuk Chin
Alice Through the Looking Glass. Mia Wasikowska (pictured), Helena Bonham Carter and Johnny Depp back in inventive if unfaithful Carroll sequel
Jan Švankmajer's Alice. The great Czech animator's remarkable first full-length film
The scenes in which Aly's family life takes centre stage are disappointingly banal and soon get tiresome
rating
Explore topics
Share this article