Widowers' Houses, Orange Tree Theatre |

reviews, news & interviews
Widowers' Houses, Orange Tree Theatre
Widowers' Houses, Orange Tree Theatre
A timely revival of a timeless satire
Saturday, 20 December 2014
"We're to give up dirt and go in for decency": Shaw's social satire still cuts clean and deep
When the Orange Tree lost all its Arts Council funding earlier this year it was hard to get too outraged. An institution that has made a niche in giving the good folk of Richmond exactly the kind of wig-and-britches, RP theatre that they like is hardly an urgent cause. But this is a new era for the Orange Tree in many ways, not least the arrival of new artistic director Paul Miller.
His crisp, clean production of Shaw's first play makes a clear statement: the costumes and the accents may not have changed, but the message has. There's nothing remotely cosy or comforting about this savagely pertinent satire on wealth and social responsibility.
Described by Shaw himself as "one of my worst", Widowers' Houses is, in fact, nothing of the sort. The work's history may have been blighted (it started life as a collaboration before artistic differences set in and Shaw reclaimed and expanded his material into his own creation), but, barring a weak conclusion, the finished product is carefully crafted, and far less dated than some later Shaw.
An exposé on buy-to-let landlords needs no contemporary setting to speak loudly
The widowers' houses in question are tenement slums, owned by the smoothly patrician Mr Sartorius (pictured below with Rebecca Collingwood's Blanche) and exploited for substantial profit by his tame rent-collector Mr Lickcheese. The satirical screw begins to tighten when Sartorius's daughter Blanche encounters amiable Hooray Harry Trench, forming an alliance that challenges the idealistic young doctor's principles.
An exposé on buy-to-let landlords and the cruel trap of the tenants at their mercy needs no contemporary setting to speak loudly to today's generation rent in a city rife with beds-in-sheds scandal, and wisely Miller lets his audience make the connections. Simon Daw's otherwise straightforwardly realist designs puts money front and centre, playing out the action above an oversized banknote and framing it in Victorian maps whose geography is social and economic, rather than topographical.
There's a Wildean glee to the earlier portion of his play, its dialogue romping through a series of stellar one-liners that can easily trip up dramatic and emotional momentum. Miller pitches things delicately, balancing the affected buffoonery of Trench's hanger-on Cokane (delivered with world-weary elegance by Stefan Adegbola) with the real ferocity the play acquires in its later stages. This largely hinges on the fine performances of Patrick Drury's Sartorius and Alex Waldmann's Trench. The latter shares some unexpected violence and unusually dominant physicality with Blanche – an impressive debut performance from Rebecca Collingwood.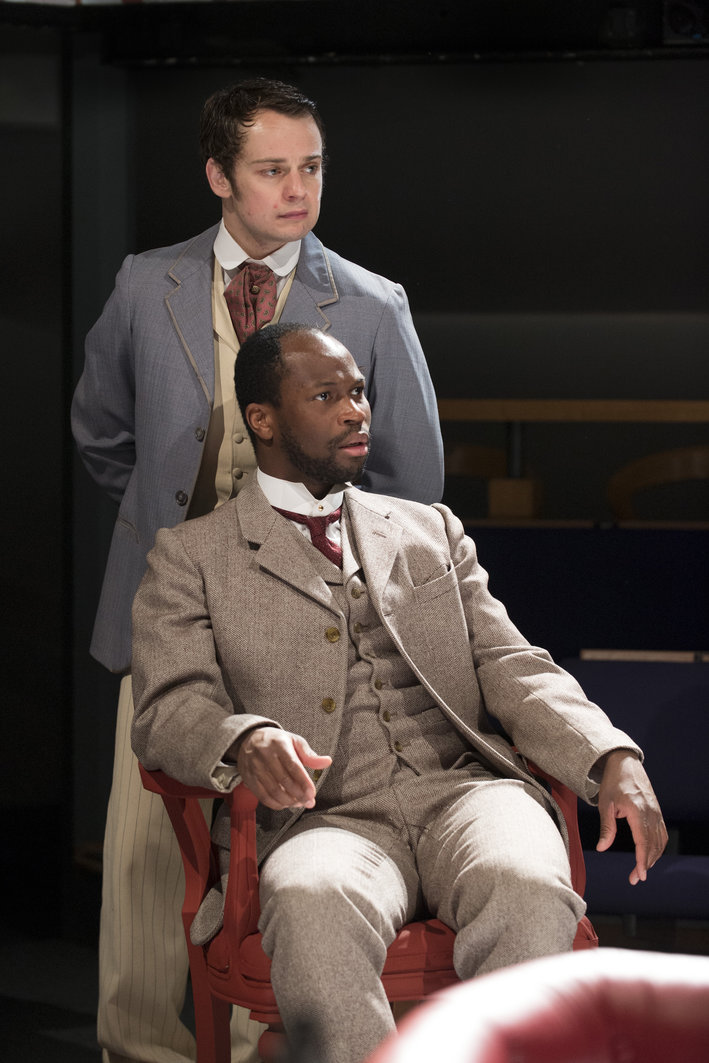 Waldmann (pictured left) and Collingwood find an uneasy energy to this stop-start courtship that quivers and spurts with sexual tension. The famous Act III reunion is paced daringly slow, requiring Collingwood to hold her audience along with Trench in a strange counter-seduction. This she more than manages, the recent memory of her violent encounter with her maid still freshly disquieting. Drury's Sartorius offers a rational horror to match her emotional excesses – a stern Victorian patriarch in all but morality, crooning his judgements in the smoothest of baritones and offset by Simon Gregor's gloriously cockney Lickcheese.
If Widowers' Houses lacks the emotional range of Mrs Warren's Profession, its companion in Plays Unpleasant, then it compensates with a complete lack of sentimentality. Poised social comedy gives way to sharp-edged social commentary with scarcely a bump, and only in a denouement that pays the price for such sustained cynicism does Shaw falter. Miller's production returns the play to London at a time that brings the best out of the work, allowing Shaw's critique to find a new, if familiar, target.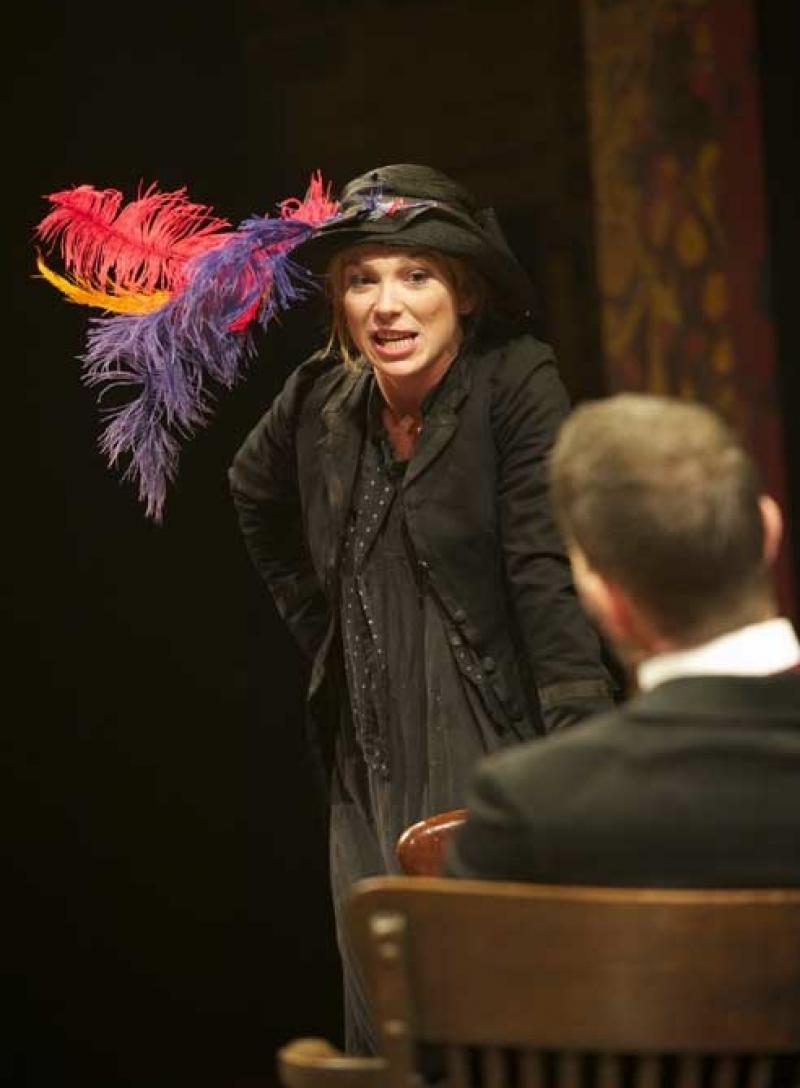 MORE GEORGE BERNARD SHAW ON THEARTSDESK
Mrs Warren's Profession, Comedy Theatre (2010). Felicity Kendal in plodding revival of Shaw's take on prostitution
Pygmalion, Chichester Festival Theatre (2010). Rupert Everett's sulky Higgins is outsmarted by Honeysuckle Weeks's Eliza (pictured)
The Doctor's Dilemma, National Theatre (2012). Tragedy is the spoonful of sugar that helps this medical satire go down
Man and Superman, National Theatre (2015). A theatrical trip to Hell with Ralph Fiennes has some heavenly moments
The Philanderer, Orange Tree Theatre (2016). Modern-dress Shaw is resonant but long-winded
Saint Joan, Donmar Warehouse (2016). Revival of Shaw classic is a tour de force for Gemma Arterton
Waldmann and Collingwood find an uneasy energy to a courtship that quivers and spurts with sexual tension
rating
Share this article