Under Milk Wood, York Theatre Royal |

reviews, news & interviews
Under Milk Wood, York Theatre Royal
Under Milk Wood, York Theatre Royal
Theatre Clwyd's touring revival is an aural treat from another age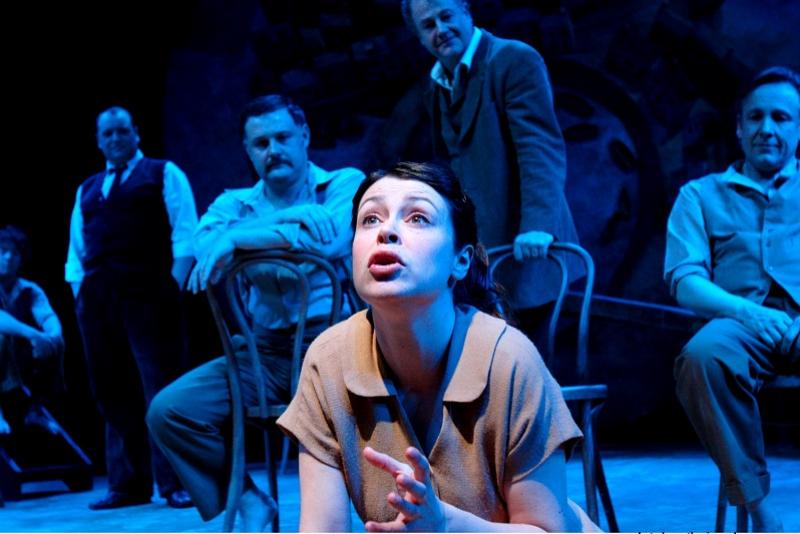 Caryl Morgan in Under Milk Wood
A spiralling stage, horned with two raised prongs. A circular display, mounted on the back wall, which presents the buildings and coastline of a seaside town from a bird's eye view. Subtle blues, yellows and reds that light up the stage to reflect the time of day. Spirited actors buzzing around like heated molecules in an educational science video as they each take on several roles.
If Under Milk Wood was exclusively "a play for voices", as its author Dylan Thomas suggested, then such visual aspects of the classic Welsh tale would never have come into being. But here they are at York Theatre Royal, where Terry Hands' stage production continues its major tour of the UK and the US. With stars including Game of Thrones regular Owen Teale and Torchwood's Kai Owen, Theatr Clwyd Cymru's energetic revival of the play directed by Terry Hands marks the 60th year since it made its debut on BBC radio, and the centenary of Thomas's birth.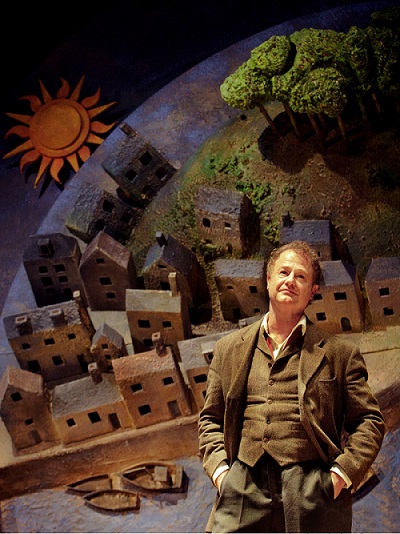 Under Milk Wood was reportedly the Welsh poet's attempt to create his own version of James Joyce's Ulysses – taking in 24 hours in the lives of the residents of fictional Llareggub (read backwards for a smirk). Among the town's more flamboyant characters are the likes of Blind Captain Cat, who dreams of dead former shipmates, Mog Edwards and his sweetheart Miss Price, whose romance only exists in the letters they write, barman Sinbad Sailor, who runs the bonkers Sailors Arms pub, bigamist baker Dai Bread, forever floor-scrubbing Polly Garter, Nogood Boyo, whose shenanigans cause mayhem in the wash house, and Lily Smalls, who longs for a more exciting life.
While the play is rich with anecdotal incidents, it lacks actual drama, and yet, as an inherently lyrical work, the action lies within the language itself. From when Teale's First Voice says: "Listen! It is night. Come closer. Hear their dreams…" we are hooked from sunrise to sunset. Every line is delivered note-perfect, every word charged, every syllable treasured, every sound cherished to the last phoneme. Caryl Morgan's spine-tinglingly evocative recital of an old woman's dream about the Garden of Eden, and Richard Elfyn's continuously impressive vocal range, make them highlights of a superb cast that carries no weak links.
Sometimes risqué, all times charming and cheerful, this relatively short piece moves quickly as Llareggub's larger-than-life gaggle go about their existences – and we audience members wear warm smiles throughout as we become endeared to a simple way of life we can't quite recall. It all ends just as it started, with each character encased in heavy sleep.
So then it's our time to go, and leave through the theatre's exit, emerge onto the lit street, and somehow try to relate what we've seen to our own lives. It's not that difficult, I realise, as a friend bumps into me into on my route home and suggests a drink in our local. It's not quite the Sailors Arms, but it'll do.