Unbelievable, Criterion Theatre review - Derren Brown-directed show misses his otherworldly danger |

reviews, news & interviews
Unbelievable, Criterion Theatre review - Derren Brown-directed show misses his otherworldly danger
Unbelievable, Criterion Theatre review - Derren Brown-directed show misses his otherworldly danger
Pantomime vibe undermines the unique frisson of the magician's art
Friday, 29 September 2023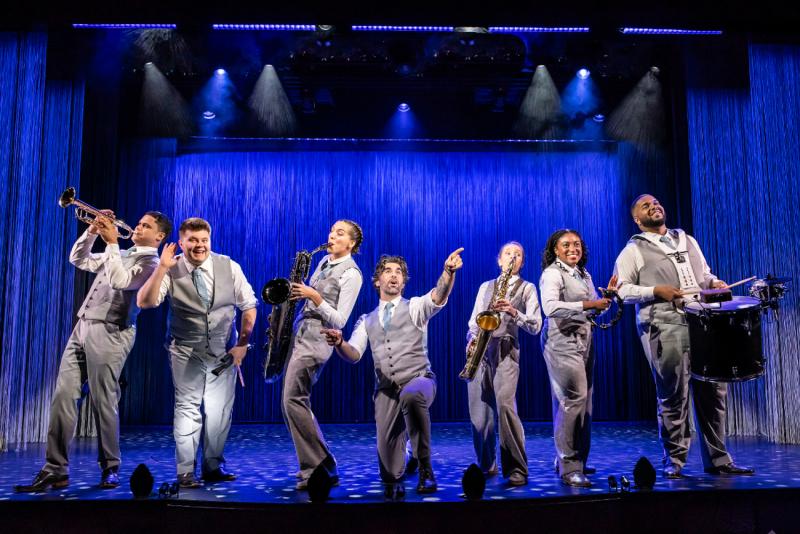 actors, musicians, improvisors, but not magicians: all "Unbelievable"
Unbelievable is a strange title for a slightly strange show, the brainchild of Derren Brown, Andrew O'Connor and Andy Nyman, a trio with an impeccable pedigree in creating successful magic-based events.
It's a strange title because suspension of disbelief lies at the heart of the bargain the performers make with the audience. Nobody wants to be sitting next to the unbelieving sceptic cynically informing us that it's all done with mirrors or that she's no longer in the box and that it's just a dummy hand in the glove. The thrill of believing it's actually happening, however much cognitive dissonance that imputes, is pretty much magic's unique selling-point in the world of entertainment (though Brown himself always gives a disclaimer about his astonishingly convincing illusions at the outset of his shows).
The second strange element of the show is that you might recognise some of the multi-talented men and women on stage from other productions. There's Simon Lipkin from Elf at the Dominion Theatre a few years back and Samuel Creasey, still with that air of James Corden about him first noticed in his award-winning debut in The Book Of Dust: La Belle Sauvage at the Bridge Theatre. Turns out that none of the cast we see are magicians; they're actors working to a script, having rehearsed their parts.
That approach brings pluses and minuses. On the credit side, it underpins a very Derren Brown message that we are all actors who present an exterior that can fool others into believing that it's also our interior. Of course that isn't so - what others see is constructed by ourselves for their consumption. There's also a bit of preachiness about the value of showing gratitude, a laudable, if somewhat tacked-on sentiment, that is less embedded in magic's ethos, although it was wonderful to see a long overdue roll call of magicians' assistants given credit for over a century's work.
On the deficit side, practised stage magicians always carry an air of danger, not necessarily related to audience participation, of which there is plenty in this show. It's a delicious fear prompted by their ability to call upon superpowers of suggestion, to misdirect us against our will, to hide their true intentions with a sleight of hand or the slickest of patter. The programme notes that the show has been in gestation for three years and has been worked on significantly in rehearsals to match the material to the personalities and skills of the cast. But that unusual structural approach, however much it excited the writers, lends the chumminess of pantomime to tricks that might benefit from an undertow of unused malevolence.
We do have time to get to know the performers. Lipkin appears as the leader, the man with the most lines and the "talkiest" tricks. Creasey is the lovable bloke joshing with the front row or endearingly bemused as he finds himself leaving his corporeal form. Yolande Ovide (pictured above) is the most intimate, in amongst us before the curtain has even risen and in charge of an elegant if unspectacular illusion that was my highlight.
Laura Andresen Guimares, Alexander Bean, Izalni Batista Nascimento Junior and (especially) Hannah Price have tricks of their own, but also play much of Charlie O'Connor's music and, like all of the cast, look striking in Hayley Grindle's three-piece light grey suits, not quite business but not quite leisure either.
As is the case elsewhere, magic has been changed forever by the internet which offers, just a click away, 30 second clips that took 30 years to perfect. This struck me most strongly in the second half opener, the oldest trick in the book, literally, one, like many in the show, re-purposed and re-presented with a little of Brown's stardust. Cups And Balls, in which ping-pong balls appear and disappear under inverted beakers, has been bamboozling marks for millennia (chimpanzees, gorillas and cats too, I promise you, there's video evidence) and, done well, is a super-slick illusion that provokes a shake of the head and, sometimes, the handover of money. In this show, it was more a panto routine with very variable mastery of the sleight of hand the trick demands delivered by all seven of the cast. Great fun for sure, but not quite the artistry that its heritage demands.
Unbelievable is an entertaining night out, but it is what it is, actors playing the roles of magicians, presenting exteriors to fool us once with the illusion and once again with their acting. For some, that will be enough; others will crave that edge of otherness, that tang of danger in the air that one only gets from a seasoned practitioner, like, well, Derren Brown.