Travesties, Apollo Theatre |

reviews, news & interviews
Travesties, Apollo Theatre
Travesties, Apollo Theatre
Adjust your brain, and give in to Tom Stoppard's howlingly funny play
Thursday, 16 February 2017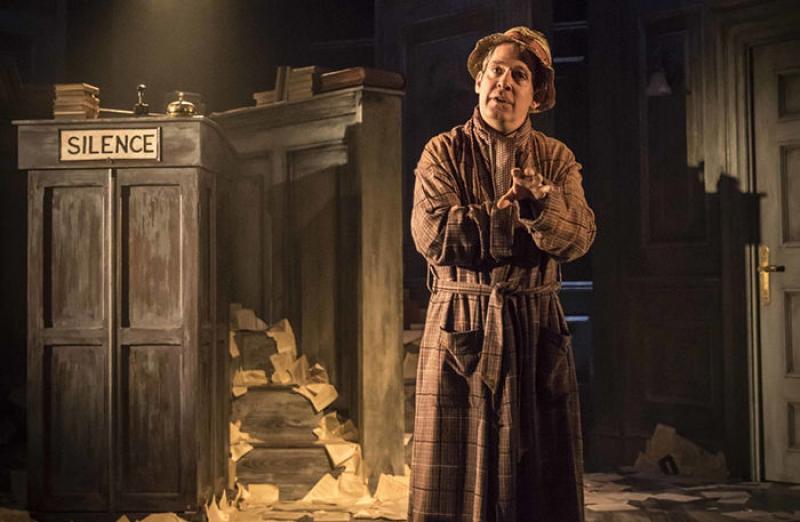 Unreliable memoirs: Henry Carr (Tom Hollander) in Patrick Marber's production of Tom Stoppard's 1974 comedy
Tom Stoppard's humungously funny play Travesties was born out of a piece of James Joyce doggerel about how a British diplomat sued him for the cost of two pairs of trousers. It's like this.
Joyce was organising an expat amateur production of
Wilde
's
The Importance of Being Earnest
in Zurich; the British consul Henry Carr agreed to play Algernon on the understanding that he would choose his own trousers and – crucially – have two full costume changes.
As is the way in theatre, heads butted when the box office takings came in, and Joyce wrote in an outraged ditty about the incident: "We paid all expenses, as the good Swiss public knows, But we'll be damn well damned before we pay for Private Carr's swank hose." In a ruling that HMRC still relies upon, the swank hose were found to be fit for general purpose too, not simply for acting in, hence not a claimable expense.
If only Henry Carr had been less concerned with his stage trousers, history might have turned out differently
Henry Carr, who had also been mortally wounded at finding he was not playing the starring one of the two friends in Importance but "the other one", whose name everyone forgets, has his revenge with knobs on in Travesties.
It's a magnetic role for Tom Hollander, the nice Rev off the TV and the nasty one in The Night Manager, feeding off his theatrical skill at standing in a pompous way (think Ernie Wise legs in Rupert Bear trousers), but also his film skill at making your eye zoom in on his remarkable face, which at times can be almost Zero Mostel-like.
This little Pooter, potbellied representative of the British Empire, is telling us in his old age the story of how by surreal coincidence, three of the 20th century's history-makers turned up together in Zurich in 1917 under his very own eyes (Carr fancies he may entitle his memoirs, Friend of the Famous). There they are, all together, the fathers of the Bolshevik Revolution, Dadaism and literary stream-of-consciousness – Vladimir Lenin, Tristan Tzara and James Joyce – all of whom have acquired a largely incomprehensible historical shorthand in general British public use, lending themselves to Stoppard's peerless gift for word games.
At first you have to adjust your brain. The comedy is the breathtaking magic trick of a then-young playwright (he wrote it over 40 years ago) who seems to be saying, "Just watch me." Carr's storytelling is afflicted by the fact that, as he endearingly describes it, "the old thinkbox gets stuck in a groove, then sometimes jumps the points." It dots about all over the place, Tzara, Joyce, Lenin, a Jeeves-like butler, a lutenist, and so on popping out like jack-in-the-boxes from the walls and alcoves of Tim Hatley's dark wood library set, crumbling battlements of white books above, and sheets of lost paper all over the floor. Nothing joins up, but anything may come out.
Fortunately for the West End audience, Stoppard bundles this potentially indigestible group onto the bus of the play-within-the-play, Wilde's famous comedy, though you possibly need to know that play a little in order to benefit from the device. The puppyish Tzara – iridescently played by the blond madcap Freddie Fox – is Ernest, as it were, while James Joyce, for the double crime of always trying to squash Tzara's babbling frivolity and having a second name of Augustine, can't help but be Lady (Augusta) Bracknell.
And Joyce has a secretary, Gwendolen, to whom he dictates his iconoclastic Ulysses, a bodacious girl (Amy Morgan) who repeats his lines juicily for Molly Bloom as she writes them down, responding ecstatically to Tzara's activities under her skirts. In the spectacularly clever second act she links up with the Lenin-supporting librarian Cecily (a wonderfully timed performance by Clare Foster), for giddy riffs on Oscar Wilde's same-named girl duo from Importance. (Pictured: Amy Morgan's Gwendolen, Clare Foster's Cecily, and Peter McDonald's Joyce)
The amusements come not single spies but in battalions. Carr's idea of the Bolsheviks' class revolution – based on the obsequious manipulations of his butler, as deliciously played by Tim Wallers – is that the servants have been uppity one time too many and it's good that Russia's masters are cracking down. Switzerland gets a gleeful savaging - "Even when there's war everywhere else, there's no war in Switzerland" - as does the importance of art: "If you can't be a revolutionary you might as well be an artist, and if you can't be an artist you might as well be a revolutionary."
Closer to the personal bone, in old age, long married to Gwendolen, Carr moans at her, "I wish I'd known then that you'd turn out to be a pedant." Oof.
The production, joyously responsive to Stoppard's theatricality, is by another playwright, Patrick Marber, who staged it originally last October at the Menier Chocolate Factory with this well-meshed cast. They're all in total command of the scintillating text, the spotlit Hollander and Fox counterbalanced by the warmth of Peter McDonald's Joyce, whose passionate outburst about Ulysses might make you reconsider not reading it.
In Lenin and his wife Nadezhda, Forbes Masson and Sarah Quist (such a lovely voice) have rather underwritten roles - Stoppard gives Carr the line: "If Lenin didn't exist it would be unnecessary to invent him." But the Lenins' verbal contributions aren't really the point (apart from "Da! Da!") – for as Stoppard shows, if only Henry Carr had been less concerned with his stage trousers and more with carrying out the British command to impede the Russian's departure from Switzerland for Leningrad in October 1917, history might have turned out somewhat different.
Travesties is at the Apollo Theatre until 29 April
It's a magnetic role for Tom Hollander, feeding off his theatrical skill but also his film skill at making your eye zoom in on his remarkable face
rating
Explore topics
Share this article