Tom Fool, Orange Tree Theatre review - testing family values |

reviews, news & interviews
Tom Fool, Orange Tree Theatre review - testing family values
Tom Fool, Orange Tree Theatre review - testing family values
1970s German classic skewers capitalism, but leaves emotional depths unplumbed
Nowhere to hide: Anna Francolini, Jonah Rzeskiewicz and Michael Shaeffer in 'Tom Fool'
Born in Munich in 1946, he's known for unflinching portrayals of poverty and what it does to people. Directed sensitively by Diyan Zora, this production is a masterclass in what critic Richard Gilman dubbed "the theatre of the inarticulate" – but it does leave us yearning for a little more depth.
The inarticulate in this case are the Meier family, of 1970s Bavaria. Martha (Anna Francolini) looks after the home while her husband Otto (Michael Shaeffer, pictured below), like everyone else in Munich, works at the BMW factory. They want their teenage son Ludwig (Jonah Rzeskiewicz) to be a dentist, but he'd rather get an apprenticeship and train as a bricklayer. As a compromise, he sits at home and listens to records, and tries to avoid the wrath of his father. Zora's staging in the round leaves nowhere for any of the Meiers to hide as the tension builds to breaking point.

All three actors are excellent, but it's Francolini's show. Her Martha is both the strongest of the bunch and achingly fragile, unsure how to find herself again after years of childcare and housework. When she gets a job working at the slipper counter of a department store, Francolini expertly shows her pride and hope for her future as a working woman, along with the slight embarrassment that accompanies them. You're left wishing Kroetz had written the whole thing about Martha.
After Ludwig finally leaves, Otto goes into a destructive rage, upending plant pots and throwing furniture around the little flat. The smashed china is reminiscent of Polterabend, a German tradition where engaged couples break porcelain together on the night before their wedding. Afterwards, Otto helps Martha clean up, trying in vain to fix a broken shelf. The metaphor is a little heavy-handed, but it works.
Tom Fool should have ended at the interval, which is more Kroetz's fault than Zora's. The first half is perfect: Otto's tantrum serves as the climax, undercut by the clean-up operation. The family has splintered – Martha and Ludwig have both moved out, leaving Otto to realise how much he needed them. The second half, by contrast, falls limp, a sort of slow petering out that doesn't manage to find a point.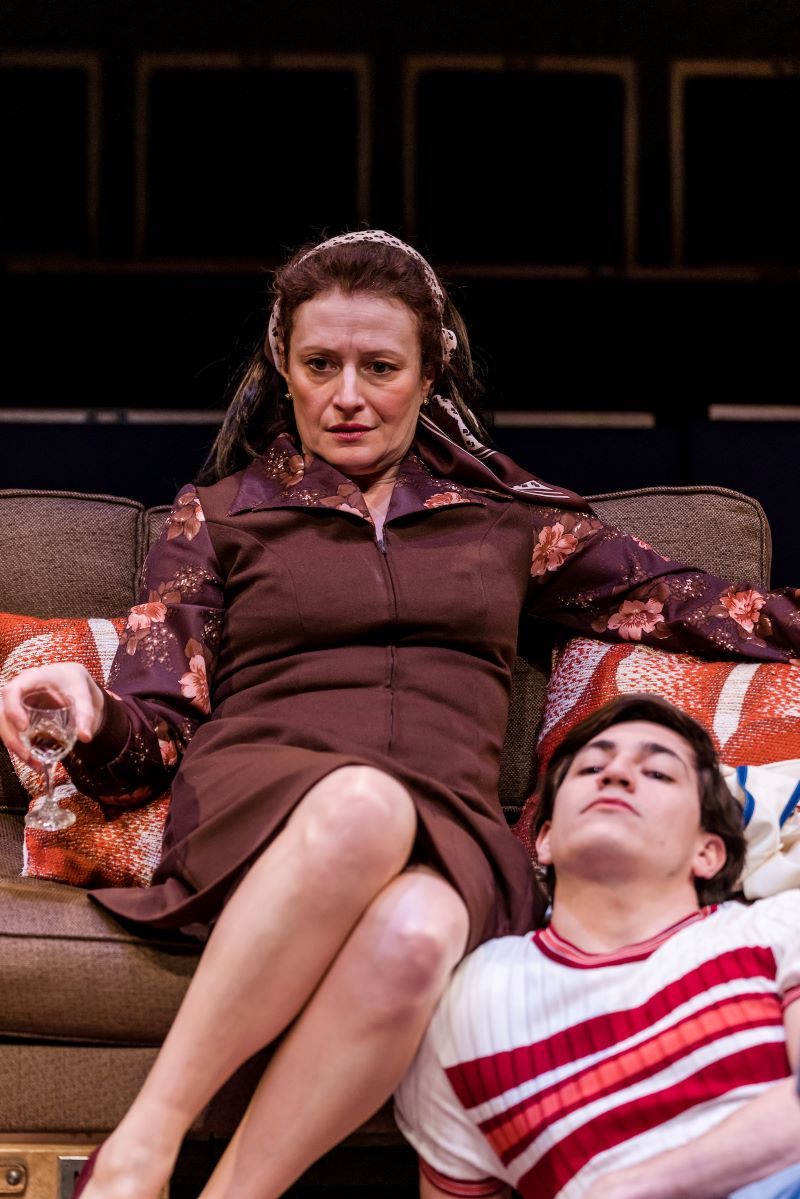 There are bumps in Estella Schmid and Anthony Vivis' translation, like when Martha and Otto are discussing why Otto isn't in the mood during sex. Martha is convinced Otto is thinking about porn: "Any woman can tell." "You're on the wrong track," he insists. I wasn't around in the Seventies, but the English doesn't strike me as particularly idiomatic.
In the programme notes, dramaturg Jennifer Bakst describes how Kroetz's plays, while being deeply political, are never polemical or didactic. Capitalism is never mentioned directly – like the big old TV set, it crackles menacingly under the surface of the Meiers' lives. When Martha finds 50 marks missing from her purse in the supermarket, Otto pretends it is all her fault – but once they get home, he screams at Ludwig for stealing "my" money.
The first affectionate touch between any of the characters comes almost at the end, when mother and son finally share an embrace. It's a stark reminder that nobody has extended any tenderness to anybody else until this point. West Germany's economic miracle, shouldered by people like the Meiers, has alienated them from each other. Theatre of the inarticulate, indeed.