The Thunder Girls, The Lowry, Salford review - all-girl solidarity |

reviews, news & interviews
The Thunder Girls, The Lowry, Salford review - all-girl solidarity
The Thunder Girls, The Lowry, Salford review - all-girl solidarity
Relationships, alliances and hatreds as a split-up rock group meet again 30 years on
Friday, 27 September 2019
Cat fight time: Beverley Callard and Carol Harrison (Roxanne and Chrissie) go for it, as Sandra Marvin (Carly) looks on
An all-girl rock group from the 1980s meet again, 30 years after an acrimonious break-up brought their shared stage career to an end … and the sparks fly as old resentments resurface and the bitterness of life's blows emerges. Will their one-time all-girl solidarity overcome their pain and regrets? Will the show end with them back together, belting out their iconic anthem?
It doesn't take long to see where author Melanie Blake got the idea for The Thunder Girls from. The point of reunion gigs is to peel back the years and let an audience that's aged along with the stars feel they're young again: it's probably the main point for the stars, too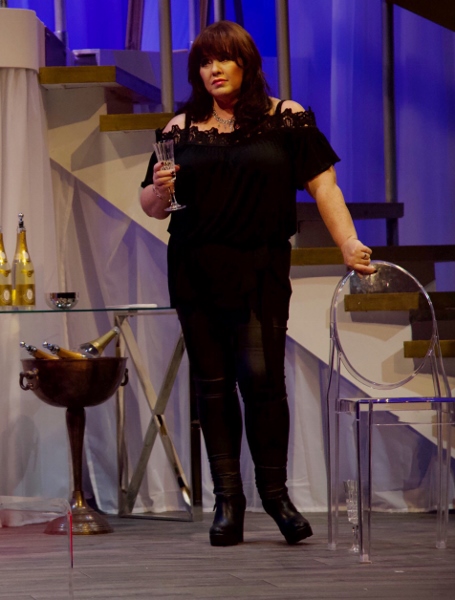 In Blake's show, having its world premiere in the Quays Theatre at Salford's The Lowry (the smaller of its two main auditoriums), there are four of them, and a summons to the glamorous residence of Chrissie (Carol Harrison) brings out the surprises, as they do their catch-up to the accompaniment of (it seems) gallons of Prosecco.

Chrissie was the one who did the contractual dirty on the others from the start by grabbing ownership of the group's name and most of the royalties – and she stole Rick the manager, true love of Roxanne (Beverley Callard), too. She subsequently made it as a solo artist, and seems to have it all, with a new, toy-boy husband and bags of cash. And then it comes out is that he's lied and left her, grabbing all her cash.

Roxanne had a baby 29 years back and has struggled through life as a single mum … there's a surprise coming as to whose child that baby was.

Carly (Sandra Marvin) was the real song-writer of the four but never got the credit for her creativity, never mind the money: she's spending her life covering up her husband's alcoholism.

And Anita (Pictured above right, played by Coleen Nolan)? Well, she vanished altogether – but she turns up half way through the show, amazingly, and her secret's in the fact that she's now got a wife.

This is Girl-fan land, as relationships sweeten and sour by the minute and alliances and hatreds form and fade. Whisper who dares say anything other than that it's all about female identity and empowerment, and, of course, the celebration of women in their fifties and beyond, which the four actors obviously are.

It's directed by Joyce Branagh (sister of You Know Who), and as a piece of theatre is a bit unusual. Each of the four Girls gets a solo song to sing (music and lyrics shared by Melanie Blake, who in all has seven credits in the programme booklet, including writer, producer, creative director, dialogue and casting): for which all action stops, with the result that the play takes longer than its events might have in real-time in real life.

Dialogue is very believably everyday, with Beverley Callard's character the Lancashire lass and Carol Harrison's the Londoner (matching their best-known TV identities, in Coronation Street and EastEnders, respectively), and a good sprinkling of f-words. It's done mainly in TV-style soft voices, and compensatingly mic'd, but at a remarkably slow pace, which may help the hard of hearing but brings the show's duration to two hours 40 minutes in all (the second half spent mainly repeating the content of the first for the benefit of the character who wasn't there before but has now joined them).

The set, by Richard Foxton, is evocative of a luxury pad by means of drapes and a few pieces of furniture. It's almost all set in one room, with a unity of time, place and action that would be a credit to a Greek tragedy, apart from a very brief, Dynasty-style cat fight – as the script itself calls it.