They Drink It in the Congo, Almeida Theatre |

reviews, news & interviews
They Drink It in the Congo, Almeida Theatre
They Drink It in the Congo, Almeida Theatre
New drama about the Congo is absorbing, but too long, too messy and too complex
Wednesday, 24 August 2016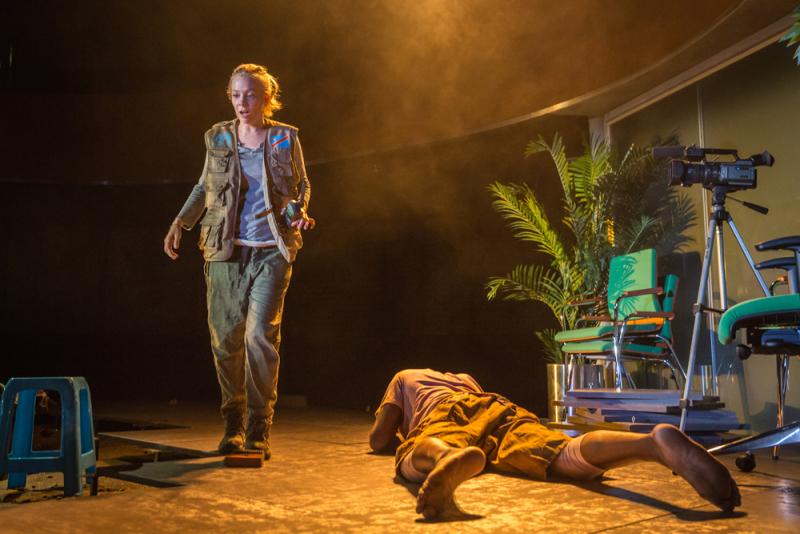 Art of darkness: Fiona Button in 'They Drink It in the Congo'
Do you carry a small part of the Congo every day on your person? Probably. Your mobile phone will contain coltan, aka columbite tantalum, which is used to make your electronics work better. And this is mined in the Congo. The trouble is that fluctuating prices for this mineral, as well as competition for such resources, encourages conflict between militia groups, which is one reason for the constant wars in this region of Africa. Another reason is the legacy of colonialism.
Another reason is unfettered masculinity. And so it goes on.
Adam Brace's new play, whose title alludes to the advert for Um Bongo, a 1980s fruity soft drink whose adverts had the excruciating jingle "Um Bongo Um Bongo they drink it in the Congo", explores the fraught political situation in that country, and asks why no one wants to know about the Congo's problems. Is its violence too frightening? Are its politics too complicated? And what's it got to do with us anyway? He also suggests that attempts to use culture to publicise the issues are burdened with problems of their own.
We witness Stef's first traumatic trip to the Congo
The story focuses on thirtysomething Stef, a white woman who was born on her father's farm in Kenya and who suffers from middle-class guilt about her privileged situation. She is the campaign coordinator of Congo Voice, a project which aims to set up an annual festival which will spread the word about what's happening in that part of Africa. Motivated by her own horrific experiences in the Congo, she is a liberal who wants to give Congolese people a third of the places on her steering committee. This means that she has to get involved in the messy conflicts of the Congolese diaspora in London.
Helping her organise the festival are two other thirtysomethings: Tony, a white English event consultant, and Anne-Marie, a Congolese campaigner. At different points, both question her character, motives, and tactics. But a play about committee meetings and organisational problems is frankly tedious so Brace has added a real threat from a body called the Combattants de Londres, who are campaigning against the president of the Congo and want to stop the festival. But although this play is both funny and absorbing, it is also too complicated for its own good.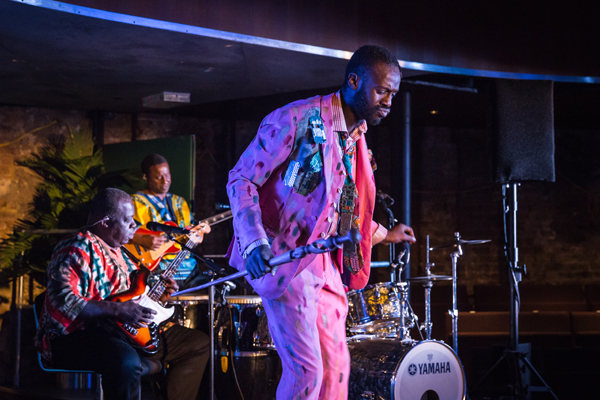 A central problem is that Stef, despite a thoroughly convincing performance by Fiona Button, is not a very sympathetic character. She is middle-class, crippled by guilt and rather repressed. In one telling exchange, Anne-Marie confronts her about her tendency to use charity-speak and corporate evasions: try as she might, Stef just can't be genuine. She's a born politician, in the worse sense of the word. At the same time, Brace has not really given us enough substance to really understand her. Although Button is on stage for most of the play, she remains elusive.
Yet there is much to enjoy in Michael Longhurst's fluid and panoramic production. An onstage band plays rumba, while a galaxy of some 35 characters offer different insights into Congo's history (a quick five-minute lesson) and its politics. And its horror. In one flashback, there's an enjoyable transformation scene and we witness Stef's first traumatic trip to the Congo. There are lovely visual jokes; the surtitles use Lingala; the metaphor of the wound is powerful. Jon Bausor has designed an in-the-round staging, and all of the acting is first-rate, especially Richard Goulding's Tony, Anne-Maria Nabirye's Anne-Marie, plus Richie Campbell's menacing Luis and Sule Rimi's spirit-world victim of Congolese violence (pictured above). Despite this, the play is too long, too messy and its story lacks focus and genuine drama.
Although this play is both funny and absorbing, it is also too complicated for its own good
rating
Share this article