theartsdesk in Venice: Shylock comes home |

reviews, news & interviews
theartsdesk in Venice: Shylock comes home
theartsdesk in Venice: Shylock comes home
The 500th anniversary of the Ghetto is celebrated across the city
Wednesday, 10 August 2016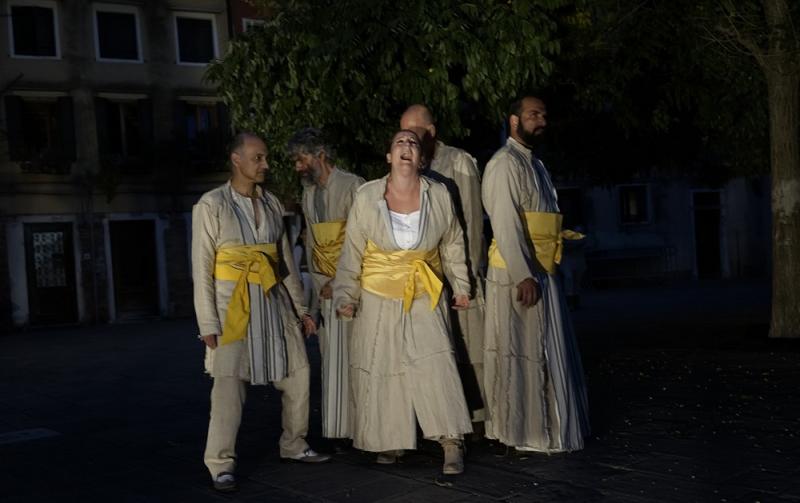 'Each of the Shylocks adopted the role with the donning of a wide, yellow sash, a reminder of the yellow badge (and later yellow cap) once required to be worn by Ghetto Jews'
"In such a night as this..." begins Lorenzo's beautiful speech in Act V of The Merchant of Venice. Watching Shakespeare's play in the Campo del Ghetto Nuovo on a balmy evening under a darkening navy blue sky, with cicadas providing a busy background recitative, it might have been tempting to be lulled by the romance of the surroundings. Belmont itself could scarcely be more delightful than Venice on a moonlit summer night.
But Lorenzo and his new bride Jessica talk not of their devotion to one another, but of unfaithful lovers and lack of trust. And the experience of watching this challenging play in the most suggestive of settings is likewise nuanced.
This year marks the 500th anniversary of the founding of the Ghetto as a specifically Jewish area. The word is derived from geto or foundry in the old Venetian dialect - one originally occupied this site - and has come to stand for areas of isolation and containment everywhere.
An excellent exhibition in the Palazzo Ducale, Venice, the Jews and Europe 1516-2016, charts the development of the Ghetto, its place in Venetian and European culture and the experience of Jews in other ghettos. Venice had permitted Jewish refugees to settle in its territory in the 15th century and, in the early 16th, had actively welcomed people useful to its economic success from elsewhere - northern Europe, Albania, Greece, Persia and Turkey - while keeping them under surveillance. In 1516, after the defeat of Venice in the protracted War of the League of Cambrai, Doge Leonardo Loredan (pictured right, Giovanni Bellini's portrait, 1501, National Gallery) decreed that, to avoid unrest, Venice's 700 Jewish inhabitants should be confined on an island in the north of the city, in the district of Cannaregio. It was a space which included the only large square in the city without a church. Each night two gates would be locked and guarded by Christian gatekeepers, for whom the inhabitants of the Ghetto were obliged to pay. A polyglot crossroads of cultures and an economic superpower, Venice relied on the Jews for money-lending and banking when usury was forbidden to Christians.
A place of confinement, the ghetto nevertheless also became one of refuge for Jews from other places in Europe and the Levant. At its height there were some 5,000 inhabitants who were obliged, given the restricted area allowed them, to build upwards to provide all the facilities necessary for a city-within-a-city. These included five synagogues, varied according to the rites of the particular communities which brought and maintained their own traditions, languages and styles of dress. The gates of the Ghetto were finally thrown down, amid much rejoicing, on the orders of Napoleon in 1797.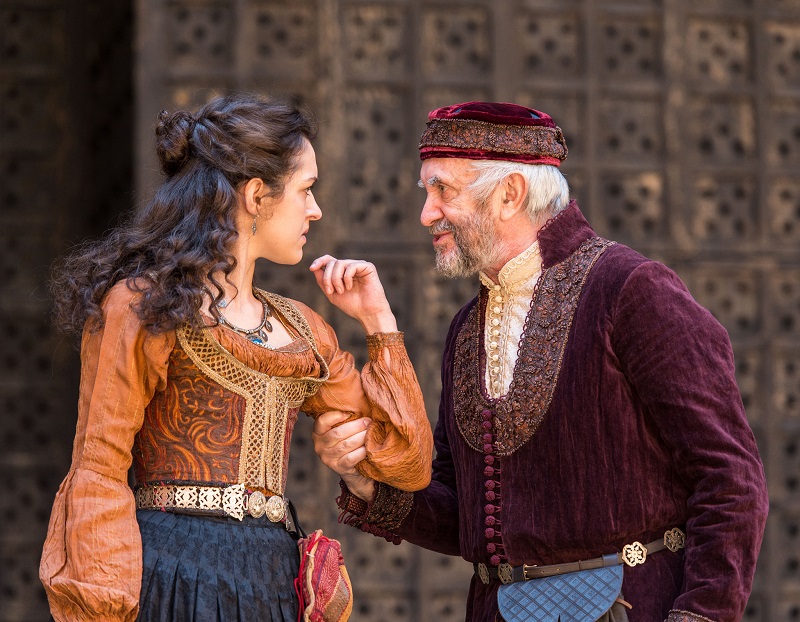 This complex story of everyday, intellectual and religious life is told with the aid of imaginative interactive installations in the Doge's apartments, along with books, documents, paintings, artefacts, recorded philosophical dialogues and film clips. These include Olivier as Shylock and Jonathan Pryce in last year's emotionally unflinching production of The Merchant of Venice directed by Jonathan Munby, which will be returning to the Globe in October. Incidentally, a scene featuring Jonathan and Phoebe Pryce (pictured above left by Manuel Harlan) as Shylock and Jessica was filmed in the Ghetto for The Complete Walk, part of the Globe's celebration of the 400th anniversary of Shakespeare's death in April.
The individual most often associated with the Ghetto never, of course, lived there - or indeed anywhere else. In the words of Shaul Bassi of Ca' Foscari, University of Venice, Shylock is "an imaginary figure that has been haunting this place for centuries". Professor Bassi has been instrumental in foregrounding this problematic character in the events recording the establishment of the Ghetto. Last year a month-long conference analysing and workshopping The Merchant of Venice was the first stage. Between 26 July and 1 August this year, performances of the play took place in the Ghetto and, on 27 July, a mock appeal against Shylock's sentence before a distinguished panel of judges, presided over by Justice Ruth Bader Ginsburg from the United States, was held in the imposing, Tintoretto-stuffed Scuola Grande di San Rocco.
After two hours of argument and 20 minutes' deliberation, the judges agreed unanimously that, as Justice Ginsburg said, the matter of the pound of flesh was "a merry sport, and no court would enforce it". They ruled that Shylock's property and the 3,000 ducats that he had lent to Antonio should be restored and the demand for his conversion nullified. The judges also ruled that Portia, as a "hypocrite", "imposter" and "trickster", should be sent to undergo training in law.
The problem with this as a punishment is that Portia would probably be delighted to step outside the confining roles of daughter and wife allowed her in the play - except when she is an "imposter" - certainly as portrayed by Linda Powell in the production in the Ghetto (pictured above, Powell with Elena Pellone as Nerissa). This Portia was a strong woman, angered by her father's decree that she should marry according to the casket test. Could she really be satisfied with life as callow Bassanio's consort?
But that kind of question might be asked of any production. This one was bound to have special resonances. Director Karin Coonrod and the Compagnia de' Colombari, a company specialising in site-specific performances with origins in Orvieto but based in the United States, offered something unique. A multi-lingual, multi-national group of actors and musicians reflected the polyglot character of Venice itself, opening with a section in Venetian dialect spoken by Francesca Sarah Toich as Lancillotto/Gobbo/Arlecchino (pictured below). Toich's movement, combining a dancer's elegance and clownish humour, reflected her training in Commedia dell'Arte. Elsewhere, Shakespeare's English predominated, of course, but French, Spanish and Italian could be heard too. And Shylock - played by five different actors - spoke Yiddish, Judeo-Venetian and Ladino as well as English.
Each of the Shylocks adopted the role with the donning of a wide, yellow sash, a reminder of the yellow badge (and later yellow cap) once required to be worn by Ghetto Jews. The most surprising casting was Welsh actress Jenni Lea-Jones in the role. It was she who delivered the most famous of Shylock's speeches including "Hath not a Jew eyes? Hath not a Jew hands, organs, dimensions, senses, affections, passions?.." By removing Shylock's individuality, the company acknowledged his status as symbolic, not only of Jews in the Renaissance period but of the outsider more generally and always.
Lorenzo was played by French-American actor Paul Spera (who also happens to be Justice Ginsburg's grandson) as an obvious fortune-hunter. At the play's end, Michelle Uranowitz as Jessica ran wailing from the throng, understanding (as Jessica often does in modern productions) that she has thrown away her heritage in exchange for a place in a venal, alien society.
There are now only about 450 Jews in Venice, but the Ghetto flourishes as an area of fascination for tourists and is still a centre of Jewish life. Contemporary anxieties were exemplified during the performances by knots of police every few yards in and around the Campo del Ghetto Novo. But a more uplifting image to take away was the word "Mercy" projected in many languages on the towering walls around the square.
The judges agreed unanimously that the matter of the pound of flesh was a merry sport, and no court would enforce it
Explore topics
Share this article