theartsdesk Q&A: Director Mike Leigh |

reviews, news & interviews
theartsdesk Q&A: Director Mike Leigh
theartsdesk Q&A: Director Mike Leigh
The celebrated film auteur on his other life in the theatre, from the RSC in the Sixties to the National now
Tuesday, 20 September 2011
Mike Leigh on entering the rehearsal room: 'There'll be no talk of the play because the play doesn't exist'
There is somewhere called Leighland, where people may be ineffably sad or existentially cheerful, old or young, live in a high rise or a semi. But they are all recognisably inhabitants of the world famously conjured up over a long period of clandestine development in the now time-honoured fashion. Nothing and everything changes in the work of Mike Leigh (b 1943).
However, consumers of his vast oeuvre stretching back to the 1960s will this year have had the chance to do something extremely rare: see a pair of works by Leigh in the theatre.
Ecstasy opened at Hampstead Theatre in 1979 and returned there to great acclaim earlier this year before migrating to the West End. Now Grief is coming to the National Theatre (pictured below, David Horovitch and Sam Kelly. Photo by Charlotte MacMillan), where he last worked on Two Thousand Years, an examination of the warping impact of religious fundamentalism on a North London Jewish family. He is so closely associated in the public perception with his work for television and latterly film that there will be many who are less aware of how deeply his roots are embedded in theatre. He trained as an actor at RADA and in the 1960s went on to work as an assistant director at the RSC. Indeed Ecstasy, which prefigures the sexual nihilism of Naked and the portrait of searing loneliness in Another Year, also owed a great deal to Leigh's early enthusiasm for Pinter and Beckett.
Leigh's hangdog expression is familiar from many an awards ceremony in London and Los Angeles. It is offset by a disposition almost as bouncy as Sally Hawkins' in Happy-Go-Lucky. He next comes before judging panels and cinema audiences with a project he is not planning to shoot until 2013. Its ambitious subject is JMW Turner. But on this occasion he talks to theartsdesk as much about theatre as film.
JASPER REES: I'm wary of asking about the Leigh method, but for your play at the National will you and all of the cast and sit in a room and say, "So what's this play all about?"
MIKE LEIGH: Never. That never happens. We have a meet and greet and that will involve the cast and absolutely anybody in the building at the National who's got anything to do with it. But I start to work individually with each actor separately to create a character gradually and the characters come together and all that.
How do the time parameters vary?
It's always defined by what is available or affordable. So that the length of rehearsal time before we shoot a film is defined by the budget or by the decision to have more actors and less time or less actors and more time. At the National as with Two Thousand Years exactly the same formula repeats. Nick Hytner said, "Have three six-week rehearsal slots." That's 18 weeks. Actually that's less time than for a film, because in 18 weeks one has to deliver a completely finished play that's up and running all its details, whereas on film we can rehearse for six months and then go on location and make the whole thing up. But it's all about cutting your cloth and all of that. In fact I know Abigail's Party had a 10-week rehearsal.
I have a regular tendency to deliver something different from that which went before
What in that first meeting gets talked about?
Nothing to do with the play. There'll be no talk of the play because the play doesn't exist. It'll be an "aren't we all lovely" discussion. It is about embarking on a journey with actor and designer and others to discover a play. And one of the elements that makes it all happen, work, is that the actors never know anything about anything except what their characters know so that they can explore relationships and all that.
In Two Thousand Years did you know the subject? You had cast a Jewish cast (pictured below).
In fact that was a whole different thing. That was a political decision to deal with stuff. In that context there was a definite sense of a certain radical thing that we were all going to participate in without knowing what it actually was.
How about Ecstasy? Can you remember how the genesis happened?
Only in one particular aspect. I have a regular tendency to deliver something different from that which went before. So Naked followed Life is Sweet.
Or Life is Bitter.
Good job you weren't here on the title committee. Then everyone said, "Oh that's the end of the domestic thing." Then you've got Secrets and Lies, then you've got Career Girls. Then I made the most unpredictable of all the pieces which is Topsy Turvy. We'd Abigail's Party which was the first one which was hugely successful. Of course there is no question that what was expected was more of the same. Just for the sheer wheeze of confounding the expectations of everybody, a glossy suburban something or other with an extremely grotty Kilburn bedsit was one of the notions. One taps into one's own preoccupations.
Why were you interested in that world?
The real truth is everybody out there is interesting and that world is interesting and important to deal with. When I couldn't think what to call it – Ecstasy (pictured below) is as elusive a decision as to what to call a play as any – I at some point have the notion of calling it One Mile Behind You because one mile behind the seats facing that way was it. That's more an indication of its context.
A lot of Leigh fans won't know much about your theatre. You come back to the theatre relatively infrequently. Do you think of it as a return to professional roots or as going back to a creative well or is it all just part of the same cloth?
All of those things are true. It is part of the same activity. After all, because I don't do that thing which other people are much better at than I do do which is to direct different sorts of plays and films, what I do is of course in a very specific and narrow area of personal work. But most of it comes from the same preoccupations and concerns. That's on one level. But of course I started my training as an actor. My earliest preoccupation with film goes back to the beginning and I was at it pretty early on pursuing it. I suppose I do regard filmmaking as my primary function and job and preoccupation. And also apart from anything else one of the main things in my life is that I've chaired the governors of the London Film School. That's really important and I've done that for quite a long time. But equally there was a time when I was on Arts Council theatre directors committees. It is about film really. But you can't be in the culture of this city a serious filmmaker without being bound up with all kinds of theatrical activities by dint of what actors are doing, and friends are doing and indeed it's part of one's culture as it is to go to the Tate. Also because I'm very much as a director involved with actors acting and the acting process I don't really draw all these distinctions. However when the chips are down if you said, "In the end would you rather be out there in the elements making a film or in a black box called the theatre?" I mean ultimately the turn-on is being out there with the guys making a film. But you get into a theatre situation and it's great. But in the end what matters is sitting in the audience with a play or a film and whether they laugh and cry that is what it's all about and it's worth its weight in gold. It's slightly sentimental to say so but that is the ultimate turn on and meaning of it all.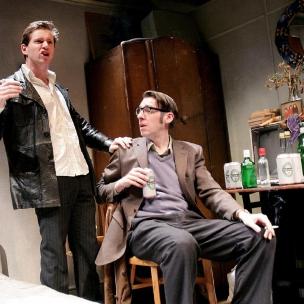 In the 1960s you assisted both Peter Hall and Trevor Nunn. What are your memories of that period?
My time at the RSC was fantastic. First of all, apart from anything as a writer working on the texts at Stratford was immensely helpful and useful. I assisted John Barton as well. But also I trained at RADA, I'd done stuff, but here one was taking part, irrespective of anything to do with the substance or quality of anything, the sheer fact that one was taking part in a major theatrical factory I was cutting more and more professional teeth. I had to direct the understudies. Fantastic. I was in there creating an improvised play. But in terms of assisting, my experience of assisting Peter was curtailed by the fact that he caught shingles early on in the Macbeth rehearsals and I got shunted off in other directions so I wasn't around too much on that. But that was quite an experience. I assisted Trevor on Taming of the Shrew with Janet Suzman and Michael Williams and Roy Kinnear and Patrick Stewart playing a minor part. It was a major thing. At that time Trevor would have been about 27, I 24. We were all pretty much babies. And he let me do improvisations and work out background character stuff. But the point is everything you do at whatever stage but most certainly what you do at that stage of your formative life is directly or by osmosis part of your education. I cherish it and regard it as massively important.
Can you remember the last time you directed anything not written by you?
The last time I directed a conventional play with a script was The Life of Galileo for the 1970 Bermuda Arts Festival, which was a disaster.
What if the ENO were to ask you to direct an opera?
I'll tell you what's quite funny about this. By an extraordinarily coincidence or some sort of synchronicity or because there's something in the air, for various reasons I've now been asked the same question randomly in different contexts about five times it the last two weeks. I went to a matinee of Parsifal at the ENO. The fact is nobody has ever asked me and I think what's interesting is that a lot of people who have gone and directed opera who certainly know less about opera than I do. But in the end the truth is I am in the business of making things up and that's what my time is devoted to. Also I have been able to apply some useful version of an acting process that to the actors makes some sort of sense. Whether I could really do that with opera singers, good actors as many of them are, is debatable. I have had discussions with people about notions of creating a piece of musical theatre. It's a Great Big Shame which was the last play before Two Thousand Years wasn't a musical as such but it had musical elements as such.
Did it happen at the Baftas [when The King's Speech won everything]?
No. I have nothing to say about the fucking Baftas. You can quote me on that.
You had quite long face on you that night.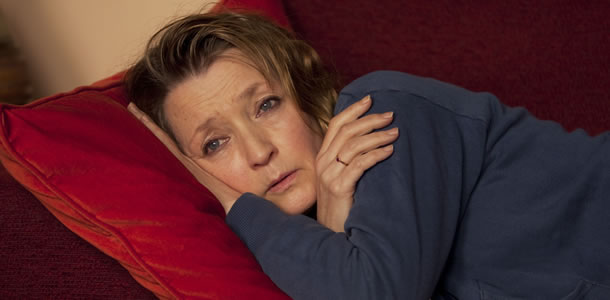 Not winning is fine. So it's not about not being able to lose or anything. But this is an emotion I've had any number of times. I fail to know what actor or actress is actually better than Lesley [Manville] in Another Year (pictured right)and that's being as objective as I possibly can about it. Quite apart from things like Dick Pope's cinematography which is extraordinary. But the problem with my films in this context and indeed I would go so far as to say the same is true of my plays – I've never been up for an Olivier Award, for example, and I'm not bitter in saying that: it's because it's in the nature of what I do you can never see the wheels going round. People know it's great cinematography but other things are more sexy. And that's true of the acting too, I guess. The fact is that we were up for Best British Film and Best Supporting Actress. We could be forgiven for thinking that there was more talent on display in Another Year than just those.
Did you not go because to the Oscars for any particular reason?
Well we knew we wouldn't win. We knew that David Seidler would win for his screenplay for The King's Speech. My producer went, Georgina.
So it was no ordeal to miss it?
Absolutely not. Not at all. Delighted. I've been nominated five times for original screenplay which is good fun in its own right, twice as a director and we've had various other nominations. No the only two Oscars we've ever got was for the make-up and costumes on Topsy Turvy. The last time I went with my sons and we had a gas.
Is there such a thing as a Mike Leigh accent?
Obviously there is a consistency and a style but there's no sense of falling back
I don't think that's true but I would certainly hope there is a stylistic consistency. The choices of subject matter, how to look at people, how to observe and listen to how people talk, however good other things are what you don't particularly get is behavioural specificity of how people are. It gives it a certain kind of an aspect which makes it in that sense seem different from other things. I don't think there is a Mike Leigh accent because there are all sorts of characters.
But there is a London tinge.
Fair comment. The reason why you hear a lot of London accents in my work is because every attempt we've ever made over many years [to film outside London] has failed because we can never afford to do so. So I drop anchor in London and there are a lot of London characters. But there's nothing inherently London about the style.
Do you ever get a sense with your work casting a long shadow that actors approach you with a slightly gingerly or worshipful tread, coming into your world and thinking this is how mike Leigh actors act, how his characters talk or behave?
First of all anyone who actually manifests that syndrome doesn't get through the auditions. The people I work with whether they're first timers or old timers are smart, their own people who know what they're about, are sophisticated and talented character actors. That is a syndrome but if I rumble it as being an actual one then you don't see them in the piece. And even if there is the slightest glimmer of it it will disappear within minutes because it's not about that. The truth is that every piece of work by very dint of the fact that we start out with nothing other than something floating around in my head, there are no short cuts, there are no tricks. There is no saying "I always do it like this". Every piece of work is a fresh investigation and something new and different. Of course you can always go through my stuff and I constantly catch myself out -been there before. Obviously there is a consistency and a style but there's no sense of falling back. There is nothing to fall back on. It actually has to happen for real and truthfully. The thing about working with old hands is it's great to do it but there's always newcomers. I sit there thinking, when can I work with this person again?
Grief is at the National Theatre until 28 January 2012
What matters is sitting in the audience with a play or a film and whether they laugh and cry - that is what it's all about and it's worth its weight in gold
Share this article