theartsdesk MOT: The Mousetrap, St Martin's Theatre
theartsdesk MOT: The Mousetrap, St Martin's Theatre
A West End classic still serves up entertainment at its most civilised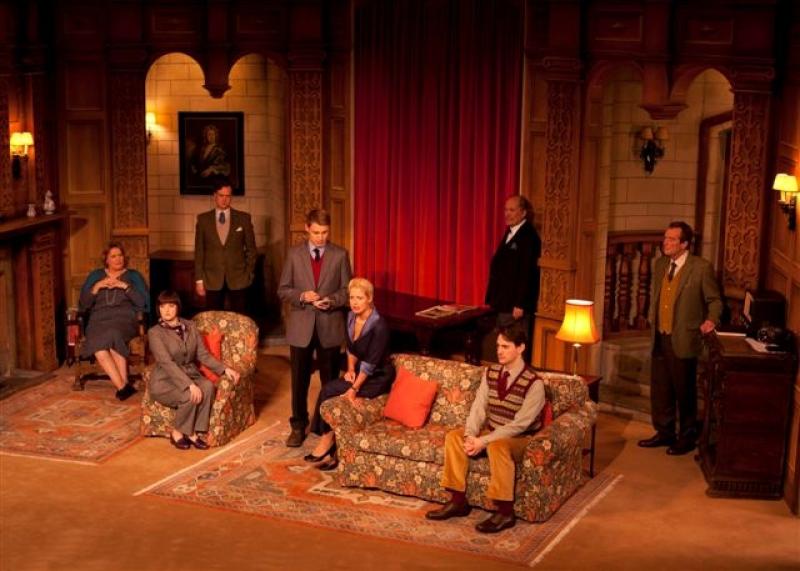 Murder at its most stylish: the cast of 'The Mousetrap' assemble for some pre-dinner slaughter
A blackout, a snowstorm, a scream, and there you have it – the longest-running play of all time. The mystery of The Mousetrap is legendary, preserved by a code of silence that bonds all those who have performed and watched this classic whodunnit. Yet greater even than this is surely the enigma of how so generic, so unassuming a play should come to endure so persistently.
Is it merely tradition that keeps Agatha Christie's
Mousetrap
in business, or can this period piece really still have something fresh to say in its resolutely RP tones?
Approaching its 25,000th performance, The Mousetrap is the aristocratic theatrical dowager of the West End. Not for this play the thrusting, neon pavement presence of its nouveau rivals, instead you'll find it tucked politely and discreetly around a corner off Charing Cross Road. The St Martin's Theatre – home to the play since 1974 – is also noticeably calmer than others in this part of town, with none of the aggressive merchandise-peddling and school-group shriekings you find at the big musicals, and far less likelihood of an elderly relative getting crushed in the pre-theatre bunfight.
Sedate. Civilised. These are not the sort of words that get blown up into the killer publicity quotes that plaster Underground posters, but they are virtues nevertheless (both on stage and off) and ones for which The Mousetrap continues to prove that there is a healthy demand.
Taking that simplest of conceits, the dark and stormy night, The Mousetrap invites its audience to a winter sojurn at Monkswell Manor – home to Giles and Mollie Ralston (Robert Irons and Ann Wren) and newly opened as a guest house. The simultaneous arrival of a snowstorm and five unknown guests incarcerates our characters together, and when one is murdered a long-buried local tragedy emerges with potentially fatal consequences for those involved.
With The 39 Steps offering a rather more tongue-in-cheek take on tweed-clad detective drama down the road, what's surprising about Christie's play is its sincerity. Played straight by its current cast under the direction of Ian Watt-Smith, with few of the exaggerations of accent or mannerism that we've come to expect from endless television episodes of Poirot and Marple, the effect is disarmingly direct – a celebration of storytelling without the contemporary security blanket of camp or irony.
Yes, there's a Mysterious Foreign Stranger, Mr Paravicini (played on this occasion with gleeful and slightly psychotic menace by Michael Roberts), but even his comedic villainy seems played as a double bluff – a character too exaggerated to be anything but harmless, surely? And while all the other roles play out as you'd expect – newlywed couple, elderly female harridan, bluff old Major and (in a period gender-bending twist) a trousered young woman and mincing young man – they each offer up their stereotype with that particular nugget of humanity that earned Christie her millions.
The solid set (complete with William Morris sofa and acres of wooden panelling) frames the action in a single space, helping to foster a sense of stylish entrapment. Much fun is had with the various doorways and staircases, and some of the evening's best laughs come from the manipulation of theatrical exits and entrances.
The current cast (the latest of over 400 actors to take the roles) inhabit their set with assurance. Ashley Cook's Christopher Wren, all nervous energy and exaggerated side-parting, is pitted against the magnificently poisonous Gaye Brown as Mrs Boyle, while balanced by the more measured Wren and Irons as their young hosts. Only Marcus Webb's Detective-Sergeant Trotter (the role originally taken by Richard Attenborough) lacks something of conviction behind the eyes.
Thrillers have a noble history on the stage, with the likes of Sleuth, Dial M for Murder, The Bad Seed and, of course, Warren Manzi's A Perfect Crime (which has been playing in New York since 1987) drawing large audiences for their clever twists and manipulative thrills over the years. Yet enduring where others have failed, the secret to Christie's The Mousetrap is perhaps not its atmospherics or even its dramatic final reveal, but – in the ultimate twist – its morality. Far from delighting or relishing the "evil" she addresses, Christie's works all render order from chaos, ultimately banishing vice and punishing sin. In an increasingly off-white world of moral double-dealing, is it any wonder that audiences continue to find comfort in the moral absolutes of The Mousetrap?
Having negotiated decades of being just slightly unfashionable to emerge triumphantly as vintage entertainment, The Mousetrap's liver-spotted take on the thriller is now deservedly coloured with a patina of wisdom and value. It may not be the most urgent or spectacular of London's West End shows, but for solid storytelling it's still a hard one to beat.
Explore topics
Share this article