Teenage Dick, Donmar Warehouse review - a fearlessly acted, well-intentioned mess |

reviews, news & interviews
Teenage Dick, Donmar Warehouse review - a fearlessly acted, well-intentioned mess
Teenage Dick, Donmar Warehouse review - a fearlessly acted, well-intentioned mess
Mike Lew's riff on Shakespeare needs more art to go with its heart
bardolatry: Daniel Monks and Callum Adams in 'Teenage Dick'
If good intentions were everything, Teenage Dick would be the play of the year.
As it is, this British premiere at the
Donmar
of an Off Broadway entry from summer 2018 grants centre-stage, and not before time, to two
disabled
actors, one of whom
–
the mesmerically fearless Daniel Monks
–
plays the Shakespeare-inspired figure of the title. But viewed purely in terms of text, author Mike Lew's nod towards the Bard's most charismatically demonic anti-hero feels some way still from finished and is so busy changing gears that even Michael Longhurst, the director, has to struggle to make of it a coherent whole.
This marks Longhurst's second production since assuming the reins at the Donmar earlier this year and follows a varied and diverse sequence of work suggesting a commitment to inclusion across all strata of society that is in itself heartening to behold.
But as American transplants to the Donmar go, the cheekily titled Teenage Dick represents a far less remarked-upon choice for Manhattan transfer than, say, Sweat or even Appropriate, both of which received searing productions at this same address. One can readily see why Lew's play may have landed somewhat beneath the radar back in New York: even as Monks all but tears up the stage in his insistence, as Arthur Miller put it in another context, that attention must be paid, an audience must go along with a bumpy ride that lurches from the cartoonish to the preachy and risks frittering away a playgoer's good will. (Not, I should say, that of the quartet of playgoers behind me, who reacted to everything in giddy hysterics, whether or not, um, appropriate.)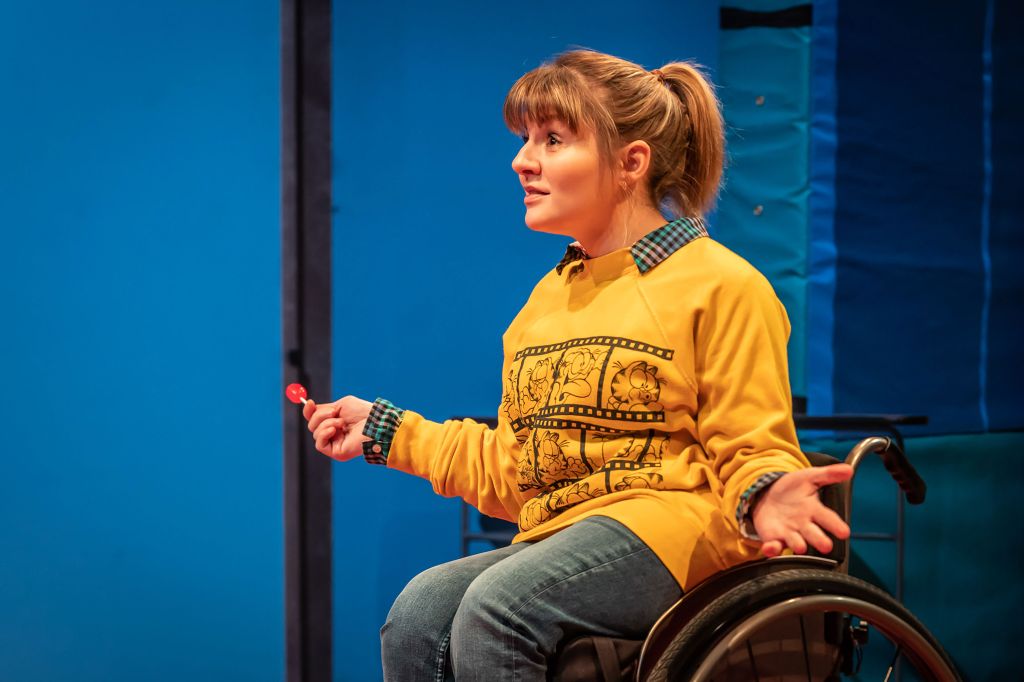 Lew's conceit in fact owes less to the Bard than one might think from a mere reading of the characters' names, which range from Monks's Richard Gloucester to a girlfriend, Anne Margaret (no, not the fabled Ann-Margret of Tommy screen renown), and on to Elizabeth York, the schoolteacher, and a sparring partner for the 17-year-old Dick in Barbara "Buck" Buckingham: you get the idea. (The nomenclature allows Lew to rhyme "Buck" with "fuck".) The "tower" in this American high school iteration of events is the principal's office, while the landscape encompasses references to Michelle and Barack, as well as Clueless, alongside lots of cod-Shakespeare, not all of the language equally persuasive: "blusterous malfeasance" doesn't resonate with the Bard or, in fact, anyone else.
Appearing before us at the start in the audience-grabbing tradition of his Elizabethan-era forebear, Monks's tricky Dick announces the vaulting ambition that will take him from class secretary to president, in the process overtaking both the resident jock, Eddie (Callum Adams) and the inevitable goody two-shoes, Clarissa (Alice Hewkin). English class is looming, and Richard has arrived late. His tardiness is due to the halting gait necessitated by partial paralysis, or hemiplegia (Monks's condition matches that of the character), and so what if Ruth Madeley's sharp-tongued Buckingham (pictured above) managed to get there on time? "Buck is on wheels, you pox-scrabbled harlot," snaps Richard in his own defense, proffering the linguistic mash-up of then and now that courses throughout the play.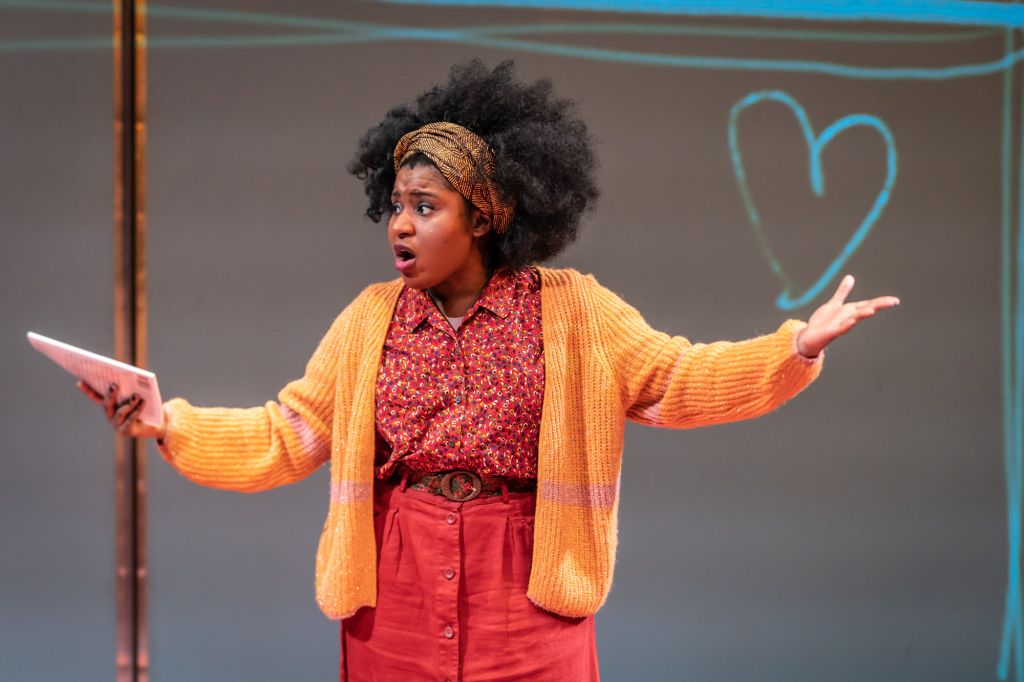 The broadly acted classroom scenes are presided over by the ever-engaging Susan Wokoma (pictured right) as a prof trying as best she can to instill Machiavelli into the minds of students far more at home with the truncated lingo required of social media. Not long after, the script veers towards sententiousness in the unfolding relationship between Richard and the self-harming Anne Margaret, who becomes both tutor and lover to our eponymous malcontent but not before rather clumsily seizing the narrative so as to unleash inner demons all her own: Siena Kelly does as best she can to override the fact that her character, as conceived, is an overearnest bore, and one notes the production's gathering reliance on a Dear Evan Hansen-style degree of twitterverse projections and the like to make up visually for the suddenly halting text. (Chloe Lamford's set, meanwhile, recalls nothing so much as The 25th Annual Putnam County Spelling Bee at this very theatre in 2011.)
Still, there's no denying the roiling fury transmitted all the way through to his final soliloquy by Monks, an Australian performer much lauded back home who gets both a bravura dance routine alongside Kelly and a final challenge guaranteed to bring an audience to its feet, as indeed it does. The opening night performance was at no point more affecting than in a visibly moved Monks's acknowledgement of an enraptured house, Richard III's vaunted "winter of discontent" turned here into a wintertime evening of triumph for an actor who had best get used to the applause.
Lew's conceit in fact owes less to the Bard than one might think from a mere reading of the characters' names
rating
Explore topics
Share this article