Taken at Midnight, Theatre Royal Haymarket |

reviews, news & interviews
Taken at Midnight, Theatre Royal Haymarket
Taken at Midnight, Theatre Royal Haymarket
Penelope Wilton triumphs as a mother who defies the Nazis in fighting for her lawyer son
Irmgard (Penelope Wilton) explains the predicament of her son Hans (Martin Hutson)
The mother, so often a sentimental figure in art, can be as tenacious and bold as any animal when protecting her young. Mark Hayhurst's play about Irmgard Litten, mother of Hans, a lawyer who cross-examined Hitler – and won – in 1931, celebrates the single-minded determination of a woman daring to take on Nazi might in the cause of her son.
Hans was imprisoned in Sonnenburg "for his own protection" on the night of the Reichstag fire in 1933 and, after spending years in concentration camps, was found hanged in Dachau in 1938.
Taken at Midnight, with Penelope Wilton as Irmgard, received the kind of reviews after its Chichester debut that raised high expectations for its transfer to the West End. Hayhurst, who had already written a television play, The Man Who Crossed Hitler, and a documentary, To Stop a Tyrant, based on Hans Litten's story, has produced a gripping history lesson which does not disappoint. There are no surprises; we know how it must end. The fascination of the piece lies in the writing – acerbic, witty and, despite everything, exhibiting glimmers of hope – well served here by the central performance.
Penelope Wilton's Irmgard is a dignified matron in sensible shoes and shapeless dresses, intelligent, ironic, almost dangerously controlled as she tells her son's story. She will not show the Gestapo a hint of weakness and she is so far from begging audience sympathy that she seems to be keeping us too at bay until we see her almost crumble as she breaks her own principles – the very ones by which she has brought up Hans – in asking him to endanger others to save himself. Jonathan Church's sure direction seems to have taken as its watchword Irmgard's insistence that, however desperate she may be, she remains reasonable: it is no more than simply rational behaviour to do your utmost to save your child.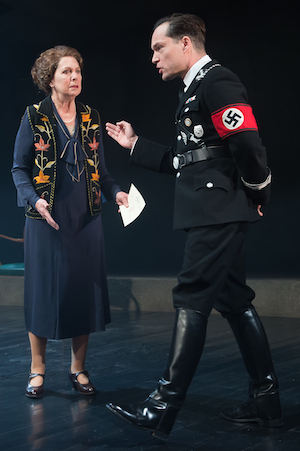 Martin Hutson as Hans retains his fighting spirit even when his body is broken by torture. Hayhurst allows him a moment of lawyerly arrogance as he outplays Hitler, but we see him do so, movingly, in filthy concentration camp pyjamas sewn with a yellow star. Other parts are equally well judged: John Light (pictured right, with Wilton) gives the apparently sympathetic Gestapo man Conrad a silky conviction until his mask slips. Allan Corduner as Irmgard's husband is sensitive but mystified. David Yelland is convincing as a complacent British diplomat, as are Pip Donaghy and Mike Grady as Hans's fellow prisoners, daringly impetuous and calmly intelligent respectively as they indulge in whip-sharp banter. Robert Jones's brutal concrete set provides it all with the right sense of edgy discomfort.
A prayer for Holocaust Memorial Day (January 27th) was included in press night programmes. Otherwise, there are no deliberate reminders of the play's resonances for us; they are unnecessary. Examples of maternal devotion to the cause of their children, despite the odds, come to light daily, from the mothers of the disappeared in Argentina to the British woman who went alone to Syria to try to free her doctor son from prison last year. It hardly needs to be pointed out that free speech continues to be hard-won in many countries and that anti-Semitism is again on the rise.
This is yet another highly regarded transfer from Chichester Festival Theatre. Gypsy (the Critics' Circle best musical), starring Imelda Staunton, and Stevie, with Zoe Wanamaker as the poet, will follow in the next few months.
The fascination of the piece lies in the writing: acerbic, witty and, despite everything, exhibiting glimmers of hope
rating
Explore topics
Share this article