The Sex Party, Menier Chocolate Factory review - disappointing detumescence |

reviews, news & interviews
The Sex Party, Menier Chocolate Factory review - disappointing detumescence
The Sex Party, Menier Chocolate Factory review - disappointing detumescence
Terry Johnson returns with a sex comedy that is neither sexy nor funny
No intimacy: Molly Osborne, Jason Merrells and Lisa Dwan in 'The Sex Party'.
His Freudian farce,
Hysteria
, and his tribute to traditional British Benny-Hill-style comedians,
Dead Funny
, share a bed of giggling gyrations with his love letter to
Carry On
films, the innuendo heavy
Cleo, Camping, Emmanuelle and Dick
.
But now, as his latest show reopens the Menier Chocolate Factory, which has been closed for a while, does he still have the magic touch? With its lurid title, The Sex Party is certainly a come-on, but is it also a turn-off?
Johnson's idea for a sex comedy is very promising: a hetero orgy which is subverted by the arrival of a trans woman, who reveals the prejudices of the other guests. Our comfortable Islington hosts are the sulky middle-aged Alex and his younger, welcoming girlfriend Hetty, and their guests are Gilly, who has known Alex for years, and her rather jealous husband Jake, plus the rich American Jeff and his Russian trophy wife Magdalena, and posh stoner Tim who arrives with his politically correct partner Camilla. Together there are some nice awkward moments as they start drinking and getting to know each other.
For the first half of the evening, in four scenes set in the kitchen, with its prominent poster of Fellini's La Dolce Vita, the four couples chat about Graham Norton's wines, butterflies invading the house during winter, drug taking, the absence of black people at the gathering, and the opinionated free for all that is the internet. Despite the occasional anecdote, such as one about sex in public resulting in a loss of shame and inhibition, there is very little here about sex. Although the emotional fuel of Jake and Gilly's troubled marriage smoulders encouragingly, and Hetty is a lively presence, the rest of the guests are pretty limp.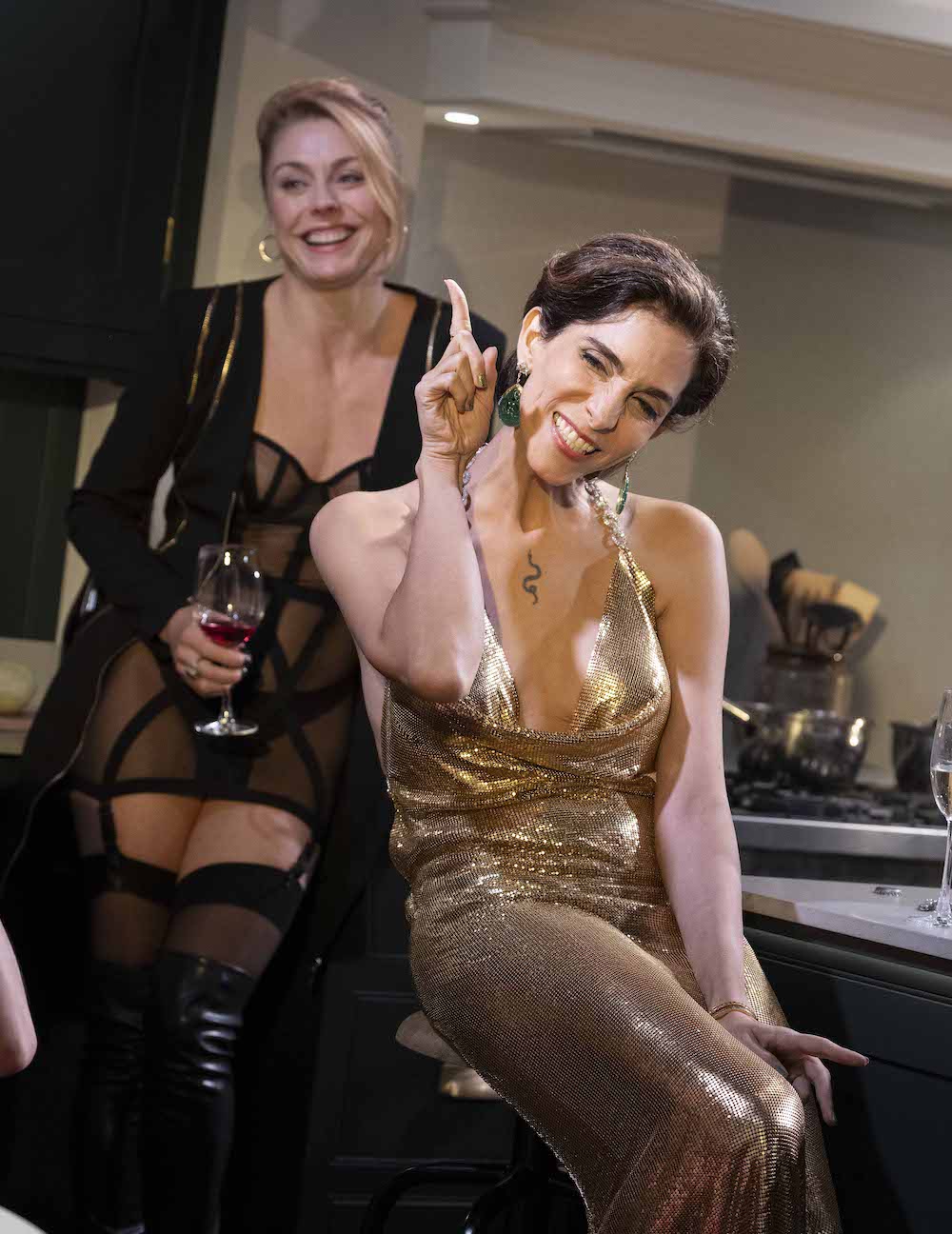 Worse still, for a sex comedy, there are very few funny lines. Okay, the usual British jokes about places — from "a bit Tooting Lido" to "This is Islington" — do raise a guffaw, but the satire on middle-class lifestyles feels very flaccid. It's okay to have stereotypes — and the Russians and Americans are instantly recognizable as such — if the piece is a farce, but a farce has to have theatrical energy. Johnson's play has too few verbal zingers and too little stage action — the sex all happens in another room and the characters mainly stand around talking or, worse still, just listening to others talk. It's all jaw, jaw, jaw.
Of course, the arrival in the second half of Lucy, a trans woman, livens things up because the discussion gets a bit heated, but it says a lot about the piece that the most transgressive passages are about whether dogs can love you for yourself or whether they are motivated only by the need for food and shelter. Despite the fact that Lucy incisively deals with the prejudices of the other guests, the writing generally feels woefully underpowered, with predictable questions about JK Rowling and contrived statements about gender normality and family life. There's a lamentable, and I do lament this, lack of zing and spice to the dialogues.
Among the large range of subjects included are some knotty issues about who has the right to determine your gender identity, as well the usual rather familiar questions about which toilet a trans person uses. Or which Hampstead pool they can attend. There are pertinent questions raised about the importance of consent, even in an orgiastic setting, and some good lines that remind us about the pervasive presence of sexual harassment, and violence. Quite unsurprisingly, the flavour is that of prodding woke sensibilities, and also indulging in the stage presentation of semi-clothed females, and there's a nod, or rather barely a tilt of the eyebrow, to the #MeToo movement.
As usual with Johnson, a couple of secrets do pop out in the end and the misery of unsatisfying relationships is cruelly underlined. And some episodes work well, as when Gilly and Jake argue about whether one partner giving the other permission to enjoy sex with someone else is genuine, or just a ploy to license their own desires. But the overall sense is of a play which, apart from the 30 minutes when Lucy is provocatively centre stage, meanders and fails to have much that is interesting to say about sex and desire, or enough passion to engage the audience with its energy and jokes.
Things are really not helped by Johnson's decision to direct the play himself, and its static staging, in a contemporary kitchen beautifully designed by Tim Shortall, is really all his responsibility. The cast do their best, with Jason Merrells perfectly gloomy as Alex, a sharp contrast with Molly Osborne's bubbly Hetty, and Midsomer Murders' John Hopkins and Lisa Dwan emotionally true as the sparring Jake and Gilly. Oscar-winner Timothy Hutton (Jeff) and Amanda Ryan (Magdalena) have their moments as the stereotypes, while Will Barton (Tim) and Kelly Price (Camilla) struggle with their underwritten parts. Transgender activist Pooya Mohseni (pictured above right with Kelly Price) is the exquisitely dressed Lucy, and dominates the second half with her intelligence and charisma. But otherwise, although it promises much, The Sex Party fails to satisfy.
It fails to have much interesting to say about sex and desire, or enough passion to engage with its energy and jokes
rating
Explore topics
Share this article