The Sacred Flame, English Touring Theatre |

reviews, news & interviews
The Sacred Flame, English Touring Theatre
The Sacred Flame, English Touring Theatre
UK tour attempts to revive long-neglected Somerset Maugham whodunnit. And did it?
Tuesday, 18 September 2012
Whose life is it anyway? Crippled Maurice (Jamie De Courcey) urges wife Stella (Beatriz Romilly) to live her dream
To revive a long-defunct play is dicing with death for a touring theatre company - was the play ahead of its time, or was it not good enough in any time? W Somerset Maugham was a commercial and critical giant in London theatre in the Twenties, but The Sacred Flame - an odd hybrid of whodunnit and (a)morality play - was one that didn't make it out of its period.
But its theme remains unsolved today: the family and medical dilemmas thrown up when a vivid young man is hopelessly crippled, his young wife now unsatisfied, he himself trying to be brave about a position that cripples him psychologically too, and the debate whether he'd rather be dead than alive.
Recent cases by Tony Nicklinson and Diane Pretty seeking the legal right to choose to die ensure that the topic remains fiercely "relevant" today. But theatre can't live by relevance alone. It has to be about the timeless appeal of fascinating characters and human situations. In this, The Sacred Flame burns with a thin flame, trying to stay alight, the gas of the drama not strong enough for the fine theme.
As a Twenties whodunnit, it lives in the shadow cast nowadays by the professional excellence of Agatha Christie stagings
That's partly because, as a Twenties whodunnit, it lives in the shadow cast nowadays by the professional excellence of Agatha Christie stagings on TV, a phenomenon that has had an incredibly sticky effect on shaping public expectations. You expect an unguessable outcome - this is well telegraphed from early on; you expect peculiar detective - this play has none, apart from a bufferish Major whose attendance in the Tabret family has evidently been shoehorned in to enable all the questions to be answered.
Maurice Tabret is a young pilot maimed in an air crash a year after he made an idyllic marriage to his adored, beautiful Stella (we should remember how hazardous and experimental flight was in the Twenties). He requires 24-hour care, and the growing strains between his live-in nurse and his wife are thrown suddenly into naked relief by an event slightly too well telegraphed in the first act. The other characters in this close family drama are his mother and brother, and Maugham sets up a forceful opposition between polarities of conventional morality by which laws are written and the kind of fuzzy amorality that great love often gives birth to, and which challenges those laws.
The most rousing of those is the argument for Stella's right (or not) to a sex life - a case so powerfully put that it caused the play to be denounced by the Bishop of London. One might read all kinds of alternative metaphors in this, Maugham's own uncomfortable bisexuality, perhaps subsuming into Maurice's pleas to his wife to live her own life his sense of his own bereavement - that he had lost his own better life due to society's strictures.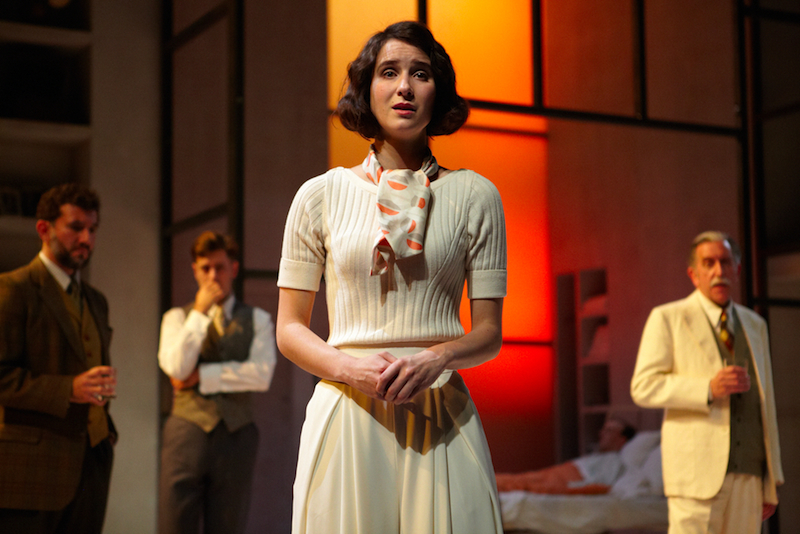 Above: Stella (Beatriz Romilly), with Dr Harvester, Colin, Maurice and Major Liconda
These themes ought to be painful, but they're undercut by Matthew Dunster's indecisive production and casting. Dunster fails to deal boldly with the nettle, that this is evidently intended by Maugham as a solemn contemplation of themes too often brushed away casually (naturalism was not what he wanted - he considered his great rival Noel Coward's repartee beyond the pale). The effect of the ETT staging is the contrary. The clothes are Twenties-derived, the minimalist, highly lit white hospital suite recalls the clean new lines of architecture, if not very stylishly; but that much-needed period anchoring is steered away by modern music and sounds, a country 'n' western song on the radio, electronic rumbles seeping in for impending moments of doomy revelation in the plot.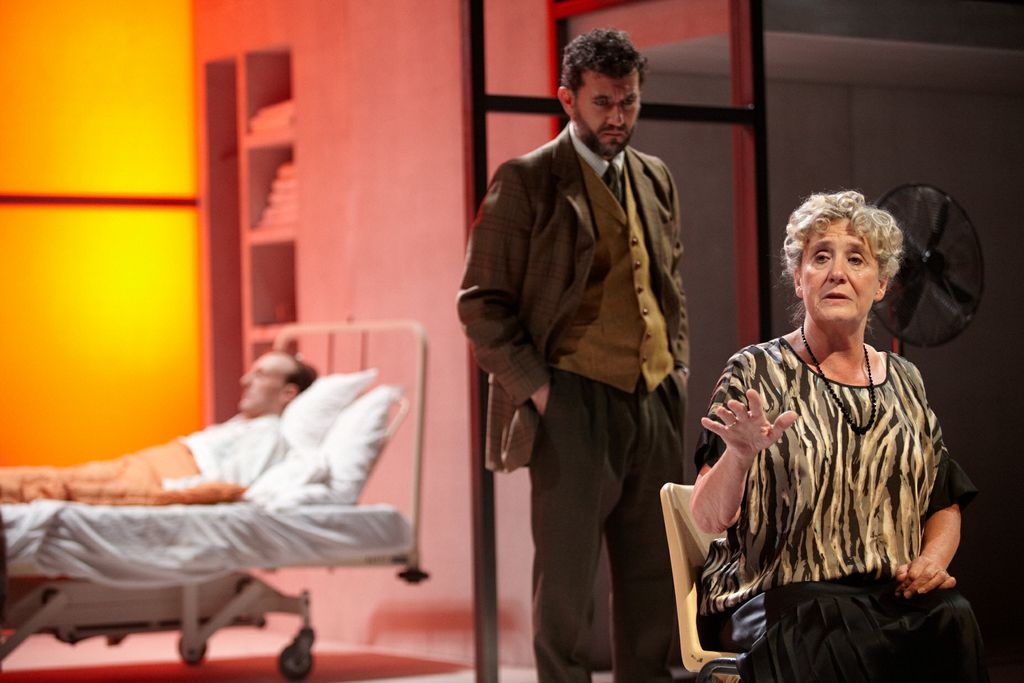 The acting also wavers about: Beatriz Romilly finds a sweet sincerity in Stella, and some depth - you do root for her; Margot Leicester as the mother (pictured right with Al Nedjari's Dr Harvester) radiates a warm, easy charisma that does well in suggesting the malleable morality of her Edwardian middle-class upbringing. Jamie De Courcey's Maurice is also well-conceived in his period, pale, gaunt and slightly cloyingly upbeat, imprisoned in his paralysis and trying to find a hero's way to handle it.
But the key figure of his nurse is poorly cast with an actress whose voice is squeaky, unresonant and inarticulated. With an inadequate vocal instrument, Sarah Churm shouts most of her lines into the unforgiving acoustic of the Rose, not able to convey any pitiability in this person who wraps her emotions in righteousness. One would like to reckon this nurse's courage, as well as her own private journey of pain, but the performance counts against it.
I'd have to blame the director for that, and also for a failure of context for the two other essential characters: the doctor (who must bear the brunt of the debate about whether killing a patient is ever justified), played by Al Nedjari waving his hands distractingly about like a 21st-century BBC news reporter, and Maurice's brother Colin, David Ricardo-Pearce making a total bathetic hash of his sudden eruption into poetry.
The play, after all, isn't just about who killed Maurice Tabret - it asks, indeed it traps, the audience into a conspiracy of conscience that under analysis most people would not wish to examine too clearly. It wants to use drama to leave us floundering in the muddle, but Maugham is too anxious to leave no stone unturned. Dunster has tried to have it both ways - trying to milk a period piece of modern ideas, when it would have been more telling to treat the play entirely for itself, as a Twenties creation, cast, spoken and directed in intense contemporary strictness without wimbly-wambly modern compromise. So much more strongly, then, and more painfully, would that insoluble dilemma have emerged.
English Touring Theatre perform The Sacred Flame at Kingston's Rose Theatre till Saturday, then tour Newcastle, Oxford, Ipswich, Liverpool, Guildford, Brighton, Southampton and Cambridge (ending 24 November) - information and booking for all dates