Richard III, Wales Millennium Centre |

reviews, news & interviews
Richard III, Wales Millennium Centre
Richard III, Wales Millennium Centre
All-female Shakespeare migrates around the rafters - but to what end?
Thursday, 12 February 2015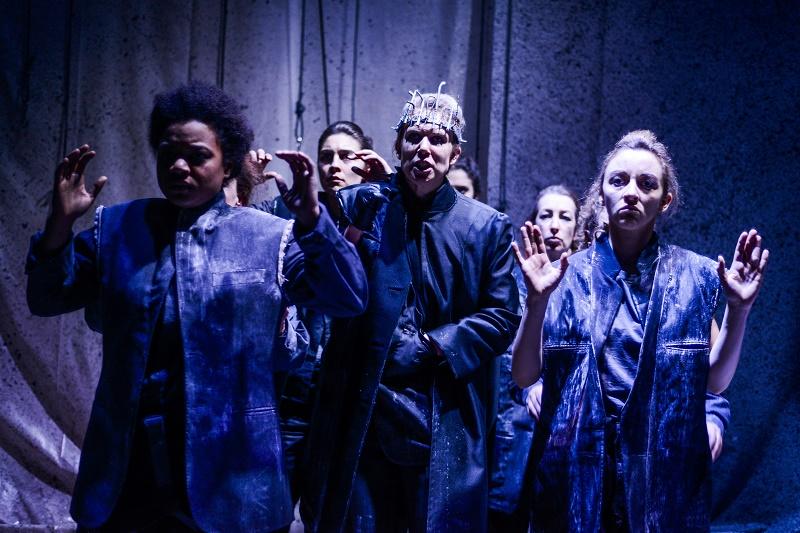 My queendom for a horse: all-female Richard III
The casual theatre-goer may be forgiven for thinking that, in Wales at least, serious theatre is going through a phase of chronic disregard for the audience. Yvonne Murphy's all-female Richard III, performed in the rafters of the monolithic Wales Millennium Centre, is as serious as theatre gets, but finally crippled by its seeming disregard for the audience experience.
This bleak-as-hell interpretation of one of Shakespeare's most masculine plays was delivered in a detached, flat monochrome, a vision of a rotting industrial world, specked with hints of Fascistic uniforms, hard surfaces and a distinct lack of hope. The production is not without merit when it's possible to engage, concentrate or see or hear the performers as they grimace and crawl their way through the drama.
But the spaces in which the action unfolds are uncomfortable, claustrophobic: a scaffold, a larger area and a smaller one (set design by Gabriella Slade). The audience is rushed between them, with the action often carrying on before everyone has caught up, some scenes even taking place out of sight and ear of much of the audience altogether. As a concept it suggests energy, but delivers only in patches, the transitions failing to offer anything startling. There is no evident delineation between spaces; there are no stylistic markers. It simply serves to interrupt drama and severely restrict engagement with the considerable efforts of the cast.
When the play settles, and the audience with it, there is much to admire. It is an irony that in an all-female production the high marks are made in the female roles. Polly Kirkpatrick's Queen Elizabeth, Bethan Morgan's Duchess of York, Ana-Maria Maskell's Lady Anne have the most gripping scenes together. Here are some nerve-shredding explorations of grief, and in the greyness of the corrugated metal and concrete dust, the play showed moments of profoundly grim verve.
But too quickly the audience is up again, being snippily ushered by cast members to half-see a scene that has started without them. Mairi Phillips puts in an exhausting shift as Richard, but unfortunately for all, in a play that hangs so heavily on the central performance, it feels a little two-dimensional. Phillips seems slightly miscast, a little too physically dominant in this company to convince as the shadow-dwelling master manipulator. Likewise, the character's mental deterioration is finally unconvincing: Phillips comes across as a barroom depressive rather than a crumbling despot.
But hers is a valiant effort, hamstrung because some of her most important scenes are obscured by bad staging. Richard's final throes are acted out in the centre of the audience gathered closely around, visible only to those at the front.