Richard III, Shakespeare's Globe |

reviews, news & interviews
Richard III, Shakespeare's Globe
Richard III, Shakespeare's Globe
A soft and stuttering Richard proves more unsettling than any polished villain
Not amused? Mark Rylance as Richard III
"Would you enforce me to a world of cares?" croons Rylance's Richard III, lingering tremulously over his question, the picture of world-sick piety and reluctance. As the groundlings cheer an ecstatic affirmative, Shakespeare's most compelling villain once again claims the dramatic victory. History may have him as the vanquished, but in Tim Carroll's new Globe production, even death cannot strip the crown of the vanquisher from Mark Rylance's brow.
Any persistent memories of the strutting Johnny 'Rooster' Byron are banished within moments. Shrunken and hobbling, withered arm clutched uselessly across his chest, he stumbles his way around stage and verse alike. In a canny reinvention of Shakespeare's most consummate actor-king, Rylance stresses not his skills in smoothing over his roughness and dissembling masculinity, but rather the reverse. This Richard plays on his vulnerability, hacking about the cadence of his carefully thought-out arguments, interrupting dialogue, and stuttering over his seductions. The pitiful result is more manipulative than any more polished villainy. Rylance's Richard is more devastating with a smile than a snarl.
All-male casting has significant impact in a play bookended by two crucial male-female conflicts - here fatally unbalanced
Though less straightforwardly comic than last night's audience might have had him, Rylance's Richard grows in humour as in desperation (the latter emerging with ferociously belated impact), climaxing in an unusually vulnerable final act, all defiancy fled. A second, unscripted, appearance by the ghosts of his former victims in the battle scene gives elegant closure to Tim Carroll's reading, but aside from the efficient filleting of the text it is perhaps the only overt statement the director makes with his rather blank production.
Following once again the traditional practice of all-male casting (also to be seen in Carroll's Twelfth Night revival later this season, starring Rylance as Olivia), the director's period fidelity finds more strained expression in rather exaggerated costumes that distort the drama in a way that Rylance's monarch refuses to. The two small princes are visions in powder-pink satin, while Richmond (beautifully spoken by James Garnon) seems less England's saviour than an Elizabethan poseur in unfortunate ballooning britches and helmet.
All-male casting has more impact here than most, in a play bookended by two crucial male-female conflicts. Here they were fatally unbalanced by Johnny Flynn's inexplicably tense Lady Anne, generating little heat (of passion or rage) with Rylance, and still less emotional momentum. What should have been a scene of perverse sexuality and triumph was obliterated by the altogether more intriguing encounter with Samuel Barnett's waspish Queen Elizabeth (pictured below with Garnon), sealed with an unexpectedly heated kiss.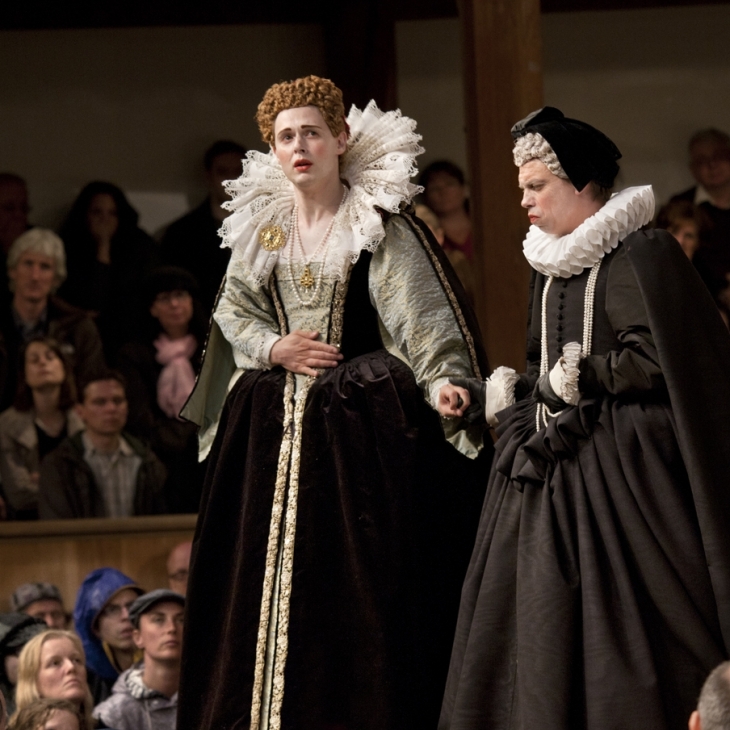 Despite patently not being the older woman Elizabeth Woodville so crucially was in her marriage to Edward IV (as Colin Hurley's King Edward makes plain), Barnett creates a layered creature of this upstart queen, so steely of ambition as to countenance the incestuous marriage of her daughter to Richard. The interplay between Barnett and Garnon's doughty Duchess of York is a delight, bringing a warmth rather lacking from the production's political encounters.
Paul Chahidi's Hastings is a brave exercise in self-regarding vulgarity – another villain who isn't quite all he seems – and finds counterbalance in Liam Brennan's wholesome Clarence. Roger Lloyd Pack feels miscast as the side-switching Buckingham, slipping more snugly into the bonhomous sidekick of the early scenes than the conscience-stricken Lord of the latter.
Jenny Tiramani's designs are minimal, relying on the Globe's regular architectural features to do their work. But between the marble pillars and painted panelling of doors (together, of course, with the costumes) the effect is a little visually bewildering, distracting focus from the intricacy of Rylance's own dramatic designs. Placing audience members in the onstage gallery was, however, a lovely touch in this play where walls have ears, where playing to the crowd is everything.
Already set for a West End transfer, Tim Carroll's quietly tragic Richard III offers a striking alternative to the overt darkness of the Old Vic's recent production. But where the ensemble skills of the latter elevated its leading man, Carroll's at times threatens to undercut his. Rylance is unquestionably the star here, but in stepping back and keeping all muted around him, Carroll does him a disservice. There's no warped Richard who isn't the more unnerving for a charged seduction scene, nor the more bitterly monomaniacal for a healthy rivalry with Buckingham.
Between marble pillars and the painted panelling of doors the effect is visually bewildering, distracting from the intricacy of Rylance's own dramatic designs
rating
Explore topics
Share this article