Private Lives, Ambassador's Theatre review - classy revival lacking physical excess |

reviews, news & interviews
Private Lives, Ambassador's Theatre review - classy revival lacking physical excess
Private Lives, Ambassador's Theatre review - classy revival lacking physical excess
Mature actors bring style and poignancy to Coward's brittle comedy
Thursday, 14 September 2023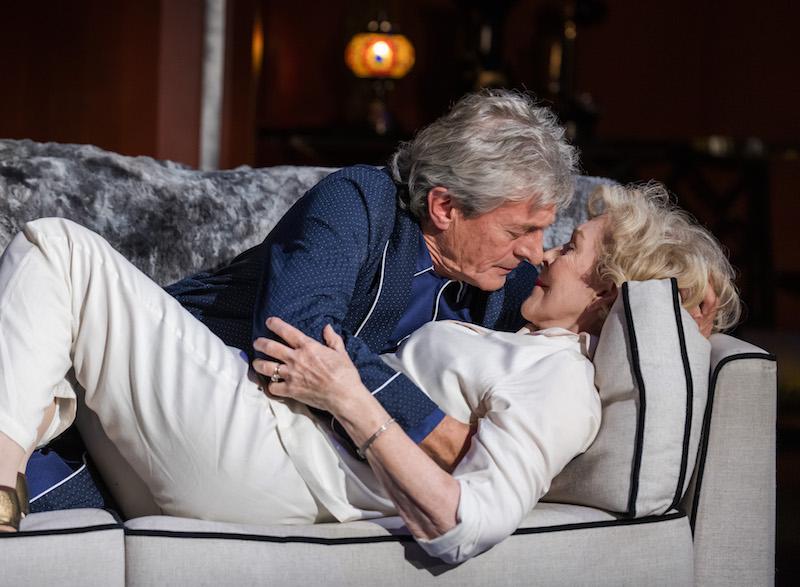 Elyot and Amanda (Nigel Havers and Patricia Hodge) indulge their rekindled passion
There is a grainy piece of black and white film on YouTube featuring Noel Coward as the celebrity guest on a 1964 edition of the popular television panel show, What's My Line. He signs in with panache, paying careful attention to the diaeresis over the e in Noel and enveloping his first name with a stylish C from the second.
Artifice, self-invention, elegance
–
these are qualities inseparable from the Coward reputation. If they applied to his own persona, so they frequently do to the characters in his plays. An underlying sadness in the man himself is now acknowledged and, similarly, the glittering comedy of the plays may these days be mined for darker themes.
Private Lives
undoubtedly has a current of domestic violence, something by all accounts foregrounded in
Michael Longhurst
's production at the Donmar (which, unfortunately, I missed) earlier this year.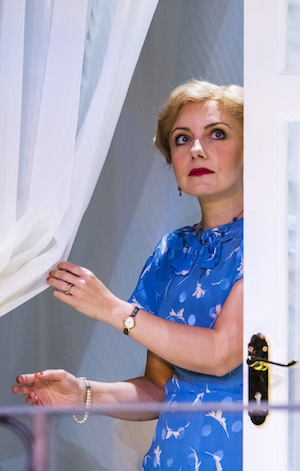 The premise is that Elyot and Amanda, five years divorced, re-encounter each other on the adjacent balconies of a hotel in Deauville where they are both on honeymoon, each with a new spouse. The old spark is rekindled and a mixture of glorious passion, vanity, selfishness and a tendency to violence eventually lead to mayhem. What draws these two together, in the face of expected moral outrage and social oblivion, is a pleasure in performance, in acting out the passionate lover, the hurt partner, in trading clever ripostes and witty insults with someone of equal intelligence. They are most at ease in each other's company when, alone together in Amanda's Paris flat, they act a little fantasy, adopting invented characters and dancing elegantly around the room. Otherwise, when they are not sparring, they haven't much to say to each other. The boredom of the everyday is anathema. Lurking very close to the glittering surface is a powerful sense of mortality, of the frailty of existence. And always there is a question mark over any definition of "normal". Amanda says that "very few people are completely normal deep down in their private lives". Her new husband Victor glories in his normality, which she thinks odd.
Under Christopher Luscombe's smart-paced direction, Nigel Havers and Patricia Hodge as Elyot and Amanda capture exactly the performative nature of this relationship; each is the other's best audience. And they are equals. Amanda may have more moments of anxiety about the effect of the abandonment of their new partners, but she and Elyot are equally self-absorbed and equally liable to lash out, verbally and with their fists. If there is domestic abuse it is not all one way. There are some cuts to the script, but Elyot's famous line "Certain women should be struck regularly like gongs" is rightly reinstated, having been excised at the beginning of this production's journey from the Theatre Royal Bath. It is not a pretty concept, but it is no more likely to be carried out than others of the extravagant pronouncements made for effect.
Noel Coward, who died 50 years ago this year, was 31 when he played Elyot opposite Gertrude Lawrence's Amanda in the first, highly successful, production. Nigel Havers is four decades older, Patricia Hodge also in her seventies. Much of the time this either doesn't matter or is a positive advantage. All those lines about mortality (rather surprising from the pen of one so young) acquire an added poignancy, some an extra pointedness. When Elyot says "Come and kiss me darling, before your body rots, and worms pop in and out of your eye sockets", it is clear that living for the moment is a more desperate choice in old age. Amanda's instant put-down "Elyot, worms don't pop" restores the mood, however.
It seems churlish then, given how fleet these two are, how deftly the jokes land, how elegantly they play off each other, to complain, but the wild physicality at the end of Act II is, perhaps understandably, missing. This should be the crescendo that everything has led to, an out-of-control descent into mayhem causing visible destruction to the charming interior of Amanda's flat (sympathetically designed by Simon Higlett). Blows are exchanged and a vase gets broken but it's over in a few moments and there is little sign of disarray when the "normals", Victor and Sibyl, appear at the door. We need to see the destructiveness of Elyot and Amanda's relationship made manifest.
Dugald Bruce-Lockhart (below, with Havers) and Natalie Walter (above right) play the two hapless discarded partners, he upstandingly "masculine", she gigglingly "feminine", as bemused emigrés from a conventional world, one where Elyot and Amanda will never fit.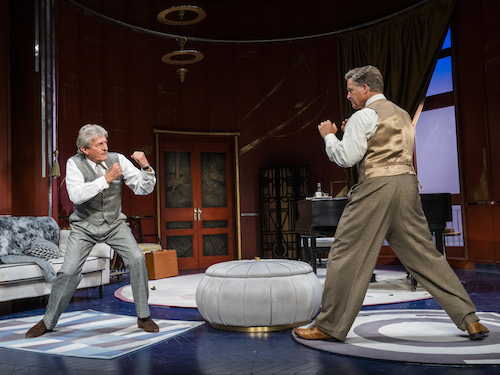 This is the first production offered by Nigel Havers' own theatre company. After a lengthy tour, it has found a suitable London home in the refurbished Ambassador's Theatre. If improvements do not include more women's toilets, there is greater accessibility, with a designated toilet and new lift. The auditorium is all pastel shades and gleaming gilding, as elegant as the world of the play.