The Prince of Egypt, Dominion Theatre review - Moses musical goes big and broad |

reviews, news & interviews
The Prince of Egypt, Dominion Theatre review - Moses musical goes big and broad
The Prince of Egypt, Dominion Theatre review - Moses musical goes big and broad
This mammoth stage adaptation is more splashy than spiritual
Wednesday, 26 February 2020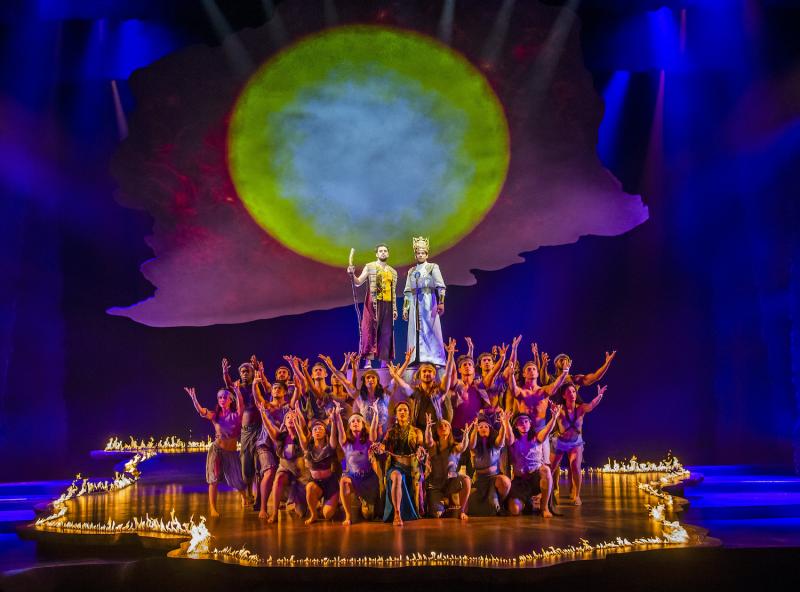 Oh brother: Moses (Luke Brady) comes into conflict with Ramses (Liam Tamne)
The theatre gods rained down not fire and pestilence, but a 45-minute technical delay on opening night of this substantially revised musical – a stage adaptation of the 1998 DreamWorks animated movie.
But nothing could entirely halt this juggernaut; fittingly, for a show that earnestly values persistence and the unstoppable power of the epic.
The story remains essentially faithful to its Biblical source, following Moses (Luke Brady, pictured below with Christine Allado) – child of a Hebrew slave family – from his fortunate adoption by Queen Tuya (Debbie Kurup), who finds him floating in the Nile, through to the discovery of his true heritage and campaign to free the Israelites. In the process, he threatens the easy bromance he's shared with his adopted sibling and later Pharaoh, Ramses (Liam Tamne) – the latter under the influence of High Priest Hotep (Adam Pearce) and under pressure to carry on his father's legacy.
Though the language has a modern, colloquial quality, both in Stephen Schwartz's lyrics and particularly in Philip LaZebnik's book, this is a pretty straightforward rendering – certainly nothing like the tricksy revisionism of Schwartz's Wicked. Unfortunately, it's also bluntly prosaic, leading to some wooden acting and keeping most of the multiple songs (15, up from the film's five) stubbornly earthbound. Schwartz's Middle Eastern-tinged music does use some authentically ethnic instruments, but his mega-ballads stall the plot, repeating story points rather than fully exploring the myriad characters.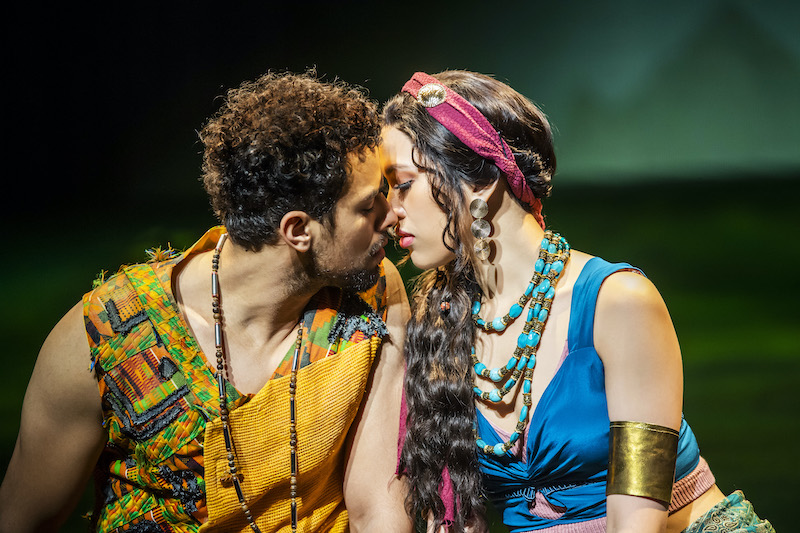 There are occasional stabs at psychological insight, mainly confined to the two male leads. When Moses learns that the Hebrews are actually his people, he suddenly views the royal tales of conquest as massacre and enslavement, rather than glorious victory, and he later struggles to follow a path that makes him the bringer of death and destruction – in particular, the massacre of the Egyptian first-born. Can it really be right to sacrifice so many for the greater good? Ramses also begins to doubt his role, torn between brotherly love and royal duty, and there's a decent central thread of duelling destinies and warring faiths.
Ultimately, however, this production is far more about the blockbuster exterior than the inner life, and, suiting the cavernous Dominion, it generally delivers on that score. Director Scott Schwartz – the composer's son – knows his way around a mammoth set-piece, whether a buoyant celebratory dance, rain of fire, or the much-anticipated parting of the Red Sea (those on the central aisle will be tempted to reach for a snorkel). He's aided by a tilting stage and towering projections from Jon Driscoll that spill out into the auditorium, with Kevin Depinet's giant fringed curtains suddenly housing statues of the former pharaohs, the past looming over the present. Mike Billings' lighting bathes the cast in a golden hue, matching digital backdrops of gleaming sand and multihued sunsets; it's history with a flattering Instagram filter.
Most effective is Schwartz Jr's use of ensemble movement. Echoing the slaves' building of the pyramids, brick by brick, the slick troupe forms scenery with blocks, while choreographer Sean Cheeseman's innovative work sees dancers clustering as racing chariots, writhing as a river turned to blood, bursting forth as the burning bush, or framing the court scenes as prostate slaves – an ever-present reminder. Sometimes, however, the sexy athleticism and buoyant gymnastics tip the dances into competitive cheerleading territory (pictured below by Matt Crockett), and it's hard to reconcile beaten-down slaves with the ensemble's gleaming health and fitness – toned limbs and ripped abs galore in Ann Hould-Ward's skimpy costumes.
Heading this cast of 38, Brady is sympathetic as a Moses who gradually accepts a higher calling – and accompanying Joseph-esque coat of many colours – while Tamne supplies some interesting conflict as a Ramses who puts too much stock in what others think of him; their duets are heartfelt and endearing. Gary Wilmot and Joe Dixon do good work as, respectively, the inspiring and overbearing fathers, and Pearce gives quality boo-hiss villain as the scheming Hotep. All get a boost from the rousing, full orchestra under Dave Rose.
Ironically, though, it's the comparatively underserved women who bring the real fire power – despite being reduced to archetypes like snobby wife, stroppy wife, supportive wife and supportive sister. Christine Allado's Tzipporah is introduced doing a sensual dance in a cage, dubiously framed as an act of defiance, and then exhaustively berates and/or encourages husband Moses, yet when Allado sings, she tears the roof off the place. She and the equally thrilling Alexia Khadime – as enslaved Miriam, exhibiting far more religious conviction and leader-like magnetism than brother Moses – do full justice to the Oscar-winning "When You Believe", still by far the standout number (yet strangely not the climactic one). Tanisha Spring's snotty Nefertari gets a redemptive song far too late, but is still a charismatic presence, as is the criminally underused Debbie Kurup, who makes for a commanding Queen Tuya.
Though running to two hours 40, the show never really digs deeper into resonant ideas like a polarised society, fanatical faith and persecution, rulers failing their people, and shifting notions of home and identity – nor is miraculous enough to be really transporting. But the collective efforts of a thoroughly committed team make this an enjoyable enough outing for those who like their theatre big, sincere and occasionally spectacular.
Dancers cluster as racing chariots or burst forth as the burning bush
rating
Explore topics
Share this article