People, Places & Things, Wyndham's Theatre |

reviews, news & interviews
People, Places & Things, Wyndham's Theatre
People, Places & Things, Wyndham's Theatre
Denise Gough reprises her tour-de-force performance as the recalcitrant recovering addict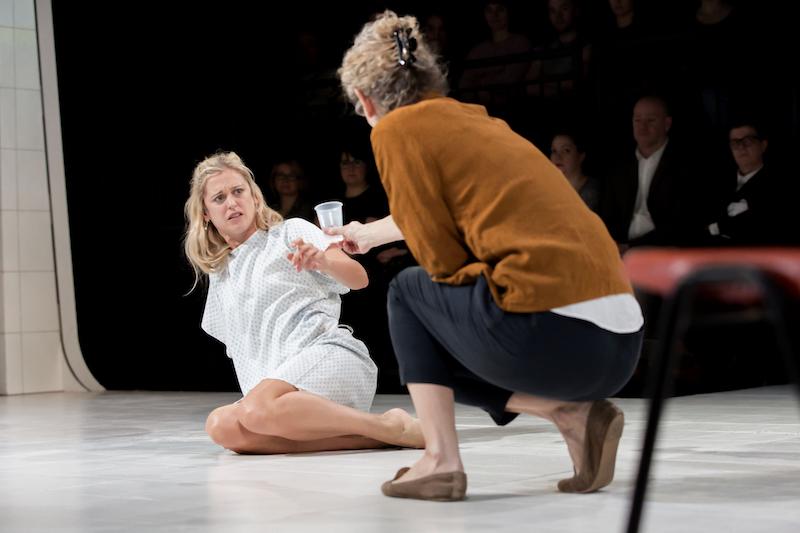 A helping hand: Barbara Marten's doctor inducts Denise Gough's Emma into rehab
Recovery depends on honesty, but Emma – not her real name – lies for a living. Duncan Macmillan's searing play, getting a well-deserved West End transfer from the National, complicates the familiar story of addiction and rehab by making its protagonist an actress.
The dissociation, self-delusion and pathological deceit that frequently accompany the disease are reframed by this sometimes dizzying metatheatricality, which, in Jeremy Herrin's vivid Headlong staging, plunges us into the abyss.
Rightly, much of the coverage of People, Places & Things has centred on Denise Gough's revelatory performance (Gough pictured below with Nathaniel Martello-White). As the thirtysomething addict, she's on stage throughout the two and half hours, and in total control of a piece that filters everything through her character's graphic subjectivity. We first meet Emma imploding during a performance of The Seagull; next, she's snorting coke off the rehab reception desk while ordering her mother to strip her flat of all temptations. It's one of many inherent contradictions in this furiously abrasive, sceptical, whip-smart character, and Gough skilfully navigates all those complexities – the self-awareness and denial, swagger and vulnerability, hard-fought independence and desperate need for validation.
With Polly Bennett contributing arresting movement to Herrin's production, it's also a physical tour-de-force, as Emma's daily cocktail of booze and drugs and subsequent withdrawal manifests in jittery tics, a battle with gravity that leaves her bent in two like a snapped twig, and a compulsive desire to wrench herself out of her body. We share her nightmarish hallucinations, watching in dawning horror as bricks fly out of the walls of Bunny Christie's starkly clinical white-tiled box and multiple Emmas appear from nowhere, writhing in shared agony. As the strip lights flicker and Tom Gibbons' pounding soundscape overwhelms all speech, her nauseating pain drowns out everyone trying to help.
They only come into focus when Emma allows – effective dramatically, though limiting the supporting cast. Her fellow addicts don't progress much beyond a quick summation, bar shrewd veteran Mark (a coolly charismatic Nathaniel Martello-White), who calls Emma on her bullshit. But the group therapy sessions are more about the irony of the actress overtly refusing to surrender to role-play, while still constructing her own false narrative – swiftly undercut by very real horror stories like the plundering of a cancer-ridden grandmother's pain meds. (Gough and company pictured below.)
Emma projects her disapproving mother onto all female authority figures, so Barbara Marten is mum, doctor and therapist, and while the latter pair are mainly AA spokespeople, the commanding Marten imbues them with wry, implacable resolve. Kevin McMonagle turns in a nicely contrasting pair of performances as frenetic, ketamine-driven Paul and Emma's taciturn father. The climactic family reunion, which swerves away from easy closure, is a total gut punch.
Macmillan's script is almost as prickly as its sardonic lead, rigorously interrogating the 12-step programme's platitudes, insistence on spiritual awakening – doesn't surrendering to a higher power stop you regaining agency? – and cult-like disconnect from the real world. The titular people, places and things are relapse triggers addicts are advised to steer clear of, but surely, he argues, that's a flawed strategy when addiction is so often a means of avoidance. There's also thought-provoking discussion of whether art is a path to or from truth, with Emma claiming to find authenticity in theatre, but also recognising it as another escapist drug. That makes us audience – reflected back at ourselves, with a small onstage group creating a semi-traverse – uncomfortable enablers.
The metaphors are sometimes overegged, but Gough's raw delivery ensures Macmillan's discourse has a visceral immediacy. She makes Emma's articulate nihilism persuasive – when the world is this bleak, and with no guarantee of another, perhaps hedonistic obliteration is the only way – and simultaneously obnoxiously self-indulgent. Crucially, Gough fully earns our investment in her emotional journey, through trauma, grief and the day-by-day process of healing, by never openly courting it. Fearless, unflinching and unforgettable.
Emma claims to find authenticity in theatre, but also recognises it as another escapist drug
rating
Explore topics
Share this article