Paula, BBC Two review - Denise Gough's the real thing |

reviews, news & interviews
Paula, BBC Two review - Denise Gough's the real thing
Paula, BBC Two review - Denise Gough's the real thing
Conor McPherson's thrillerish TV drama debut is lifted by star turn
Denise Gough smells a rat in 'Paula'
Playwrights have long migrated to the small screen in search of better pay and room to manoeuvre. Most don't leave it as long as Conor McPherson, who was perhaps cushioned from necessity by the global success of The Weir.
A quarter of a century after his stage debut,
Paula
(
BBC Two
) is his first go at
television drama
. In order not to frighten the horses, it features some conventional post-watershed
thrillerish
tropes: an extramarital affair, a psychopath, a murder, a police investigation.
But some things never change: frightening the horses is a McPherson speciality. Tom Hughes plays white van man James, who keeps hearing a knocking in the rear of his vehicle as he prowls Dublin by night (actually played by Belfast). The source of this noise reveals itself as a haunting figment, a young girl with a sewn-up mouth. A version of this accusatory spectre stalks through half McPherson's oeuvre. What impact she'll have here awaits detection. For the moment she hints at James's complicated past. His present is quite complicated too. He's shacked up in a ménage which features two near identical young women who both have kids (pictured below). It's not clear yet which of these is the product of his loins.
Meanwhile over at the terraced house of chemistry teacher Paula, rats are rattling about in the basement. Her sort-of-f***-bud, married PE hunk Philip (Edward MacLiam), is as scared of rats as she is, though that's not why she's eager to terminate their furtive hook-ups. It's more his habit of sending her lewd cartoons in the staff room where he scrupulously refers to her as Miss Denny. He's a wrong 'un from whom any sensible woman should of course run a mile, though not as far as from James. Unfortunately Paula picks up James's junkmail flyer and hires him to de-rat the basement. No sooner has he twatted the culprit with a shovel than they're trading come-hither stares and shortly thereafter horizontal upstairs. Chemistry, eh?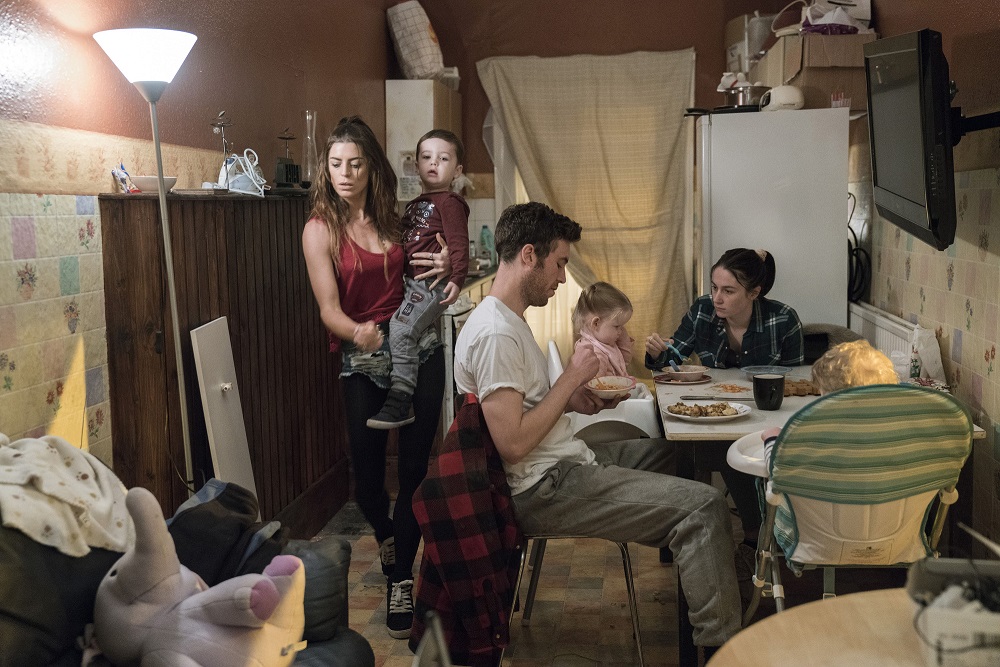 Paula is not just McPherson's debut. In the title role is Denise Gough, the Irish actress who pole-vaulted to stage stardom as a recovering addict in People, Places and Things. This is her first lead role on television. Gough is exceptional at conveying an aura of damaged goods, women without a brake pedal or a safety net. Those hooded eyes and the drone in her voice suggest a woman all too attuned to life's bitter ironies. So you can entirely believe that Paula, despite seeming far more responsible than her waste-of-space brother, would act impulsively and - this is a hunch – self-destructively.
Hughes was last seen wearing glad rags as Albert, Queen Victoria's smouldering Teutonic consort. Not much has changed. He still threatens in whispers, this time in an accent marooned somewhere in the Irish Sea. After the one-night rumble, James turns the post-coital chat casually enfolds psychosis. "I'm not a psycho," says Paula defensively. "I think I'd know." Takes one not to know one?
Efficiently directed by Alex Holmes, Paula feels like a Celtic twist on Nordic noir, with McPherson's supernatural hobbyhorse along for the ride. What really lifts it is Gough's fearless commitment to authenticity, even when teaching chemistry, which helps it pass the basic test: you want to know what's next for Miss Denny, although you intuit it's not good.