Othello, Riverside Studios review - three Iagos pitch Shakespeare's villain into the 21st century |

reviews, news & interviews
Othello, Riverside Studios review - three Iagos pitch Shakespeare's villain into the 21st century
Othello, Riverside Studios review - three Iagos pitch Shakespeare's villain into the 21st century
A compelling character gets re-invented in Sinéad Rushe's fascinating production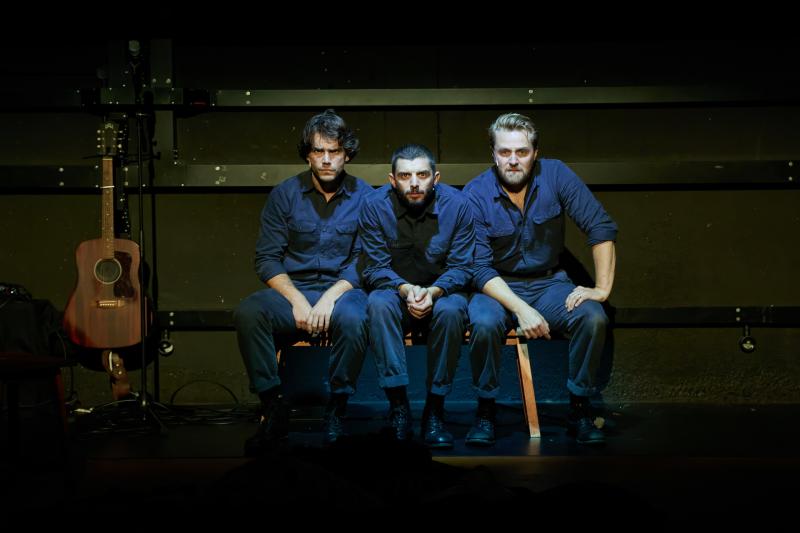 Seeing triple: Jeremy Neumark, Michael C Fox and Orlando James as Iago in 'Othello'
Shakespeare gives Iago over 1000 lines to implant the jealous rage in Othello, so there's plenty to of raw material to work with. The director Sinéad Rushe has had the idea to split these weaselly words between three actors, a device that seems so natural, so revealing, so obvious that one wonders why it hasn't been done before (or, perhaps, more often).
Cut to 100 minutes all-through, this production does not just re-invent the wicked ensign, but forces us to reconsider the Iagos we have met in the past and the Othellos he has driven to dreadful murder.
Michael C Fox, Orlando James and Jeremy Neumark Jones, the three actors playing one man, circle each other with suspicion, eye each other with glee, plot with one another mercilessly. The impact is greater than one might suspect. Those seductive speeches that drag us into the psychology of a madman with the tang of a guilty pleasure on our lips, become wild conspiracy theories, as each Iago, eyes widening, eggs on the other, the desire to ruin the general a virus that eats into the soul. Iago becomes a three-person echo chamber, a kind of terrorist cell or dark web social media chat group, ratcheting up the rhetoric until doom visits everyone within his orbit. This is a most modern of Iagos in terms of the emotional journeys and retributions on view, the entitled cabal lashing out at a world moving on from their comfortable privilege. Sex, race and envy are the engines driving the psychosis.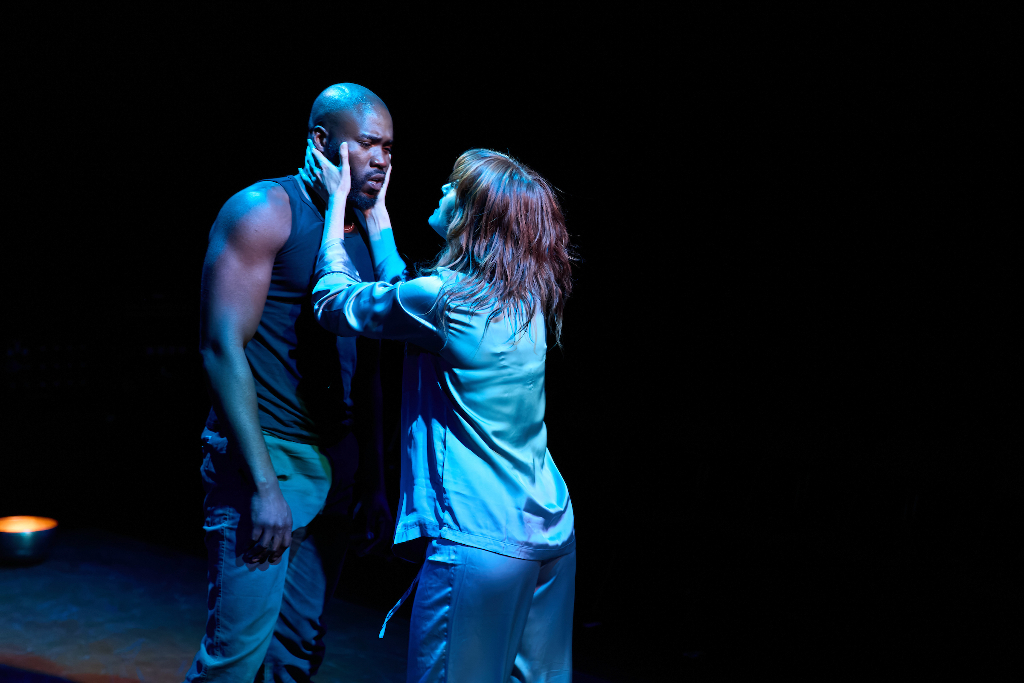 Martins Imhangbe (pictured above with Rose Riley) gives us a lower-energy Othello, bemused and baffled, then enraged, then despairing. He talks to us in the house, as if inviting our sympathy as his jealousy spirals out of control. We feel the stabs of the racist barbs thrown in his face, but can we see the man of action, the slayer of the Turks who does in his own wife? To convince fully, Othello has to suggest a controlled violence unlocked by Iago, as well as a misguided pride.
Michael Cassio, Iago's stooge in his plan to bring down the general, is bullied horribly by three men (one Iago, of course), his head spinning in drink but also in trying to keep his thrice-spliced frenemy in vision. Ryan O'Doherty makes his Cassio, if not quite helpless in the hurricane of Iago's plot, then even more innocent. We watch his affection towards Desdemona backfire tragically as he seeks readmittance to Othello's magic circle.
Desdemona is so crazy in love that she can't see the crazy man (indeed, four crazy men) in front of her until way too late. Rose Riley skips with the lightness of a girl who has had all her wishes come true, marrying the war hero in defiance of her father's hideous rebukes and loved unequivocally, if too briefly, in return. Again, the balance of the play is shifted by the multiple Iagos, and one can see more clearly how such an intelligent and self-possessed woman could be swiftly brought down by three raging egos powering a juggernaut of malice.
Rachel-Leah Hosker doubles as Roderigo and Emilia, and comes into her own as the voice of conscience in her devastating summation of the consequences of her husband's revenge. The unwitting source of the planted handkerchief that proved to decisive to Iago's long con, hers too is a love gone wrong, a bleak warning of how a little lie can blow up into a big one, unleashing a torrent of murderous violence.
There's much to consider in this production, and it's a shame that there is no interval to gather one's thoughts. Instead, the intensity just grows relentlessly as the characters dance to the death, Iago pulling the strings and looming larger than ever in our minds. He may no longer be the seductive smart guy gone wrong: the awkward "Hey, he got shafted by his boss and we've all felt like that haven't we?" that can sometimes drift into our minds is here definitively banished. No, this Iago (these Iagos) is a mendacious manipulator of vulnerable people who believes he has their best interests at heart and then follows him to their doom.
This is an Iago only a click or two away from you right now.
This production does not just re-invent the wicked ensign, but forces us to reconsider the Iagos we have met in the past
rating
Share this article