Othello, National Theatre review - ambitious but emotionally underpowered |

reviews, news & interviews
Othello, National Theatre review - ambitious but emotionally underpowered
Othello, National Theatre review - ambitious but emotionally underpowered
Clint Dyer's new take makes Othello a victim of mob mentality
Saturday, 10 December 2022
Trouble and strife: Giles Terera and Rosy McEwen in 'Othello'
Clint Dyer is the first black director of Othello at the National Theatre, a venue that once staged the piece with its actor founder Laurence Olivier playing the lead role in blackface.
We are reminded of this now-reviled practice before curtain up in a flickering montage of programme covers projected onto the set going back to 1634, and stopping at 2022. An actor arrives with a broom and cart to sweep the stage area clean. So are we going to be seeing a new take on the tragedy? Yes and no. This Is a laudably ambitious production, but one that has jettisoned some of the play's key emotional ballast.
The setting (by Chloe Lamford) is an abstract one, a series of high-banked steps onto which projections create occasional images. Overhead is a lighting rig illuminated by a piercing white rectangular frame that lowers on Othello (Giles Terera) as his jangling thoughts about Desdemona's fidelity crowd in on him. It's an inhuman space, with a soundtrack of electronic skitterings and murmurs. The direction has a snappiness that at first seems appropriately military, the scene changes swiftly achieved with a staccato drumbeat and perfectly timed lighting cues.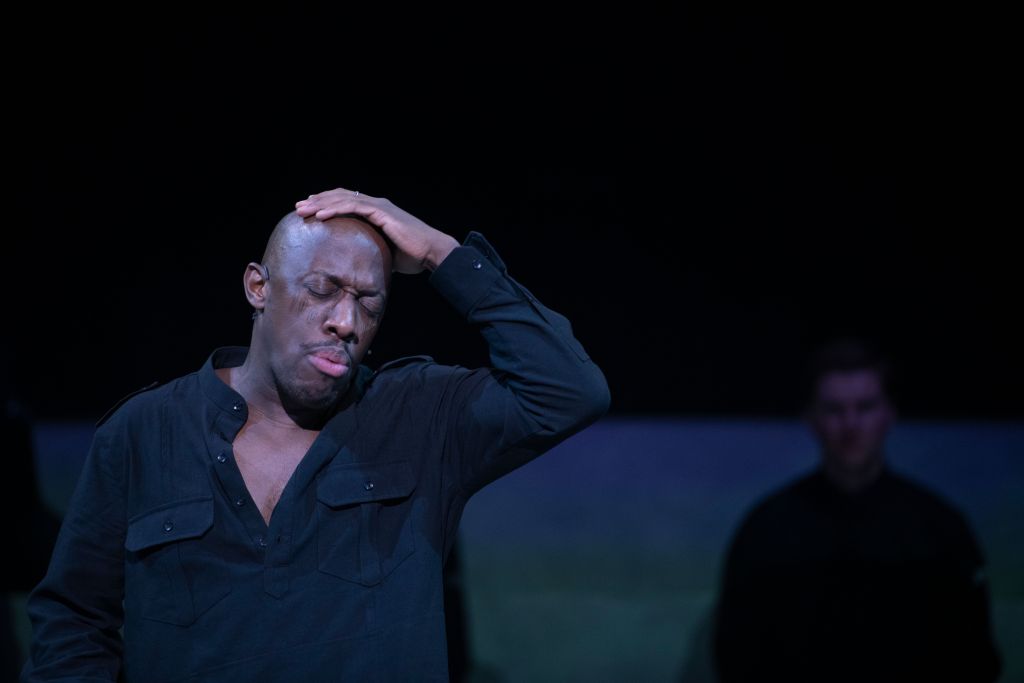 Terera (pictured above) clearly relishes the physical side of the role — he gives great seizure — and is all soldier, right from his first entry, vigorously practising martial arts. He doesn't have much time for what one eminent critic called the "Othello music", his ability to woo with his poetic storytelling voice, and barks out his early speeches with the brisk precision of a commander. He is literally scarred, as we see when he takes off his shirt to reveal the whiplashes he received before he escaped slavery. And he is still snubbed by the powers that be, who here refuse his handshake even as they welcome him as their military saviour. (There are no stage directions requiring that.)
But judging from his recent comments to interviewers, I would argue that the play's racism is not Dyer's main target: that would in fact be the destructive power of misogyny. And certainly his women are unusually doughty combatants against their treatment by men, reflecting the degree of this domestic violence. Emilia (Tanya Franks) arrives with a bruised cheek and bandaged arm as tokens of her resistance to Iago's beatings; and Desdemona (Rosy McEwen) is a brave, confident young woman who rails at male misconduct: Act IV, scene iii's "These men, these men", said to Emilia after another punishing encounter with Othello, becomes a howl of anger in uppercase letters.
The text will out, however, and its misogyny can't overshadow the profound racism of its characters; far from it. Dyer suggests the two forces are united in a kind of fascistic groupthink, which he represents with a chorus he calls the System, consisting of all the cast bar the three leads. It appears, masked, around the main action and gestures and poses in unison in response to the text. When needed, actors slip away to play their roles and return to the others at the end of their scene. As a way of suggesting darker inchoate forces, a mob mentality, this conceit goes some way to giving the production a core.
But it also sets the action in a distancing frame that can be distracting, such as during Desdemona's murder. Only Iago's soliloquies talk to us directly, sometimes literally from the edge of the stage.
Moving the spotlight to Iago is not an unusual directorial choice: it's a peach of a role. But here extra light is shone on a characterisation that is already something of a misfire. This Iago never convinces as a soldierly type — he's more a disillusioned batman than a robust ensign, a senior NCO with thwarted prospects of promotion. Paul Hilton captures the weaselly Machiavel in him, but he is slim and wiry, and not given an obvious sexual appetite either. Overall he doesn't seem a worthy enough opponent for Othello, so that Othello is diminished by being snared by him.
What has gone missing in this staging is the play's emotional ballast. McEwen's Desdemona is an upscale gel in a modish black vest-and-trousers outfit, blonde hair crisply in place. You wouldn't be surprised to learn she is a top-flight company exec. She and Othello are madly in love, we are told, but I found it a bit hard to spot.
Terera drops his soldierly rigour as Iago's poison starts to work and his speech patterns become more uncertain, the voice growing softer. But the military man returns for Desdemona's death scene, which seems to be over in a trice. Only when he realises how he has been duped into killing his wife do we see the raw misery of his soul for a moment, before he returns to Othello-the-tough-soldier mode for his attack on Iago and his own suicide.
Putting the lead characters into stark relief is the rush of real life that arrives whenever Emilia speaks. At first, I was concerned that Franks might be playing her a tad too far down the social scale, but it works a treat: what counts with Emilia is precisely her ability to rise above her allotted station and show true fearlessness and nobility of spirit. Moreover, Franks is in total command of the verse, slowing the lines down and pausing when needed, to convey emotion as well as sense. Here, at least, you hang on every word.
Terera is all soldier and barks out his early speeches with the brisk precision of a commander
rating
Explore topics
Share this article