The Odyssey: The Underworld, National Theatre review - community effort with real heart and a great staging |

reviews, news & interviews
The Odyssey: The Underworld, National Theatre review - community effort with real heart and a great staging
The Odyssey: The Underworld, National Theatre review - community effort with real heart and a great staging
The Public Acts project creates a model mix of high and low for a modern ensemble
Wednesday, 30 August 2023
Surprise! The Olympians throw a party for Zeus
One of the great wonders of Western literary history is one of the earliest, Homer's The Odyssey, an epic poem with all the thrills and spills of an Indiana Jones outing, with added Olympians. The National's version turned out not to be The Odyssey as we know it, though.
Billed as a "new play" by Chris Bush, with music by Jim Fortune, it was the fifth instalment of a Public Acts project, following the massed efforts of four amateur groups across the country – in Stoke, Sunderland, Doncaster and Trowbridge – which performed a different section of the story each, from four different writers. Members of these four ensembles were then recruited to join a London one for a short run of Bush's play (it ended on Aug 28). There they rubbed shoulders with the Haringey Vox Choir, Impact Dance group, the London Bodhran Band and the South Wales Gay Men's Choir.
This mix could have been a recipe for a well-meaning disaster, but Bush's previous experience of working with The Sheffield Mysteries seems to have laid the basis for a winning dramatic formula where the solemn meets the quotidian, high meets low, and the massed ranks were firmly shepherded by director Emily Lim, with key professionals to keep the ship afloat. All were noticeably having a ball.
Sharon Duncan-Brewster probably never grew up with the burning ambition of playing Odysseus, yet here she was, dreads flying, voice belting it out as if she was playing the Acid Queen rather than a warrior matriarch. The songs were more serviceable than memorable, but Duncan-Brewster gave them her all, as did Zubin Varla, a wonderfully sinister Hades, who raised the roof with his final number and its refrain of "Stay with me!" (ie die). Victoria Hamilton-Barritt as Poseidon, along with Amy Booth-Steel as a pantomime dame Calypso and Emma Prendergast as a suitably stentorian Athena, all brought just the right touch of hamminess to make their punitive gods comic while their vocal skills similutaneously made them impressive.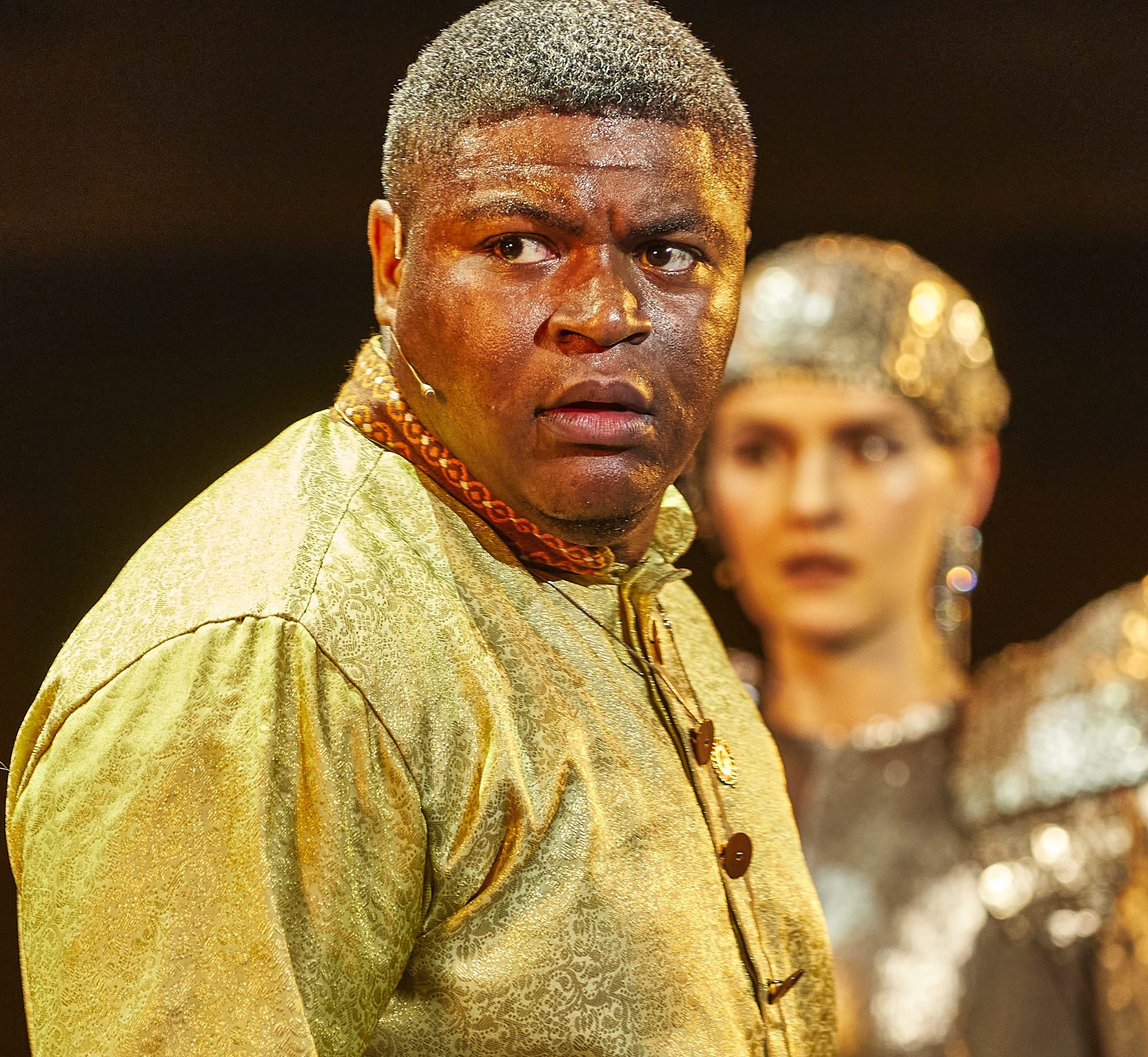 Clearly, poor faithful Penelope, wife of Odysseus, was given the chop in this version, so there was no late-night messing with tapestries or massacring of her suitors by the returning Odysseus. Odysseus's burning ambition was to return to Telemachus (a sweet-voiced Tarinn Callender, pictured right), the son she had forgotten in the fog of the witch Calypso's seven-year spell.
Calypso's island threatened to be a hackneyed affair – when a big sign saying Hotel Calypso descended, I felt the ghosts of many a modish makeover past preparing to land with it. But these Ogygia scenes, with tourists in loud printed shirts and frocks arriving off a cruise ship wrecked in the literal fog, were a delight, and Booth-Steel a subtly flirtatious hostess with a funny line in hip-twirling dancing and a jaunty pink galleon as a hat.
A special shoutout for the fine costumes by Fly Davis. When the Olympians gathered to throw a surprise party for Zeus, the witty design of their outfits was matched by the sheer beauty of their execution. Kitsch and class simultaneously. Poseidon's dress was modelled on a swirling blue wave, puddling beautifully at her feet, while rising from her shoulders was a cresting wave made of a crinkly transparent material. Superb.
The stage design, too, by Sadeysa Greenaway-Bailey, was simple yet atmospheric, leaving a lot of space for the large ensembles to move around in, under a mezzanine for the band. The Olivier was transformed into as communal a space as it ever can be without radical surgery, with the cast often accessing the stage down the aisles and treating the audience as additional players. This economy of means was especially effective in the scene in which the people of Ogygia helped Odysseus build a boat, then, gyrating in grey plastic ponchos, became the waves tossing it to pieces (movement by Dan Canham).
My favourite moments were the scenes in Hell, where Hades (Varla, pictured above with Sharon Duncan-Brewster) was sporting a white cloak made of multiple layers of flaps that the Emmanuels could have designed, his hair extensions down to his knees, his feet in black patent heeled boots and, on his head, glasses with flipped-up clip-on shades. The cloak, it became clear, was an echo of the scenery of Hell, which reflected the only two constants in life, according to Hades, death and paperwork, the latter also providing the scenery, of papers tied onto giant streamers hanging down overhead. HIs attemptted seduction of Odysseus was a masterclass in honeyed villainy.
Running through the piece was a distinctive tone, stemming from its mix of a familiar story with a pop cultural sensibility. References to The Great British Bake Off sat alongside the familiar in-fighting of the Olympians; beacons alerted citizens to impending war, though young Telemachus had a radio. The shipping forecast, read out in the familiar tones of the BBC announcer Zeb Soanes, proved it really could be funny when names like Thebes and Troy were inserted into it.
This is clearly a post-pandemic work too, where the warmth of human contact and the powers of community are celebrated. I missed Odysseus the anti-hero, a pragmatic, resourceful man of action who had become a byword for low trickery by medieval times. But there was no denying the poignancy of seeing the massed cast at work and the force of their big-hearted message. The last word sung out by all onstage, to thrilling effect, was "Home!"
Sharon Duncan-Brewster was belting it out as if she was playing the Acid Queen rather than a warrior matriarch
rating
Explore topics
Share this article