An Oak Tree, National Theatre |

reviews, news & interviews
An Oak Tree, National Theatre
An Oak Tree, National Theatre
Tim Crouch's experimental meditation on performance is indelibly powerful
Be my guest: Tim Crouch performs with a different actor each night, including, in this run, Amy Griffiths
The play I have just seen is not the play you will see. Of course, one of the draws of live performance is that no two nights are the same, but that idea is taken to a mesmerising extreme in Tim Crouch's An Oak Tree, celebrating its 10th anniversary. Every night, a new guest actor – who has never seen the show nor read the script – joins Crouch in this two-hander; past playmates include Sophie Okonedo, Christopher Eccleston, Frances McDormand and Roger Lloyd Pack.
There's no wacky improv, with Crouch instructing and marshalling his scene partner, but each distinctive interpretation provides fascinating insight into an actor's transformation of text.
Yet this is no mere intellectual exercise. Crouch's bold formal experimentation is in service of an empathetic tale suffused with grief. A stage hypnotist (Crouch, pictured below by Greg Veit) accidentally killed a young girl while driving; three months later, it still haunts him. Joining him in emotional limbo is her father, Andy (Conor Lovett last night), who can't accept his daughter Claire is really gone. Instead, he regularly visits the eponymous oak tree by the side of the road where she died, convinced she has taken new form.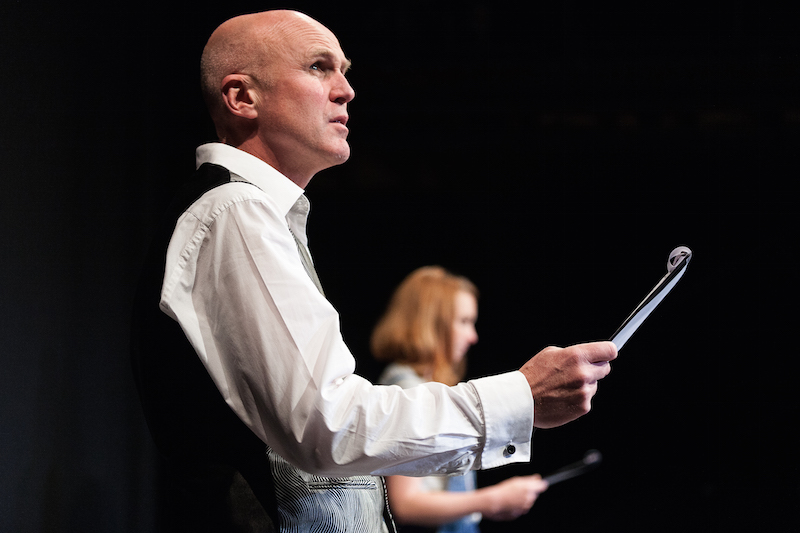 The title nods to a 1973 Michael Craig-Martin conceptual artwork that depicts a glass of water, but is called An Oak Tree. That relationship between reality and perception pervades Crouch's piece, from the illusions of hypnosis to grieving Andy's abstract interpretation of Claire's fate – heartbreakingly conflicting with his wife Dawn clinging to "material evidence" – and our acceptance of the metamorphosis of actor into character, a process that perversely seems all the more magical when its workings are laid bare.
The bereaved father could be angry or anguished; in Lovett's hands, he's utterly drained. His "I wish I were dead" is a chilling statement of fact, and he accepts Crouch's condolences with an almost dreamlike, "It isn't really me. And anyway, it hasn't happened yet." Is that Lovett speaking or Andy? Meta commentary, or denial and complete loss of self? The blurring of identities underscores the bewilderment of grief, thrust into a situation in which you have no idea how to act.
Lovett's understatement is an effective contrast to Crouch's manic energy, as both the failed pub performer, stumbling over cheesy patter and channelling guilt through sadistic manipulation, and despairing wife: while Dawn weeps, Andy uses hypnosis as escapist therapy, widening the gulf between them. Lovett also provides welcome moments of release, delivering lines like "It's very well written" with wry irony.
Crouch, co-directing with Karl James and Andy Smith, finds a delicate balance between highlighting the artificiality of performance and transcending it. There's a jokey reference to surviving daughter Marcia only appearing as a chair, but when Dawn confronts Andy by the roadside, the chair Crouch carries is very much a vulnerable child who's losing her father. It's an indelible reminder of the power of theatrical suggestion.
Crouch finds a delicate balance between highlighting the artificiality of performance and transcending it
rating
Explore topics
Share this article