Mr Gum and the Dancing Bear the Musical, National Theatre review – gleefully subversive family musical |

reviews, news & interviews
Mr Gum and the Dancing Bear the Musical, National Theatre review – gleefully subversive family musical
Mr Gum and the Dancing Bear the Musical, National Theatre review – gleefully subversive family musical
Madcap and menace as Andy Stanton adapts his cult children's books for the stage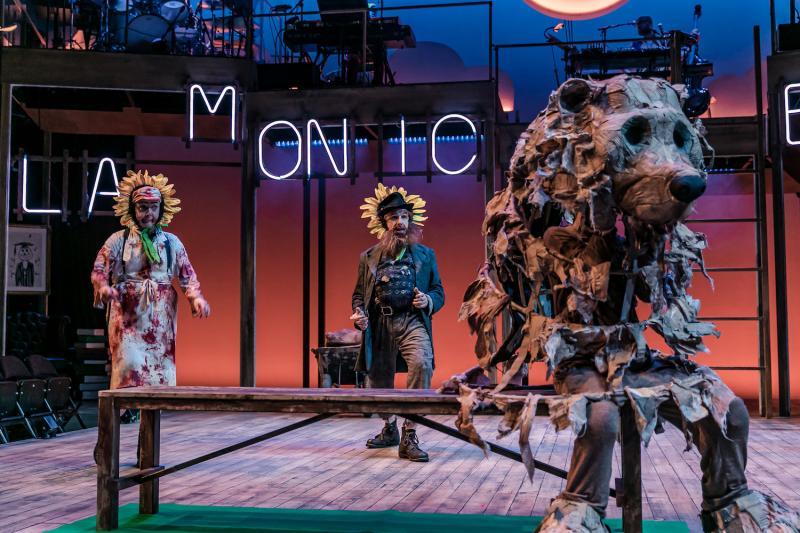 Helena Lymbery's Billy William III and Steve Furst's Mr Gum practice their creeping skills
A great hunk of rotting meat hangs centre stage, suspended over a rusty wheelbarrow. A figure in a bloody butcher's apron picks through the stalls, searching for cans of 'xxxtra cheap lager'. From the direction of the band, sinister Wurlitzer sounds begin to stir the air.
If the words "family
musical
" fill you with certain wholesome expectations, you are likely to have them gleefully subverted by the
National
's new summer show. A musical staging of a cult children's book,
Mr Gum and the Dancing Bear
features Gary Wilmot in a flying fat suit singing about snacks, a demented sea captain with a worrying Fortnite habit, and a bear so mournfully sad about finding himself stranded in the world of men that clumps of mangy fur start randomly dropping from the heavens. If the show supplied its own press quotes, it would probably run with "absolutely grimsters!"
It was only a matter of time before theatre met Mr Gum. There are many children's books that parents can read to their kids at bedtime while being, to all intents and purposes, asleep. Andy Stanton's comic series, with its madcap characters, wild catchphrases, juicy grammar and frisky approach to narrative form, demands to be performed. Set in the haphazardly imagined town of Lamonic Bibber, the stories pit a nine year old called Polly and her bizarre assortment of friends against bearded wrong un' Mr Gum – a villain so relentlessly revolting and committedly cruel that he snacks on entrails and favours a 999-style TV programme called Leg Mash.
In Mr Gum and the Dancing Bear, Mr Gum kidnaps a mute and melancholy bear that Polly has befriended one day in the town square, and forces it to dance for his supper. The escape that ensues plays fast and loose with adventure story tropes, as Polly and the bear smuggle themselves out to sea by posing as a cabin boy and a ship's cat, and are eventually rescued by their friend Jonathan Ripples, who is airballooning around the world in search of new snacks.
Stanton has written the book and lyrics for this musical himself, and maintains appropriate levels of stylistic irreverence and self-referential humour throughout. He has clearly enjoyed embracing a new form, with a gag about theatrical continuity involving a bucket of water, the introduction of a new character – Microscopic Bobbie – who has literally no stage presence, and a finale that pastiches dance crazes with much twisting of elbows and chorusing of "Let's all do the thing!"
His wit and invention is matched, in Amy Hodge's production, by genre-hopping music and vivid visuals. Jim Fortune's catchy music spans pounding rap, disco-ball lit power ballads, and a brilliantly seedy Jacques Brel-esque number down at the docks. The designer has gone to town on the giant food props, and there's a wonderful moment in which green umbrellas open downwards to suggest a jungle canopy. The bear itself is a very expressive piece of wearable puppetry, with big hollow-eyes and huge raggedy paws that accidentally do for Microscopic Bobbie during a tense moment on deck.
But the show's spirit rests with the cast, and the casting. There are flashes of real menace in Steve Furst's Mr Gum, who clobbers the bear over the head with a meat tenderiser before carting him off in the wheelbarrow. Helena Lymbery, who doubles as Mr Gum's butcher sidekick Billy William III, is brilliantly unhinged as the pop-eyed Captain Brazil. And Richard Cant is hugely likeable as Polly's scooter-riding friend Friday O'Leary, and the voice of talking, walking and head-teaching gingerbread man, little Alan Taylor. All seem to be relishing the writing as much as a young reader who has just discovered, with a delighted shriek of laughter, that you can put pretty much anything you like in a book.
Mr Gum and the Dancing Bear at the National Theatre until 31 August