The Mouse and His Child: Redemption, salvation and transformation |

reviews, news & interviews
The Mouse and His Child: Redemption, salvation and transformation
The Mouse and His Child: Redemption, salvation and transformation
The playwright behind a new stage adaptation of Russell Hoban's children's classic explains its enduring appeal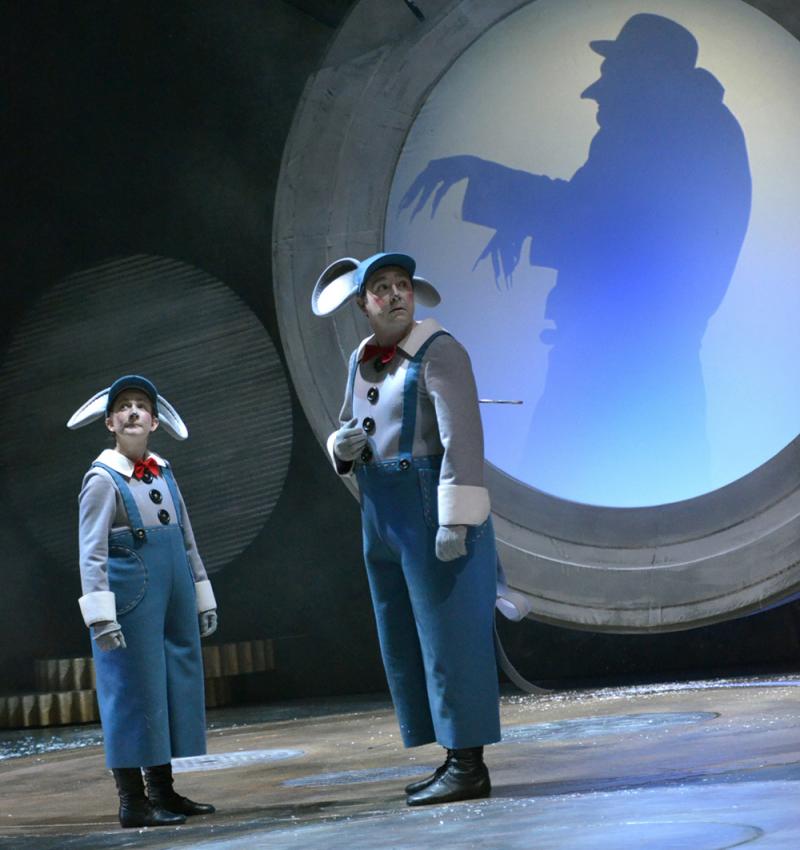 Bettrys Jones as the Child (left) with Daniel Ryan as the Mouse
I read and loved The Mouse and His Child as a child. Apparently. I was reminded of this by the inscription in the copy I gave to my god-daughter 15 years ago. And again, when I read it to my own daughter 10 years later. It's such an extraordinarily original, moving, funny, story, I couldn't believe I'd forgotten it.
But I think it's less a case of senility and more to do with the fact that the things you absorb at an early age enter your bones, and like bones, you take for granted the fact that they're there, even though they shape you. I grew up with a foreign mother who constantly referred to "the English" as foreigners and I think that made me especially but unwittingly receptive to the book's preoccupation with belonging and the central metaphor of racial difference.
Like all good stories, children's or otherwise, The Mouse and His Child works on many levels and I was aware, while reading it to my nine-year-old, that we weren't always on the same one at the same time. She certainly wouldn't be thinking of Auschwitz while rats destroy clockwork toys or Darwinism as shrew eats shrew only to be eaten by weasels who in turn are eaten by an owl. But children are natural philosophers, and like the book, they ask all the big questions; I became convinced, while reading it to her, that if she could only see the story she'd get it on all levels, which is when I knew I wanted to put it on stage.
Manny Rat is one of the great villains in children's literature: obsessive, unpredictable, complex
One of the challenges in adapting a book is how to make internal thoughts visible. The gift of The Mouse and His Child is that they have each other. Yes, they are passive like a lot of central characters in children's' books (Alice in Wonderland, Pinocchio) in the sense that things happen to them, but a major difference is that their relationship itself is an active dynamic in the story. In one sense, it is the story, the journey of the child towards adulthood, and the parent towards letting go. Becoming self-winding is a metaphor for independence or autonomy and parenthood itself is central, even if it's interchangeable (the "child is father to the Mouse"); the book is dedicated after all by Russell Hoban to his three fathers.
Another challenge is to focus the main story. There are so many worlds and creatures our central characters meet on their journey and the tone of the book is more reflective and meandering than is possible on stage; my note to myself in the initial writing process was to translate every "I wonder if" moment into one of "I have to have", and to strengthen the central characters' purpose throughout. A process which continued well into rehearsal. And even now, in preview.
The story, like theatre, is about transformation. It's also about the nature of identity, race, and has flying, near drowning, electrocution, two battles, a host of animal characters and about fifteen locations in it. I enjoyed writing preposterous stage directions ("They fall from the sky and shatter into a thousand pieces") in the confidence that it should and would be played in a style which shows its hand. The switches between the comic and the tragic, the profound and the profane, the philosophical and the edible are very child/animal like. They're also innately theatrical; hence Paul Hunter and his joyously imaginative and liberating approach.
Our aim in early workshops was to establish the right style for the piece. There was a lot of fur and gaffa tape and play in which we established the principle that the animals would depend on character first, animal second. The last thing anyone wanted were a lot of masked, eared actor-rats indistinguishable from each other. We also needed to come up with a language for clockwork which was both true to its limitation and didn't give the actors back pain. The Mouse and Child are connected for 70 percent of the story. Deadly literalism would demand that they actually remain connected throughout; we found the answer lay in playing the space between the two as fixed. Audiences not only accept but relish artifice when it's revealed as such.
What they also love is a great villain. And Manny Rat, surely, is one of the great villains in children's literature (Michael Hodgson as Manny, pictured above). He's obsessive, unpredictable, complex; a perfect psychological case study for some sort of personality disorder, and, of course, comic. His journey towards redemption is as layered as that of Mouse and Child towards salvation. "Where are we?" and "what are we?" are the two questions that start the play and by the end are answered. If that's not a definition of epic I don't know what is, and if a child can walk out of the first preview saying "my mum didn't understand that bit, but I explained it to her," then I'm hoping we're on to something and going some way to bringing to life the extraordinary visionary imagination of Russell Hoban.
The Mouse and His Child, a new adaptation by Tamsin Oglesby based on the book by Russell Hoban, is at the Royal Shakespeare Theatre, Stratford-upon-Avon, from 17 November 2012 – 12 January 2013
Children are natural philosophers, and like the book, they ask all the big questions
Explore topics
Share this article