Moby Dick, Brighton Festival 2023 review - way more than your average puppet show |

reviews, news & interviews
Moby Dick, Brighton Festival 2023 review - way more than your average puppet show
Moby Dick, Brighton Festival 2023 review - way more than your average puppet show
Exquisite artistry from French Norwegian company Plexus Polaire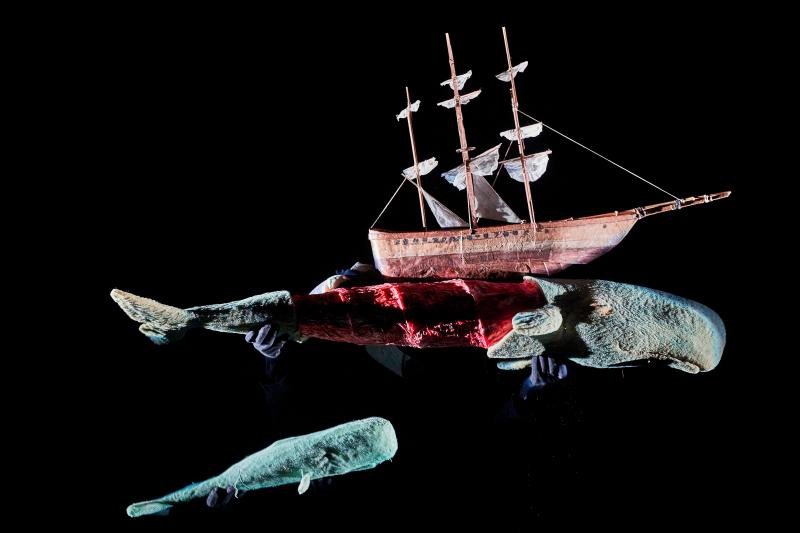 Plexus Polaire's spectacular puppet show
Perhaps one of the most intriguing aspects of contemporary puppetry is its ability to skew our perception of reality so entirely that our senses become more heightened as we wait with meta-awareness in excited anticipation for what comes next – whether we know the story or not.
On the stage of the Brighton Theatre Royal, giant figures become small objects, perspective is tipped on its side as we try to untangle the complexities of who is real and what is constructed. It is a delicious metaphorical tangle that parallels the book's key themes.
We are thrown into the infamous tale with some of its most profound lines presented solo on a dark stage: "Methinks we have hugely mistaken this matter of Life and Death. Methinks that what they call my shadow here on earth is my true substance…" The piece is narrated by Herman Melville's central character Ishmael, whose spidery brain causing him to grow grim about the mouth, takes to the high seas in order to find peace. Instead he becomes witness to the maniacal quest of Captain Ahab's hunt for the great white whale, Moby Dick, who once bit off his leg.
This isn't your average puppet show – it is very dark, sophisticated and immersive, awash with exquisite design aspects. The set is at once a whale's skeleton and a ship's hull, and throughout the show the proscenium arch becomes full fathom deep, with ships, whale puppets and mermaids performing on their sides, giving the audience a birds eye view of the depth of the ocean – showing the truth that lies beneath the surface. Billowing silks create stormy waves and starry skies move side to side to give the impression of a rocking ship.
The puppets for the complex character of Ahab are sometimes so large so as to need four people to move it, sometimes smaller than the barely visible figure behind. Black robed, turbaned, skeleton-faced harbingers of watery doom control the puppet strings – a visual echo of lines such as "why all the living so strive to hush all the dead... All these things are not without their meanings." They are as impressive in artistry, gesture and expression as they are as a parallel to the "pasteboard mask" within the text, that questions what we might find, should we strike through the mask – whether or not we'd find the answers we all look for.

Giant figures become small objects, perspective is tipped on its side as we try to untangle the complexities of who is real and what is constructed
rating
Explore topics
Share this article