The Mirror and the Light, Gielgud Theatre review - nobody expects the Spanish Inquisition |

reviews, news & interviews
The Mirror and the Light, Gielgud Theatre review - nobody expects the Spanish Inquisition
The Mirror and the Light, Gielgud Theatre review - nobody expects the Spanish Inquisition
Third time round, Hilary Mantel self-adapts, and eviscerates, her novel on stage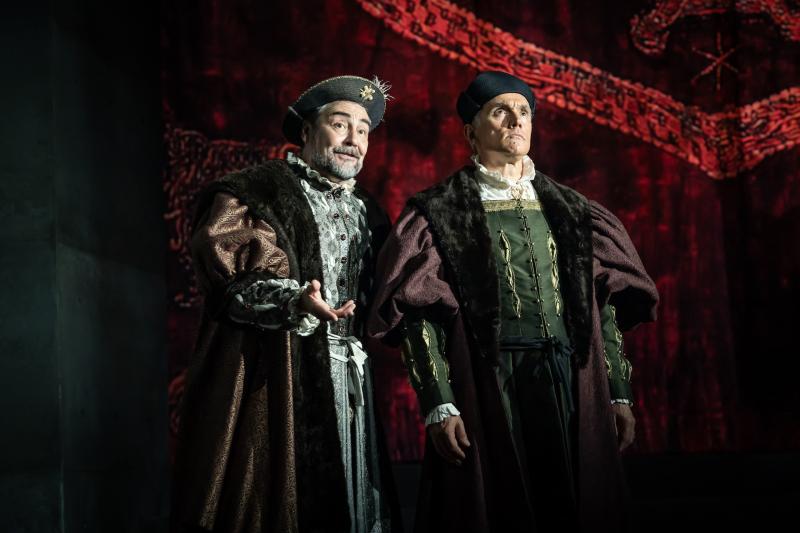 Affable meets eye-rolls: Nathaniel Parker as Henry VIII and Ben Miles as Thomas Cromwell
The first two stage adaptations of Hilary Mantel's Thomas Cromwell trilogy, Wolf Hall and Bring Up the Bodies – written by Mike Poulton, way back in 2014 - were a very different beast from the novels, but they were at least eyecatching plastinations of her unruly human characters, made attractive to those who had not read the novels.
But by now, the audience is well acquainted with Mantel's luxuriously textured, dazzlingly nuanced and psychologically acute conjurings, and
The Mirror and the Light
feels different in all the wrong ways – less plastinated than eviscerated.
It's counterintuitive to use the word simplistic of Mantel, but she herself is to blame for this superficial historical-tragical-comical tone. Literary and theatrical genius are not twins. Adapting her own book, in harness with Ben Miles, the actor who plays Cromwell in all three plays, Mantel has grabbed those marvellous characters whom she'd rescued from historical cliché, cut them out in cardboard and pasted them flat down again on the boards of the stage. Cromwell's unique ascent climaxes in bathos rather than pathos.
No one can say there isn't action. We pick up the story almost minutes after Anne Boleyn's execution, with Henry rushing indecently fast into marrying mousey Jane Seymour. She is dead in childbirth by the interval (the actress returns in Act 2 doubling up mischievously, as Catherine Howard, the next queen but one). Meanwhile the focus shifts to Henry's instant loathing for the fourth queen Cromwell has found for him, Anna of Cleves (rather unbelievable, considering Rosanna Adams' beauty, pictured above by Tristram Kenton). Once this marriage sours, in a welter of public gossip about gouty, stout old Henry's impotence – a rare scene where the real Mantel spirit flares – Henry makes the upstart Cromwell pay with his life.
Some of the subsidiary themes are concisely shown in the careful ensemble poses and dances: the power that fertile women and royal women temporarily hold, either in their marriageability - Mary Tudor, Henry's first child, the only outlet for his frustrated paternal feelings, yet also such a threat to his religious authority - or in their bellies - Jane Seymour, cradling a bump the size of a small car.
Cromwell's haunting by the past is neatly put by periodic visitations from Cardinal Wolsey – in a crimson glow that Wolsey claims amusingly is the fire of hell – and, less convincingly, by Cromwell's dead da who was the only man he was frightened of apart from Henry.
Mantel's trilogy is about an epic love affair between Henry and Crumb. This needs dialogue to explain and probe it
But this is the rub. There is no mirror held up or light shone onto the profoundly fascinating relationship that Mantel proposed between the Putney blacksmith's son and the heedless, egotistical English king, just when we need to understand why Henry abandons Cromwell. Mantel's trilogy is about an epic love affair between Henry and Crumb. This can't be put in images or dances, it needs dialogue to explain and probe it. Nor is there much of a hint of her tremendous Lear-like theme of the insatiability of the ruler's appetite for flattery, and the bad end that inflated language always leads to.
Trouble starts with the uncertainty of intonation with which Jeremy Herrin directs this time round. Ben Miles as Cromwell got away with his startled look and eye-rolls in the first adaptations before Mark Rylance's deep, still, rocklike performance in the 2015 TV series captured precisely Cromwell's secret - as written by Mantel - that he is the ultimate student of humanity, that he masters all the events around him by anticipating everything and being surprised by nothing, and by giving nothing away of what he thinks. A nervy Cromwell jars with likely reality, as well as Mantel's own portrait of him.
Again, Nathaniel Parker, chubbier now, limping heavily, tremendously costumed, offers us a Henry VIII who is just as affable as before he executed Anne Boleyn and four possibly innocent male admirers – we don't sense the man whom Cromwell knows and protects, the increasingly sociopathic and sex-obsessed despot who goes to the bloodiest of political lengths to beget a boy child.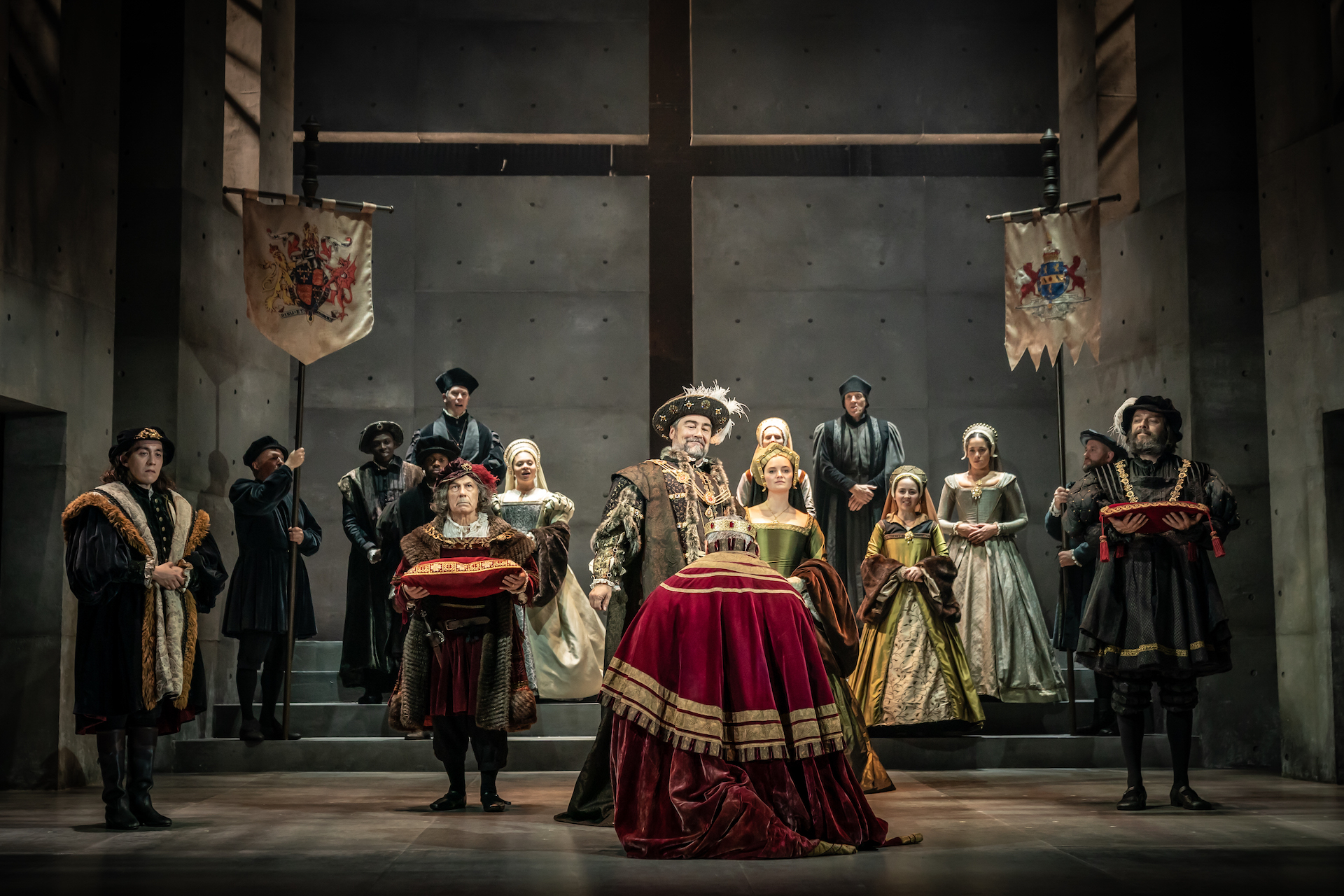 Certainly there are some great Mantelian moments of ironic realpolitik, where God and profit join in one toast, but one keeps expecting Monty Python's Spanish Inquisition whenever Nicholas Boulton bursts in as Charles Brandon, and other actors also seem to have been given a historical-comical note: Matthew Pidgeon doubling as Eustache and Bishop Gardiner, Nicholas Woodeson's ever-bristling Duke of Norfolk, and Paul Adeyefa's French-jester Christophe.
A more historical-tragical note is struck by the excellent Olivia Marcus as a tiny, menacingly demure Jane Seymour, and Tony Turner's fatalistic Cardinal Wolsey (deceased). And there's some bright character-playing among Cromwell's family and staff, Terique Jarrett's Gregory, Paul Adeyefa's Christophe, and the slithery Richard Riche of Leo Wan. Still it all just amounts to a rather flat narrative pageant, not the anticipated engagement with human darkness, gory humour, mirrors and light on souls.
Man of the match is the designer, Christopher Oram, whose costuming is magnificent, in a restrained chiaroscuro palette of bronze shades where the redness of strawberries stabs your eyes, and whose minimal set fields a subtly off-centre cross, where the high windows might be those of a dungeon or a clerestory. Here are the subliminal messages of Mantel's great novels.