The Merchant of Venice, Shakespeare's Globe |

reviews, news & interviews
The Merchant of Venice, Shakespeare's Globe
The Merchant of Venice, Shakespeare's Globe
Jonathan Munby's Merchant is quiet, but delivers a deadly final blow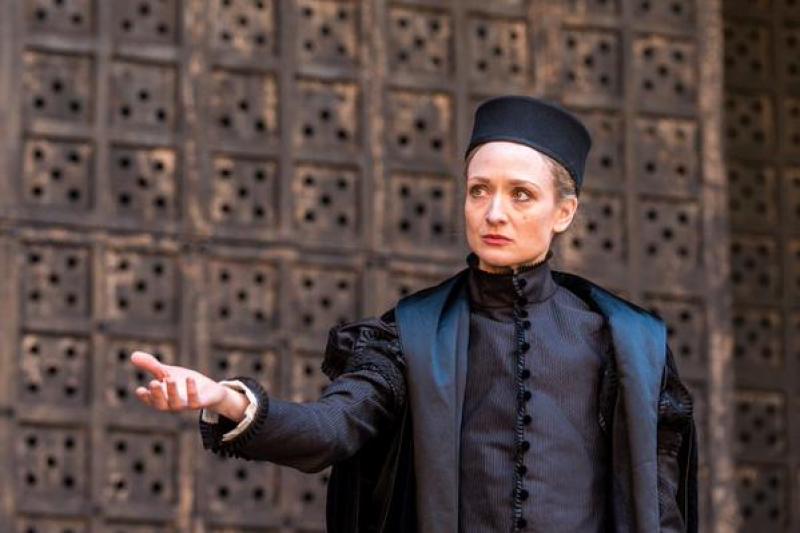 The quality of mercy is not strain'd: Rachel Pickup's Portia wins her case
There's a certainty, a reassurance that comes with attending a Globe show. You know that however bad things get, however bloodied the stage at final curtain, however bruised the relationships on stage, everyone – corpses and all – will rise and come together for a spirited closing jig. Julius Caesar and Cassius have done it, the tragic Duchess of Malfi has returned to life for a final Pavane, and even Lear and his daughters have joined hands in the dance.
When director Jonathan Munby tried to do without the jig in last summer's
Anthony and Cleopatra
it jarred, left audiences unsatisfied. How much more striking, then, is Munby's
Merchant of Venice
– not a tragedy turned on its head with a lively dance, but a "comedy" ending with the sudden shock of pain and cruelty.
It's a scene that makes sense of the previous two hours' theatre, a shatteringly violent gesture in a production that's all about understatement and ambiguity. Nothing is overplayed here – not the drunken comedy of Gratiano (elegantly dispatched by David Sturzaker) nor Portia's courtroom transformation, neither Shylock's villainy or victimhood. It's a long theatrical game that generates a disturbingly (not to say riskily) non-committal first half, tightening towards resolve through the courtroom encounter before finally releasing in the horrible pageantry of a final song and procession.
Pryce is a quiet figure at the centre of Munby's production, courting no excesses
Jessica (the touchingly raw Phoebe Pryce) falls to her knees, reading of her father's forced will and conversion. Even as others celebrate around her she howls out a Hebrew lament, hurling her rage into a song that is crushed underfoot by the chants of the white-clad priests who escort Shylock (Jonathan Pryce) onto the stage to declare his new creed. Stripped to his shirt, as Antonio before him, he is just another victim caught in the snare of a social contract he cannot escape, whose rules he cannot control.
Jonathan Pryce (pictured below with Phoebe Pryce as Jessica) is a quiet figure at the centre of Munby's production, courting no exceses, but offering up a gentle naturalism that makes the play's anti-Semitism hit harder – its extremity exacerbated by his very understatement. There's a matter-of-factness, a casual banality to his dealings with real-life daughter, that chafe fruitfully against the emotional urgency of the final scene. Phoebe Pryce's Jessica is equally compelling, telling in the smaller moments – slinking aside when displaced by Portia in an unfamiliar courtly dance, visibly fretting at her unappealing boy's clothes rather than the much more alien role she must now adopt as Christian wife to Lorenzo.
But Munby's production loses focus elsewhere. Rachel Pickup's Portia is brilliant but brittle, never quite making sense of her supposed love-match with Daniel Lapaine's rather underpowered Bassanio. The more interesting relationship is between Bassanio and Dominic Mafham's Antonio – the latter surely fond beyond mere brotherhood, making something more significant of the men's eager parting with the wives' rings.
Comedy shines brightly, however. Stefan Adegbola's Launcelot Gobbo gives audiences the full Globe participatory experience, and cameos from Christopher Logan (Prince of Aragon) and Scott Karim (Prince of Morocco) are perfectly judged.
But amid all these struggles of power and desire one thing is defiantly absent: money. Perhaps after Rupert Goold's recent RSC/Almeida production this particular strand doesn't need stressing again for a while, but what was missing among all these schemings and currents of loyalty and debt was their fuel, the currency of Portia and Bassanio's marriage, the bread and butter of Shylock's business, and the cost of Antonio and Bassanio's friendship.
Munby's is a tender, humane take on one of Shakespeare's prickliest plays, a production largely content to record and document rather than interrogate. It's a hands-off approach of tremendous restraint, but one whose few gestures all hit their mark with the force of a slap. Or a benediction.
Amidst all these struggles of power and desire one thing is definitely and defiantly absent: money
rating
Explore topics
Share this article