Macbeth, Shakespeare's Globe |

reviews, news & interviews
Macbeth, Shakespeare's Globe
Macbeth, Shakespeare's Globe
Incoherent vision results in a (Mac)duff production
Smoke and mirrors: Macbeth (Ray Fearon) and Lady Macbeth (Tara Fitzgerald)
It begins promisingly, a dark Gothic fairy tale – both Grimm and grim. The writhing witches (four, oddly) are summoned from a pile of dead bodies, Stefan Fichert's eerie puppetry all chopped-up limbs and interchanging demonic heads, hands scuttling across the floor like a spider, and disembodied voices chanting and haunting. Then the spell is broken and "what seem'd corporal melted".
Unfortunately, that's also when the air goes out of Iqbal Khan's lacklustre production, which plods along from one incident to the next without any clear intent. Ray Fearon's Macbeth is a mellifluous speaker, massaging every syllable of the poetry, but lacks convincing psychological underpinning – he simply acts because the text demands it. As his wife, Tara Fitzgerald is in another version altogether: where he is lofty and declamatory, she is sardonic, naturalistic and too soft-spoken; he rages at the heavens while she gets amusingly tipsy and casually conceals their crimes. It's a bizarre arranged marriage of wildly contrasting performances, and vague attempts to sex up their relationship fall flat.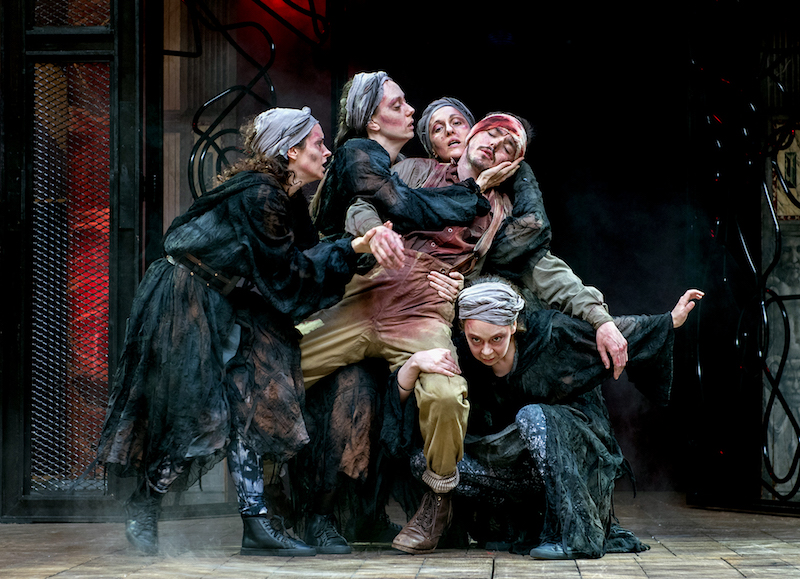 Neither is noticeably driven by ambition or thirst for power, nor damaged by past tragedy. A tiny tot trots adorably around the stage, representing their lost child, but to no particular end. It's simultaneously soap-operatic broad – at one point Lady Macbeth throws a drink in her husband's face – and not bold enough. The nightmarish, otherworldly quality is absent for too long, so that brief reprises, like the summoning of Banquo in a visually interesting riff on "The Tell-Tale Heart", wind up clashing with an otherwise straightforward rendering. (The witches pictured above)
There are surer supporting performances, with Jermaine Dominique (pictured below by Marc Brenner) a notably charismatic Banquo. He's a pumped-up warrior, spitting water at the groundlings and banging his shield, and a devoted father, but more visibly seduced by promises of greatness than Fearon's Macbeth. He puts up a real fight when the assassins come to call, and his absence is sorely felt. Sam Cox transforms the often dull Duncan into a grand, preening luvvie, exceedingly aware that power is a performance, Kerry Gooderson sharply defines the young Fleance and sassy Macduff child, and Jacob Fortune-Lloyd enlivens the second half as a committed Macduff, poleaxed by the news that his family has been slaughtered.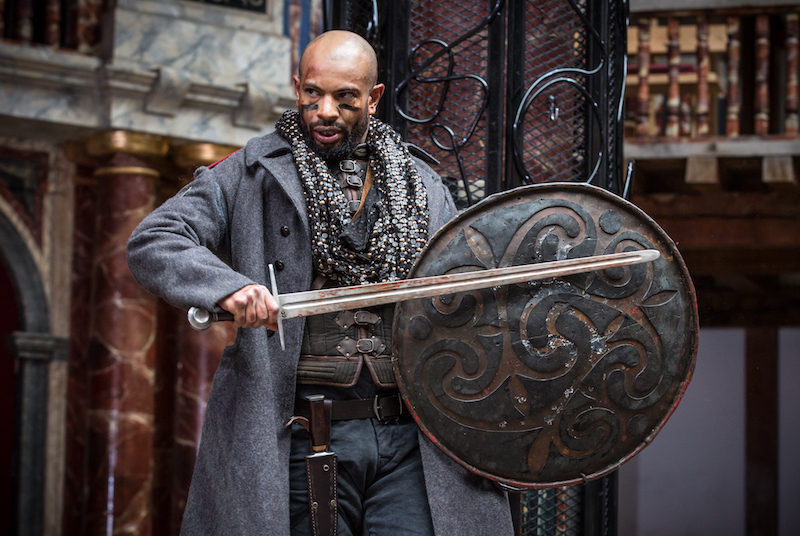 But the standout performance is Nadia Albina as a stand-up comic Porter. She emerges from a sleeping bag, torn fishnets hanging off one foot, and weaves contemporary references into her rants, from the inevitable "To remain or not to remain?" (a joke that rings horribly hollow now) to the naming of Trump as a devil and – winning the hearts of commuters – "Welcome to Hell: mind the gap." She's eccentric and licentious, but also shrewd and quick-witted. There's method to her madness.
In contrast, the drawn-out violence just seems needlessly sadistic, and there's too much focus on elaborate corpse disposal. Melanie Pappenheim's singing is evocative, but combined with Joan O'Clery's velvet costuming, Ciaran Bagnhall's twirly wrought iron, and copious dry ice, it feels like a particularly languorous Eighties music video. Too often, the action is jarringly or even unintentionally funny. One of the more disappointingly conservative offerings in Emma Rice's new season, but lacking the old-school Globe continuous engagement.
There's too much focus on elaborate corpse disposal
rating
Explore topics
Share this article